Christmas is over and Winter has settled in, decorate your front door with a Silver Winter Wreath. It might be cold outside but this bright white wicker based silver laden wreath will warm up your front entrance. Whether placing the wreath on your front door or inside in your dining room this wreath will be a welcomed accessory.
Pure white grapevine wreath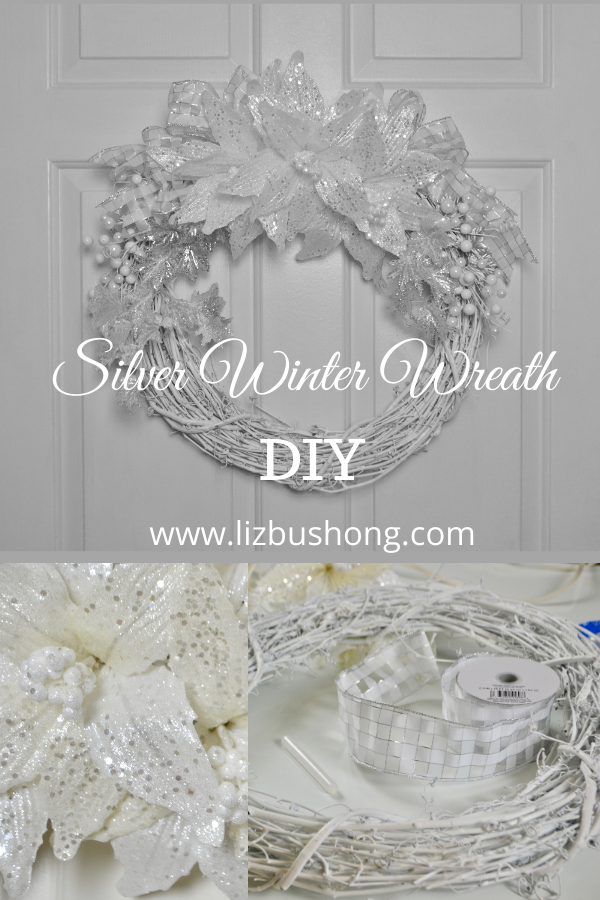 Create this beautiful wintery wreath with just a few supplies. Those supplies can be found at Hobby Lobby, Michaels Craft Stores, or Amazon.
Supplies Needed for Silver Winter Wreath Project
White 10″ grapevine wreath or grapevine wreath to paint
Pure White spray paint in Satin finish* if needing to paint wreath
3-5 large white poinsettias or other large artificial groupings
3-5 silver or white berry stems
5-7 silver leaves
2 yards white silver ribbon
Hot glue gun
Wire cutters
2-3 White pipe cleaners for hanger and bow loops.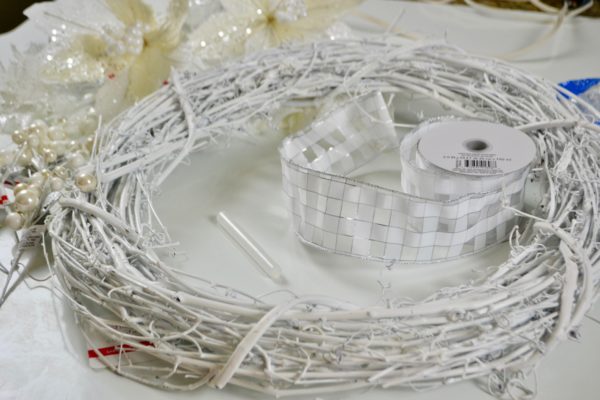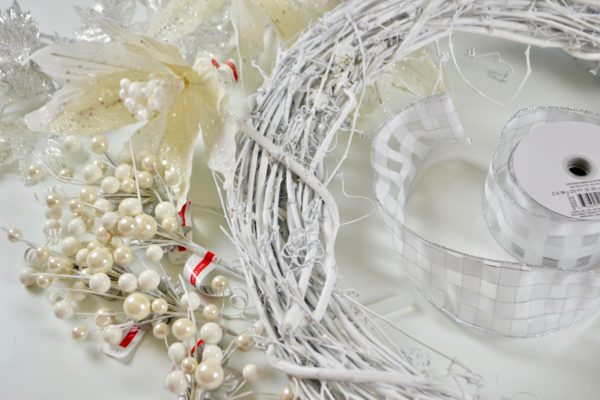 Easy Steps to Assembly DIY Winter Wreath
Step 1: Remove all tags from stems and wreath. Plug in glue gun. Fluff or spread stems to look like natural florals/berries.
Step 2: Form a loop with the white pipe cleaner and attach to back side of wreath at the center top about 2″ from the top edge of wreath. Glue in place.
Step 3: Cut stems of large poinsettias 3″ from base of flower with wire cutters. Insert one poinsettia into center of top grapevine wreath. Add glue to stem to keep in place if necessary. In some cases, the wreath twines will hold your florals and picks with out using glue. Attach remaining poinsettias to left and right side of the center floral.
Step 4: Attach berry stems to wreath around the edges and slightly underneath the outside poinsettias. Attach silver leaves under and around the berries. Cut berry and leaf stems as needed to fit into wreath. Glue in place if needed.
Step 5: Form bow loops with ribbon and with remaining pipe cleaner, wrap around bow loops to create a pretty looped bow. Attach bow and ribbon garlands to outside edge of wreath around top and both sides of wreath. Use the pipe cleaner to attach to wreath or glue in place.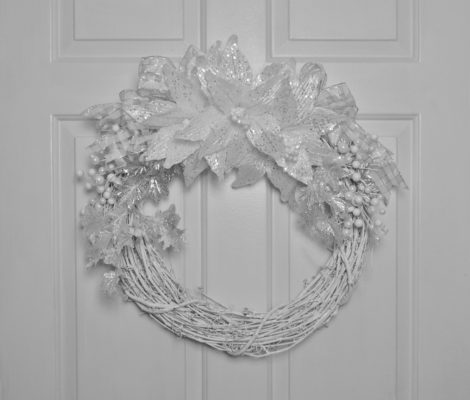 In Conclusion adjust leaves and bow loops to your liking and hang on a mirror. If you hang it outside make sure the wreath is protected from weather.
Enjoy this wreath through the wintery months until you are ready to make a spring wreath. Check out ideas below for a Tulip wreath.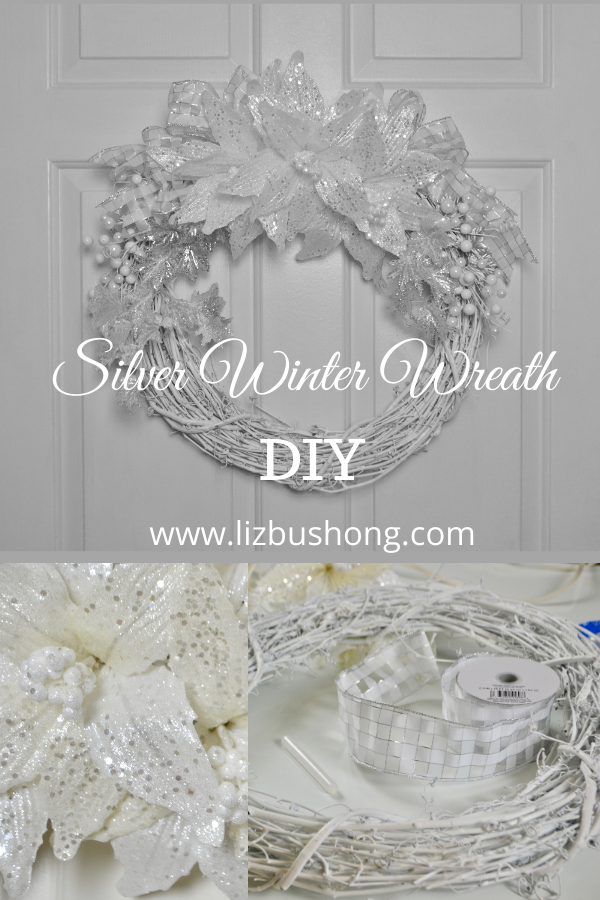 Other Ideas you might like to try: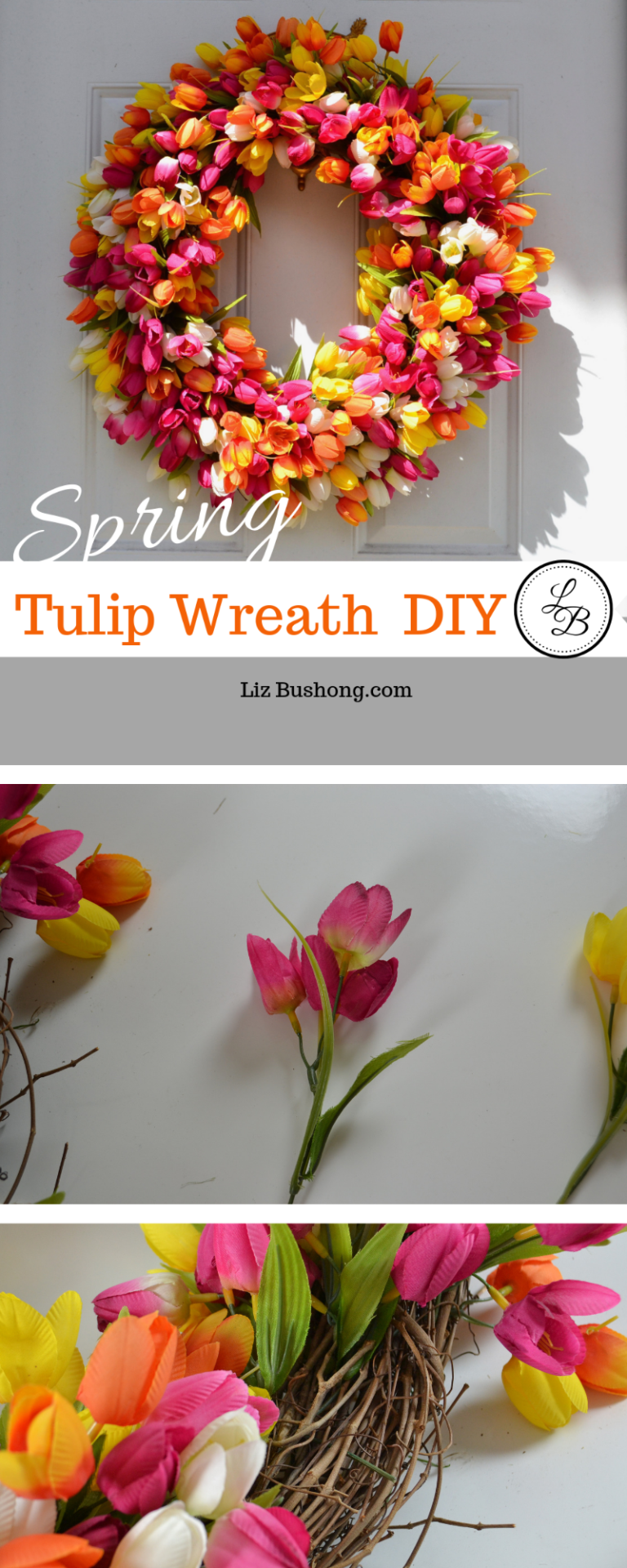 Spring Floral Arrangement. ( My bunny JJ checking it out) .