Fall isn't fall without hanging a wreath on the front door. You will enjoy making this Harvest Ribbon Wreath using wired edge ribbon, pipe cleaners and wreath frame. Super easy and fun to make for this beautiful autumn season. You might need to get additional ribbon to make this wreath as gifts, change the season with seasonal wired edge ribbon.
After making this Harvest Ribbon Wreath, be sure to hang it in a covered space and area where the sun won't have direct contact due to fading and not being weather proof. Everyone will love this wreath, its so pretty and fast to put together. The most time consuming aspect of this wreath is measuring and cutting the ribbon into pieces. In addition, cutting the ribbon ends into dovetails. Once the ribbon is cut, all 7 ribbon pieces are scrunched in the middle and layered at cross angles stacked together, then wired on the pipe cleaners that you placed on the wreath before beginning. It isn't difficult just follow the instructions below for step by step instructions.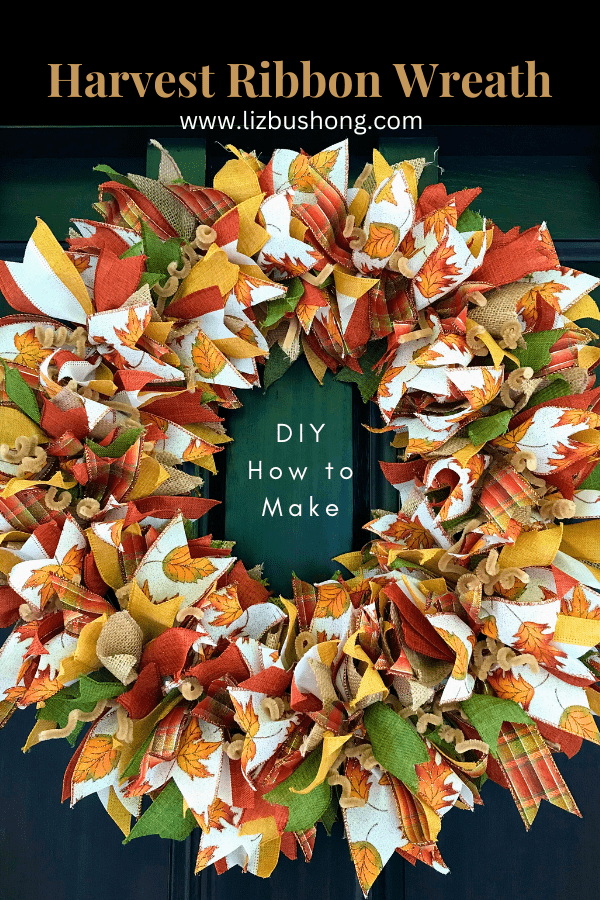 How to Make this Harvest Ribbon Wreath
To make this wreath you will need the following supplies:
1- 16″ wire round wreath ring
7 rolls of seasonal wired edge ribbon in these widths, 2 rolls 2-1/2″ , 2 rolls 1-1/2″, 3 rolls 1″ wired ribbon.
30 pipe cleaners to match your strongest color in the ribbon. You will use 24 but having extra for hanger or leftover ribbon clusters you might want to add to wreath.
Scissors, pencil for curling pipe cleaner ends after wreath if finished.
Note: If you want a smaller wreath form, you will need to cut your ribbon lengths shorter than 8″, for example 14″ wreath 6″ lengths. Test a piece to see how much length you need for size of your wreath form. There is no knot in the center of the ribbon clusters.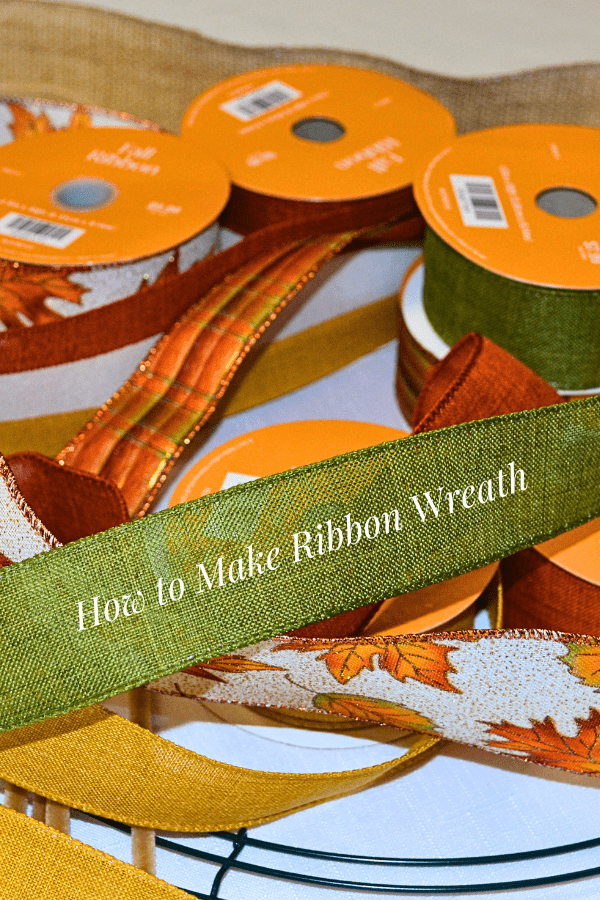 Making this Harvest Ribbon Wreath
Gather your wired edge ribbons, you will need 5-1/2 yards (16-1/2 feet) of ribbon per ribbon roll. I found that I had plenty of ribbon from the rolls I purchased from Hobby Lobby.
In addition, select ribbon widths in these sizes, 2 rolls 2 1/2″ wide, 2 rolls 1-1/2″ wide, 2-3 rolls 1″ wide or combination of widths that you desire. My ribbons were in those widths.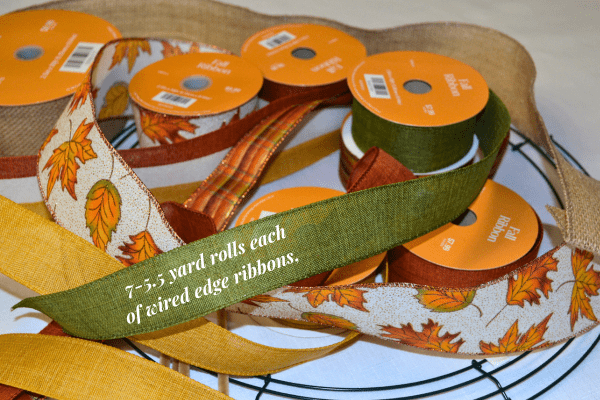 Preparing the Wire Wreath Form
Prepare your wire wreath by attaching pipe cleaners to the rows of the ring. Attach one pipe cleaner on row 3 & 4 ring of form, then attach to 1 & 2 rows, then repeat until you have 4 pipe cleaners between the sections of the wreath form.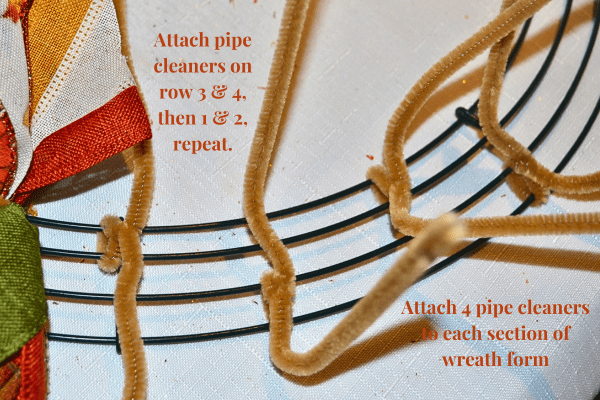 Cutting the Ribbon
Next cut all ribbon into 8″ lengths. The easiest way to quickly cut these ribbons is to measure an 8″ strip, then fold back and forth in the 8″ length with out cutting 24 times. Holding the accordion folded ribbon, cut both ends of the folds to make 24-8″ pieces.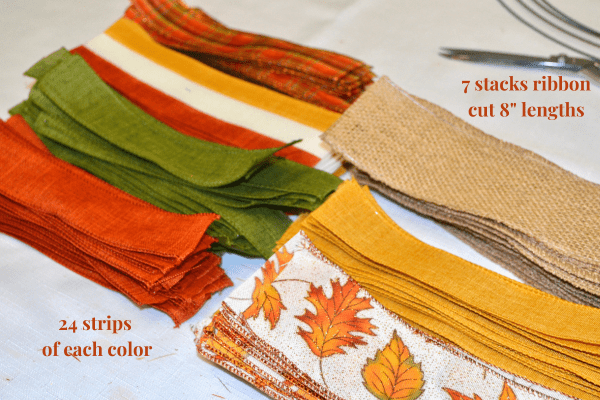 Cut all ends of ribbon lengths into dove tail design. It is important to cut ends before adding to wreath for ease. Having the ribbons in stacks, it helps when you pick up the ribbon pieces to stack. I started with the 2-1/2″ wide pieces first, then added the remaining widths stacked on top of the larger ribbon widths. Once you start your pattern, repeat the pattern for remaining ribbon clusters for consistency.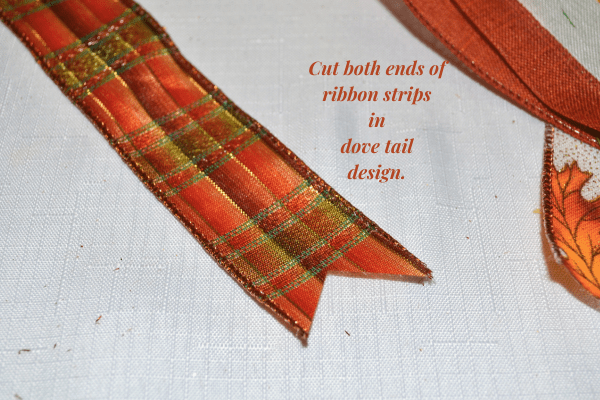 Creating Ribbon Clusters
Stack each ribbon color on top of each other in a fan direction as photo, pinch the center of the ribbons together keeping the ribbon colors separate as much as you can. Holding this ribbon cluster tightly attach to wreath frame using the pipe cleaner tails. Wrap pipe cleaner tails tightly around the ribbon cluster. Use a pencil and curl the pipe cleaner to the center of the ribbon cluster. You can do this as you go or wait until you finish the wreath.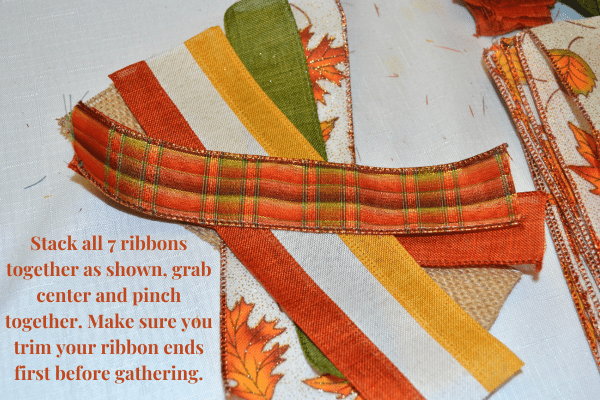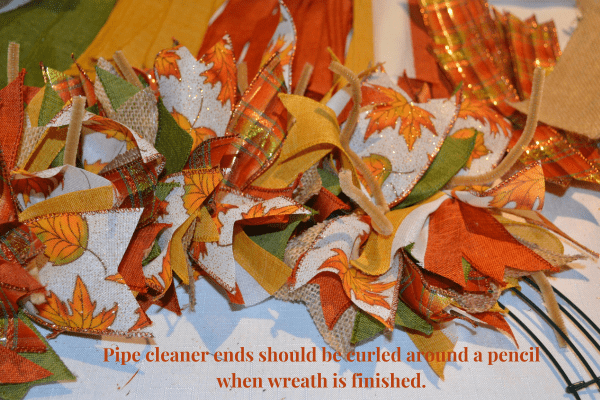 Attaching Clusters to Wreath
Attach the 24 clusters onto the wreath using the pipe cleaners to secure. Keep adding the clusters to make your wreath full and lush. Adjust the ribbon ends as you go, but not to worry you will be adjusting the ribbon ends and pieces once it is finished.
Fill the wreath with ribbon clusters until wreath is completely full.
In conclusion, curl your pipe cleaners to add additional interest. I would not cut them off in case you need to remove the clusters for whatever reason. You can push them to the back of the wreath if you don't like the look.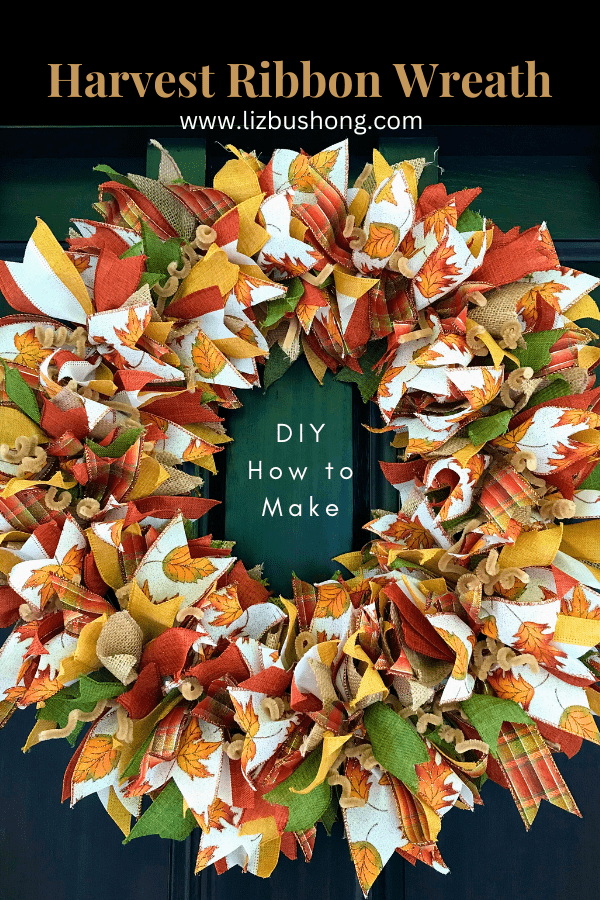 This was featured in All About the Table Magazine- digital Autumn Issue 2023.
Hope you will make this wreath. It is fun and everyone will enjoy it.
Other Ideas You Might Like to Try: