Moist, dark chocolate muffins you will love. Pumpkin Spice Brownie Cupcakes is the best recipe that chocolate lovers will want more of. Dark chocolate cocoa powder, pumpkin puree, pumpkin pie spice, espresso, and mini chocolate chips are ingredients you may have in your pantry. Super easy to make and bake. Whether you make standard or mini cupcakes, line the pan with solid cupcake liners for baking, then serve them up sassy with a decorative liner as the second liner.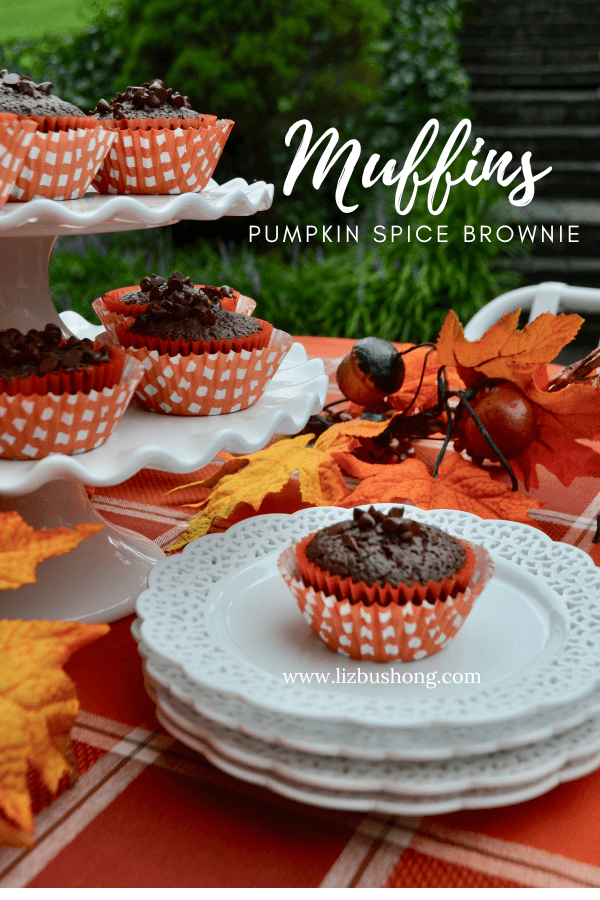 How to Make Pumpkin Spice Brownie Cupcakes
Preheat your oven to 350 degrees F. Line a cupcake pan, standard or mini with cupcake liners. Set pan aside while you prepare the batter. I used solid orange cupcake liners to bake the cupcakes.
Melt chocolate chips and butter over low heat until melted and smooth. Set aside to cool. Measure pumpkin puree, not the pie filling and set aside. Measure flour, pumpkin pie spice and dark cocoa sifting together in a small bowl, set aside. I used Libby's pumpkin puree and not pie filling.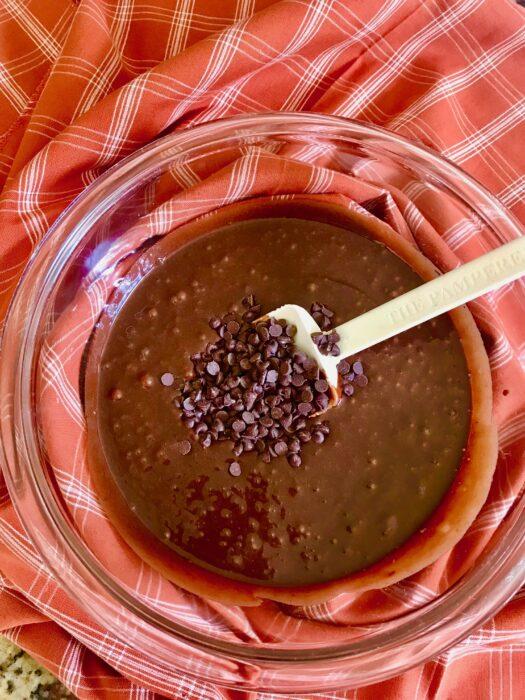 These brownies do not have baking powder or soda but uses eggs instead. So beating the room temperature eggs with sugar for 5 minutes is very important. The eggs will become thick and light yellow as you whisk them. I used a hand mixer with my whisk attachment. No need to get out the stand mixer unless you want to.
In addition to beating the eggs until they are thick next add pumpkin puree, vanilla and instant coffee to the egg sugar mixture. Add cooled melted chocolate and mix until well combined.
Folding the Dry Ingredients
Folding flour into the batter is simple and necessary as not to remove the volume that the eggs so beautifully made. Using a spatula and 1/4 cup of flour, pass your spatula through the middle of the mixture while you incorporate the flour. This is a light hand of folding the flour over into the batter, scraping the bottom of the bowl, and sides while turning the bowl. It sounds confusing, but really it is very easy to do. Just don't beat the brownie batter. Folding will take about 2 minutes to do. Next add additional mini chocolate chips, folding them in as well.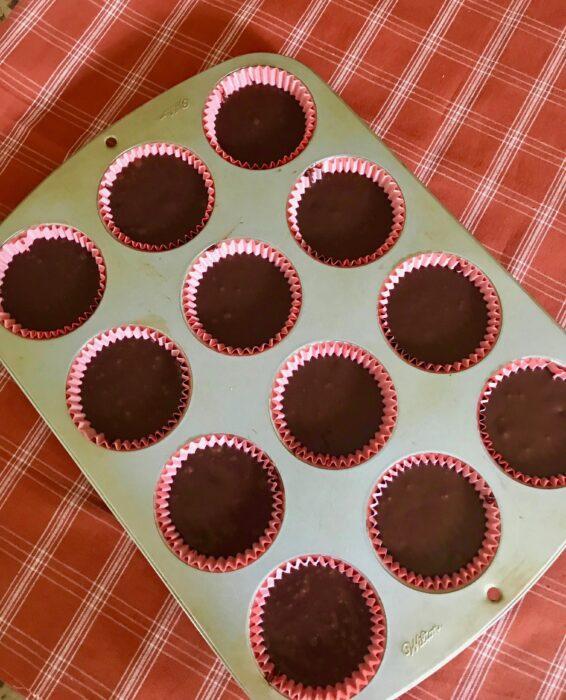 Scoop the brownie batter with a spring loaded scoop filling cupcake liner 3/4 full. Bake at 350 for 17-20 minutes for standard cupcakes, 12-15 for mini's. Remove baked cupcakes to cooling rack. Immediately sprinkle mini chocolate chips over warm cupcakes. Serve in a pretty cupcake liner.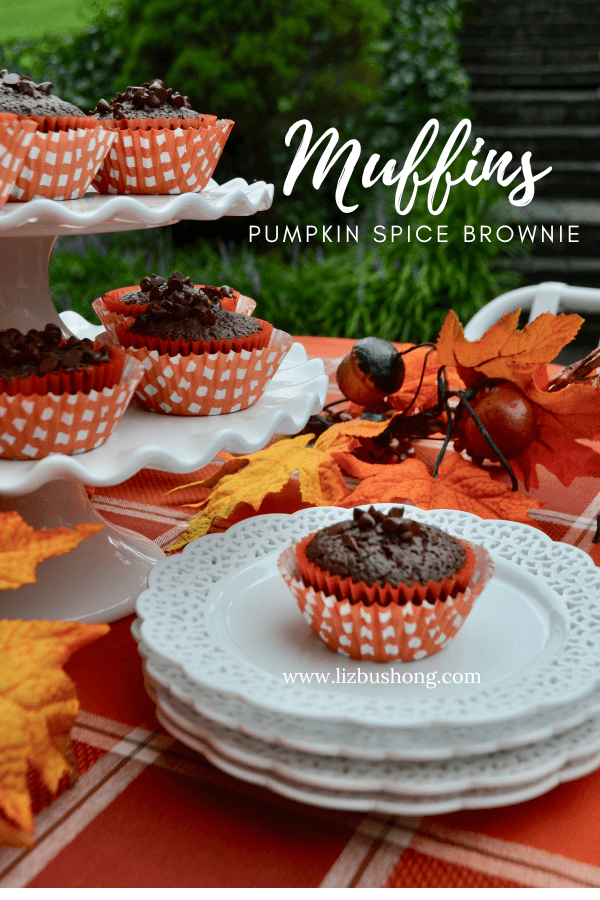 Note: Baking cupcakes in decorative liners sometimes, depending on the type of liner you use, the papers will turn dark and not be as vibrant of the original. So I usually bake the cupcakes in solid liners and leaving that liner on the baked cupcake, just add a decorative liner under the cupcake.
Quick & Easy Recipe for Fall Baking- Pumpkin Spice Brownie Muffins
Everyone will love these sweet dark chocolate pumpkin seasoned muffins!l Call it a muffin or a cupcake it works both ways. Best eaten day you make em, but they will freeze well without the mini chips on the top. Let me know if you bake a batch, you might want to double it. xo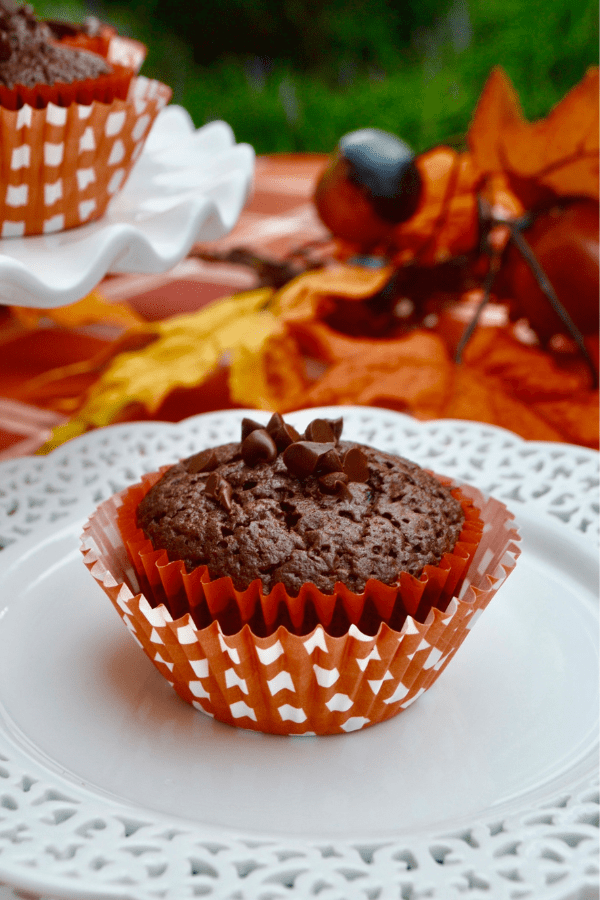 Print
Pumpkin Spice Brownie Cupcakes
Rich dark chocolate brownie batter is mixed with pumpkin puree, pumpkin pie spice, instant strong coffee and mini chocolate chips. While cupcakes are warm sprinkle with mini chocolate chips as a garnish. Serve in decorative cupcake liner.
Author: Liz Bushong
Prep Time:

15 minutes

Cook Time:

17-20 minutes

Total Time:

45 minutes

Yield:

24

standard muffins

1

x
Category:

Dessert

Method:

Mixing-Baking

Cuisine:

American
1 cup mini chocolate chips, divided into 3–1/3 cups
3/4 cup butter
3 eggs, room temperature
1 cup sugar
1/3 cup pumpkin puree- not pie filling- tested Libby's
1 teaspoon instant coffee mixed with 1 teaspoon of water
1 teaspoon vanilla
Dry Ingredients
2/3 cup all purpose flour
4 tablespoons special dark cocoa
1 teaspoon ground pumpkin pie spice or ground cinnamon
1/2 teaspoon salt
Instructions
Preheat oven to 350 F. Line standard cupcake pan with 24 solid liners. Set aside.
Measure dry ingredients and sift together, set aside in small bowl.
In small saucepan, melt 1/3 cup mini chocolate chips with 3/4 cup butter until melted. Set aside to cool.
Meanwhile, mix the eggs and sugar together with a whisk until thick and light yellow for 5 minutes. Add pumpkin puree, vanilla, and instant coffee. Add melted chocolate and mix until well combined.
Fold in set aside flour, dark chocolate cocoa, pumpkin pie spice and salt into the brownie batter using a spatula until flour is incorporated into the brownie batter. Scrape down bottom and sides of bowl. Add additional 1/3 cup mini chips to batter. (the last 1/3 cup is used to sprinkle over baked cupcakes).
Fill cupcake liners in pan 3/4 full of batter.
Bake cupcakes for 17-20 minutes or until toothpick inserted in center comes out clean. Remove from oven, immediately while cakes are hot sprinkle with last 1/3 cup mini chips if desired.  Allow cupcakes to cool in pan to touch, then remove from cupcake pan.
Serve in decorative cupcake liner.
Notes
Cupcakes are best eaten the day made.
To Freeze, when cool, place in ziplock baggies, 4 at a time, or large sealed container. Remove as needed, serve thawed at room temperature.
Recipe inspired by homecookingadventure.com
Cupcake liners were found at Hobby Lobby, solid orange and decorative check Fall Seasonal Item
Keywords: Pumpkin Spice, Brownie Muffins, Dark Chocolate Brownie Muffins, Pumpkin puree, coffee
Other Ideas You Might Like to Try:
Salted Caramel Popcorn Brown Sugar Cupcakes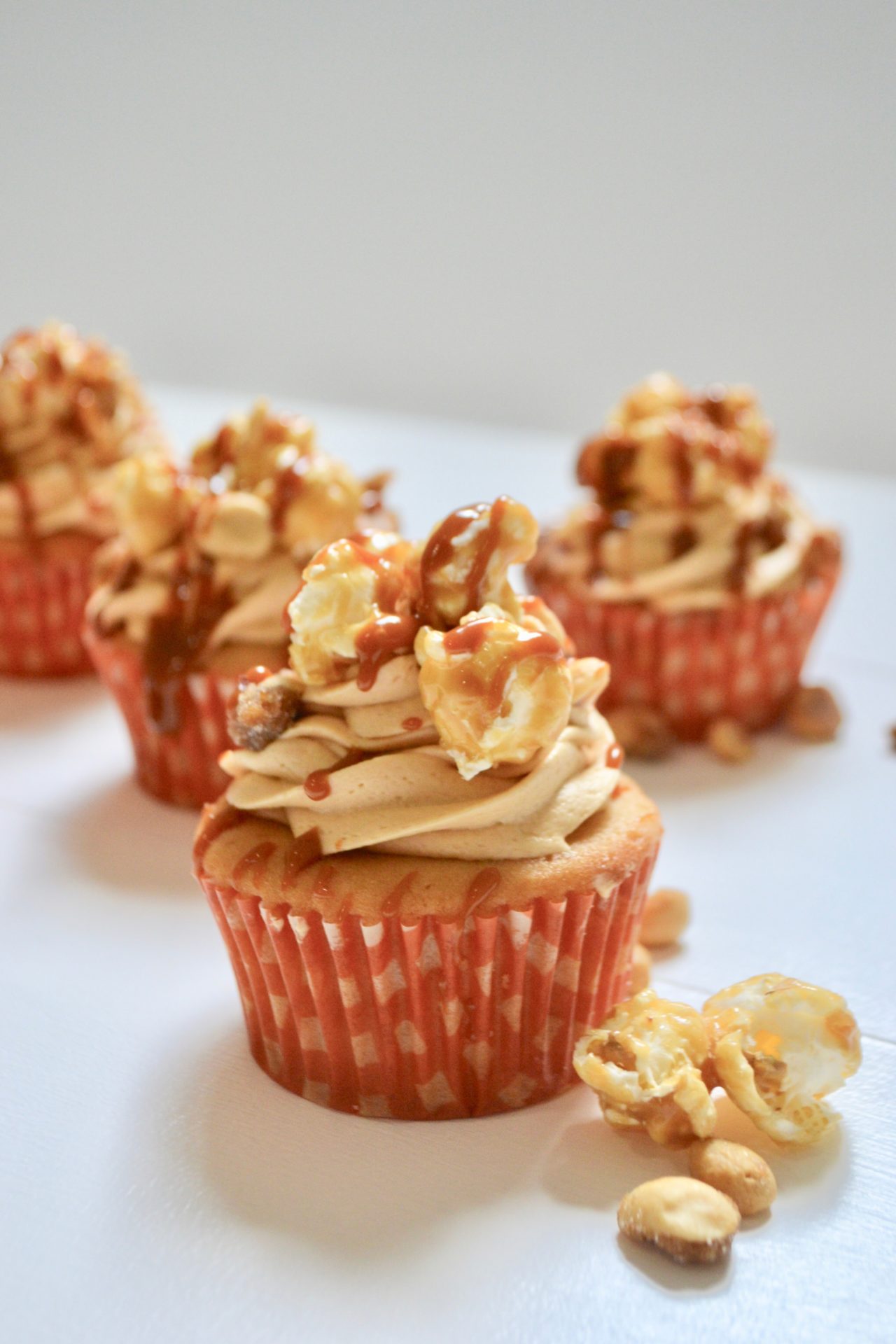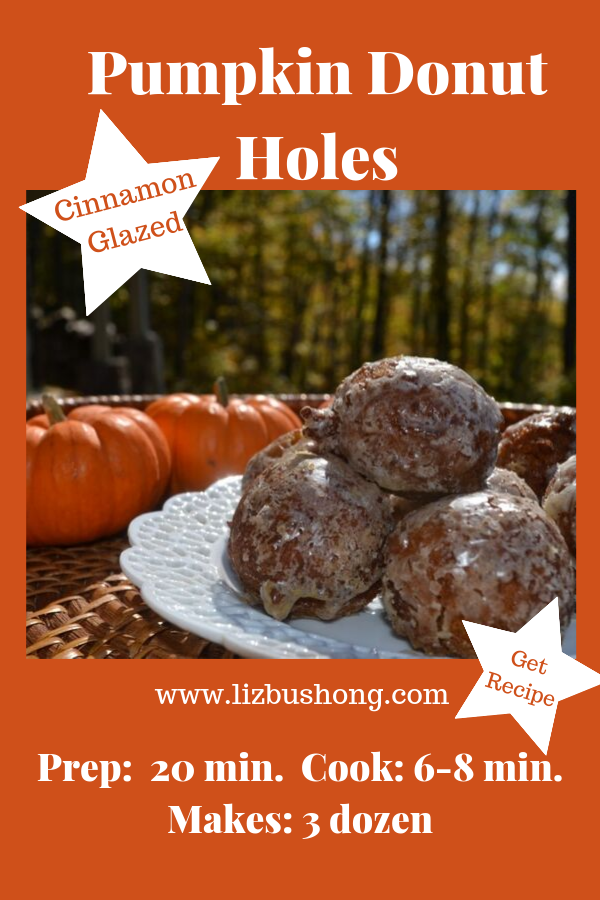 Pumpkin Cream Cheese Swirl Brownies