Make a great cheese ball with Roasted Pineapple Habanero Sauce, cream and cheddar cheese then shape it like a pumpkin.  Add a real pumpkin stem for presentation along with assorted crackers and you have a 20 minute appetizer.
Whether serving this as an appetizer or as a side on a buffet table, this recipe will please every palate.. that likes hot stuff.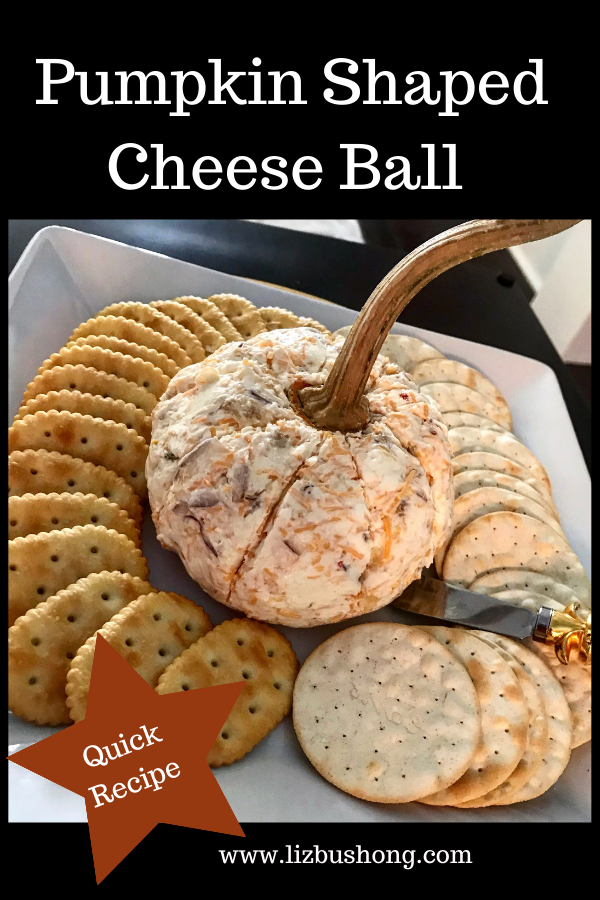 Because Roasted Pineapple Habanero is a sauce; mixing with cream cheese calms the spice. Nevertheless, roasted pineapple adds sweetness in the sauce that makes the perfect balance of hot and sweet. Of course adding red onions will bring the heat up with every bite.
Hot Stuff in Every Bite
If you love hot stuff this recipe is for you. Super quick to make and delicious.  I discovered the recipe from my dear late friend Sharon Neuhaus.  Sharon served this cheese ball at her yearly Holiday Open Houses.  She was a water colorist/artist and would showcase her figurines, "Poultry in Motion" and all of her creative paintings/homeware.
The recipe is simple and made in moments.  You will love it.  To help calm down the heat, add the sauce to your liking and serve with mild crackers like water cracker/buttery kind.
Must Have Key Ingredient- Roasted Pineapple Habanero Sauce
Got a have the habanero sauce for this recipe. It is sweet and spicy. Mixed with the cream cheese and red onion your tastebuds will love every bite. You can control the heat by the amount of sauce you add.  Mix a little in and taste, then add more if you can take it. Rather if you think your guests can take it.
I found the sauce at Fresh Market or amazon.  But you can also go to Robert Rothchild website to order.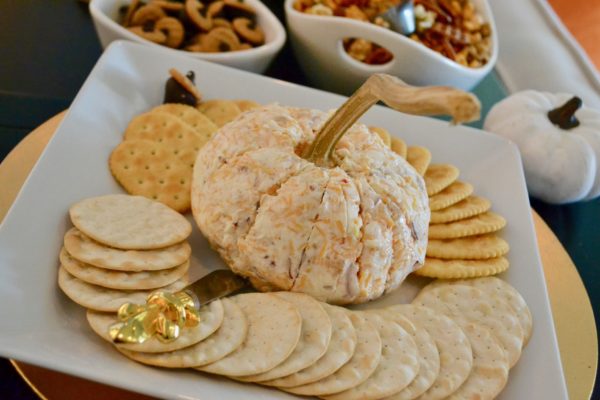 Heres the 20 minute recipe for Pumpkin Cheese Ball
Print
Roasted Pineapple Habanero Cheese Pumpkin Ball
Author: Liz Bushong
Prep Time:

15 minutes

Cook Time:

none

Total Time:

25 minutes

Yield:

3 cups

1

x
Category:

Appetizer

Method:

Mixing

Cuisine:

American
2– 8 ounce packages cream cheese, softened
2 cups sharp cheddar cheese, shredded
1/2 cup red onion, chopped
1/4–1/2 cup Roasted Pineapple Habanero Dip/Sauce
Instructions
In large bowl, cream together cream cheese.
Add cheddar cheese and onion.
Add habanero sauce, mix to blend. Add additional sauce if desired.
Shape cheese mixture into a large round slightly flattened ball to look like a pumpkin.
Make indentions on sides of pumpkin with bakers twine or unflavored dental floss.
Add faux pumpkin stem or use a broccoli stalk as a stem.
Wrap in plastic wrap and chill until ready to serve.
Unwrap and serve cheese ball with assorted crackers.
Notes
If you don't want to shape the cheese ball like a pumpkin, shape into a long loaf and add additional habanero sauce over the top of the loaf sized ball.
Keep refrigerated until ready to serve. Bring to room temperature for serving with crackers.
If you have any leftover.. consider adding to mashed potatoes or as a spread for turkey sandwiches.
Other ideas you might like to try: