Spring twig wreath and candle centerpiece will be your favorite table decor for the season. Whether celebrating early spring to Easter Sunday, you will love this easy do it yourself centerpiece for your table.  Curly twigs wrapped around a grapevine wreath faux pink flowers, berries and bunnies are always in style for Spring.  After you make the wreath, place it on a cake stand to bring the centerpiece up off the table but low enough you can see your guests across the table.  I added a single glass canister with candle to complete the look. Beside the centerpiece are two vintage bunny candle sticks that a friend gave to me.*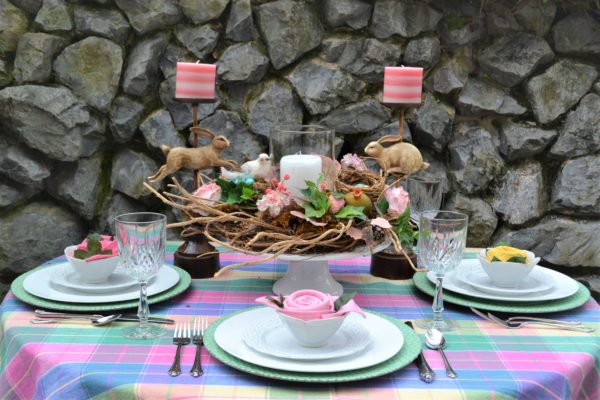 If you decide not to make a wreath from scratch, purchase a grapevine wreath and a pre made floral wreath, then attach the floral wreath to the grapevine with green wire or brown pipe cleaners.  In addition to making a beautiful wreath with two separate wreaths, it will make the centerpiece fuller and very pretty.  Also perfect for hanging on the door after the dinner.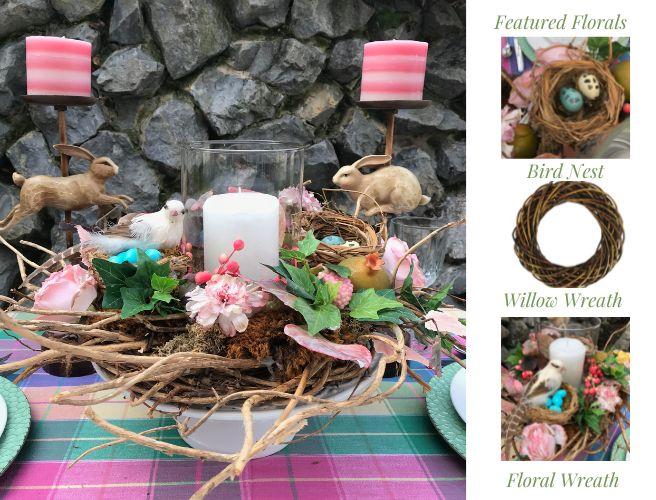 Supplies You Will Need: 
One grapevine or willow wreath and 5-7 branches of willow twigs. Brown pipe cleaners or brown floral wire for hanger ( if you plan to hang it later) faux pink and dark pink florals, moss, faux ivy sprigs, faux small berries, single birds nest with eggs and small bird,  glass candle vase with white pillar candle.
Here's the Instructions and See Tutorial Below
Print
Spring Twig Wreath and Candle Centerpiece
Do it Yourself Spring Table Centerpiece using grapevine or willow wreath, florals, birds nests and twigs to create a pretty centerpiece. A white pillar candle is added to the center to complete the look.
1-Grapevine wreath- 10″
8–9" round glass canister
8–9" round candle
1– 8 oz package bright green reindeer moss or moss of choice
2–3 branches of soft pink or color of choice faux flowers with leaves
2– faux roses
3–5 faux berries with stems
Several curly willow branches, cut into 7-9″ lengths
Faux bird nests with birds and eggs
Faux small ivy leaves or other small fill in greenery
Glue gun with glue
Wire cutters
floral picks or U shaped pins
Instructions
Gather all materials before assembling
Lay wreath on flat work surface, hot glue moss in random positions on the top of grapevine wreath.
Add willow or other twigs around the base of wreath with all branches going in the same direction around the edge.  Use assorted lengths and uneven placement for more texture and interest.
Glue or pick nest on one side of wreath, around 8.  Picture your wreath as a clock with the hands on 8.  Place another nest at 2 .  Or 10 and 4.
Position faux stems and ivy around the nests and at 5-6:00 on the wreath.
Fill in the remaining wreath with berries, faux roses and additional twigs or moss to completely cover the space.
Place on cake stand in the center of your table or buffet, add the clear glass canister with white pillar candle.
Notes
Tips:  Work in uneven numbers when selecting floral's  3, 5, 7
Think of your wreath as a clock face when positioning elements. Place similar elements in size and shape on opposite sides from each other, like 2-7 or 10-5 but not 3-9 or 12-6.  If elements are placed asymmetrical your wreath will balance better.
To  Learn how to fold a Rose Napkin fold. follow the link.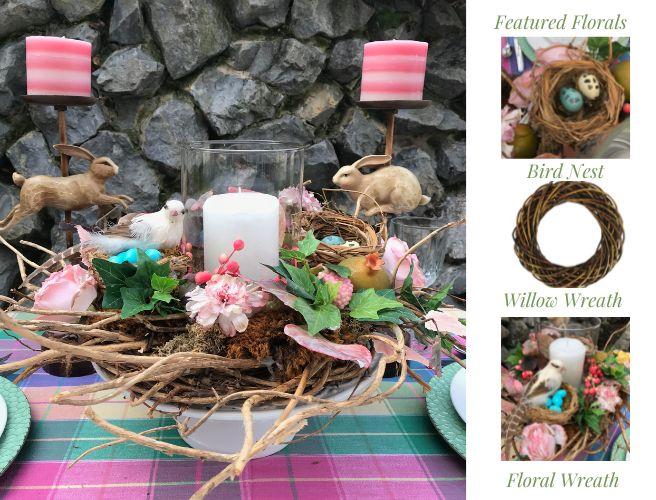 *As a side note, the bunny candle sticks in the back ground were given to my friend Sharon Neuhaus, infamous water color artist, Poultry in Motion creator. She recently moved to heaven due to lung cancer, so being able to use her candle sticks always brings back great memories of our friendship.  She loved bunnies too. 
In Conclusion Heres the Step by Step Tutorial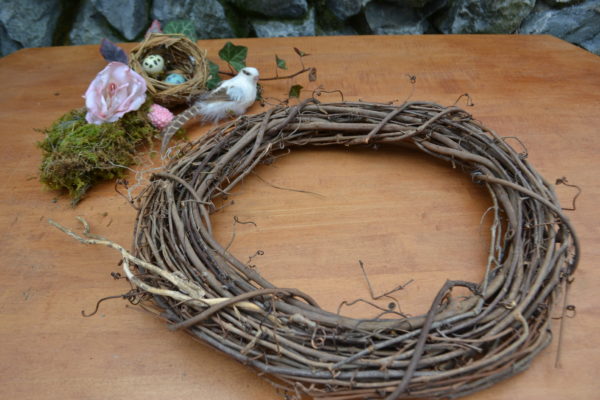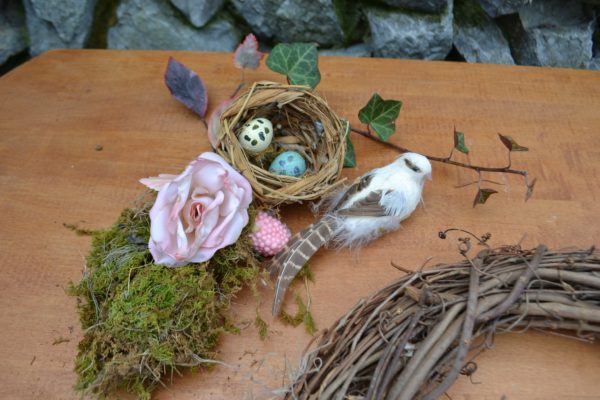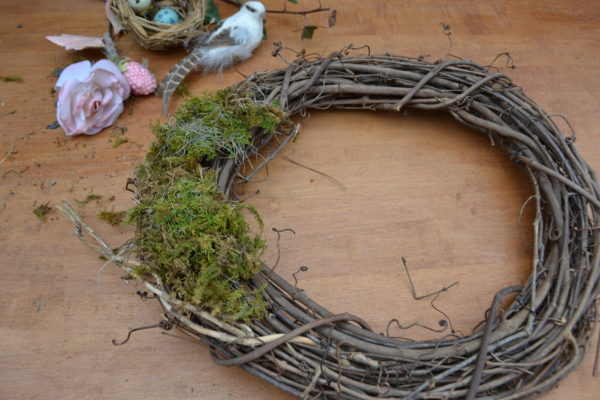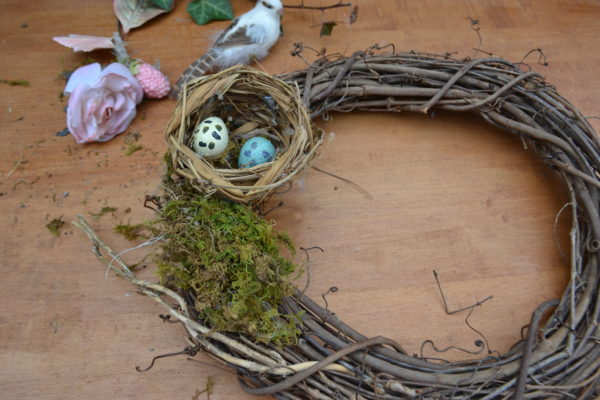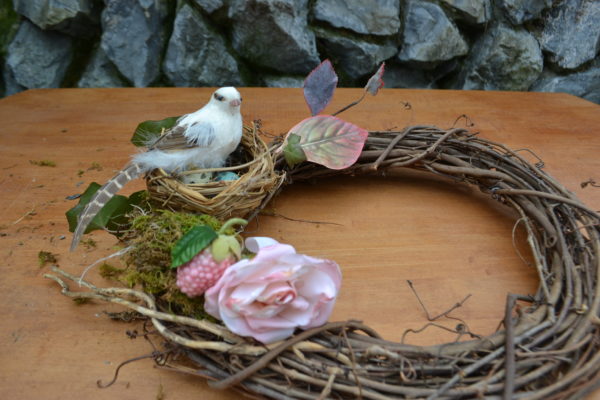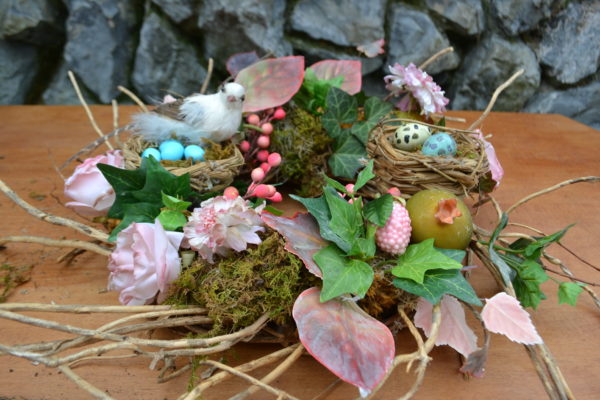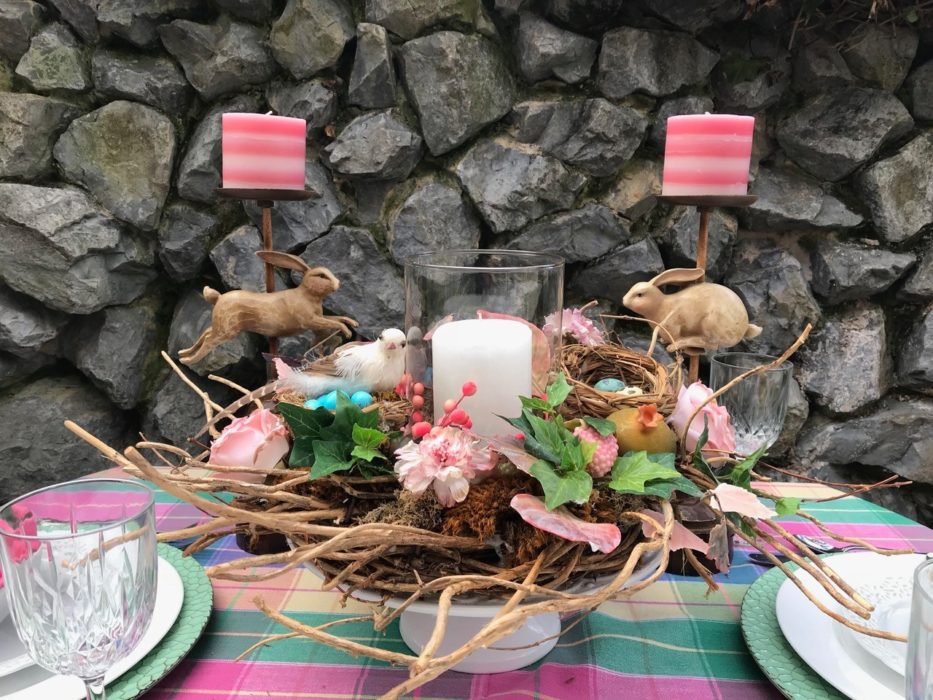 Other Ideas You Might Like to Try: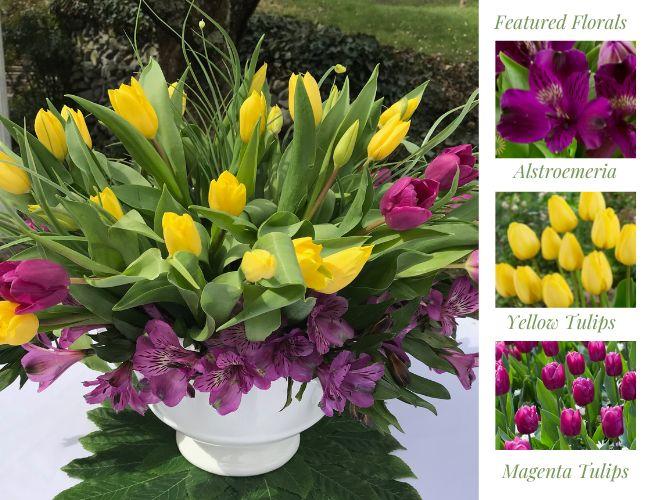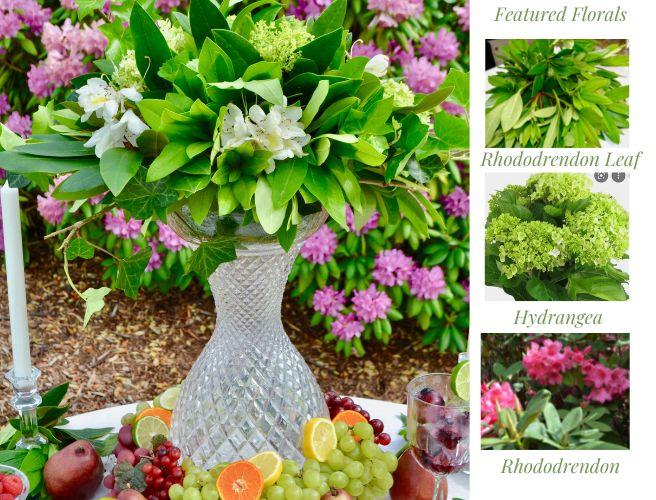 Rhododendron Floral Centerpiece Tutorial