Valentines Day would not be Valentines Day if we did't set a pretty table. That means bringing out the heart shaped dinner plates, pink linen table cloth and the heart shaped floral centerpiece. Go all out with heart shapes. It's valentines day!
Shades of soft pink to magenta with gold creates a lovely setting for 2 or more. Plan your dinner around his or their favorites but the table setting can be all YOU! Set out the gold candles to support the gold crown napkin rings and polka dot cups and saucers.
So much fun putting together this feminine table, your man will not mind the decor and your family will love it.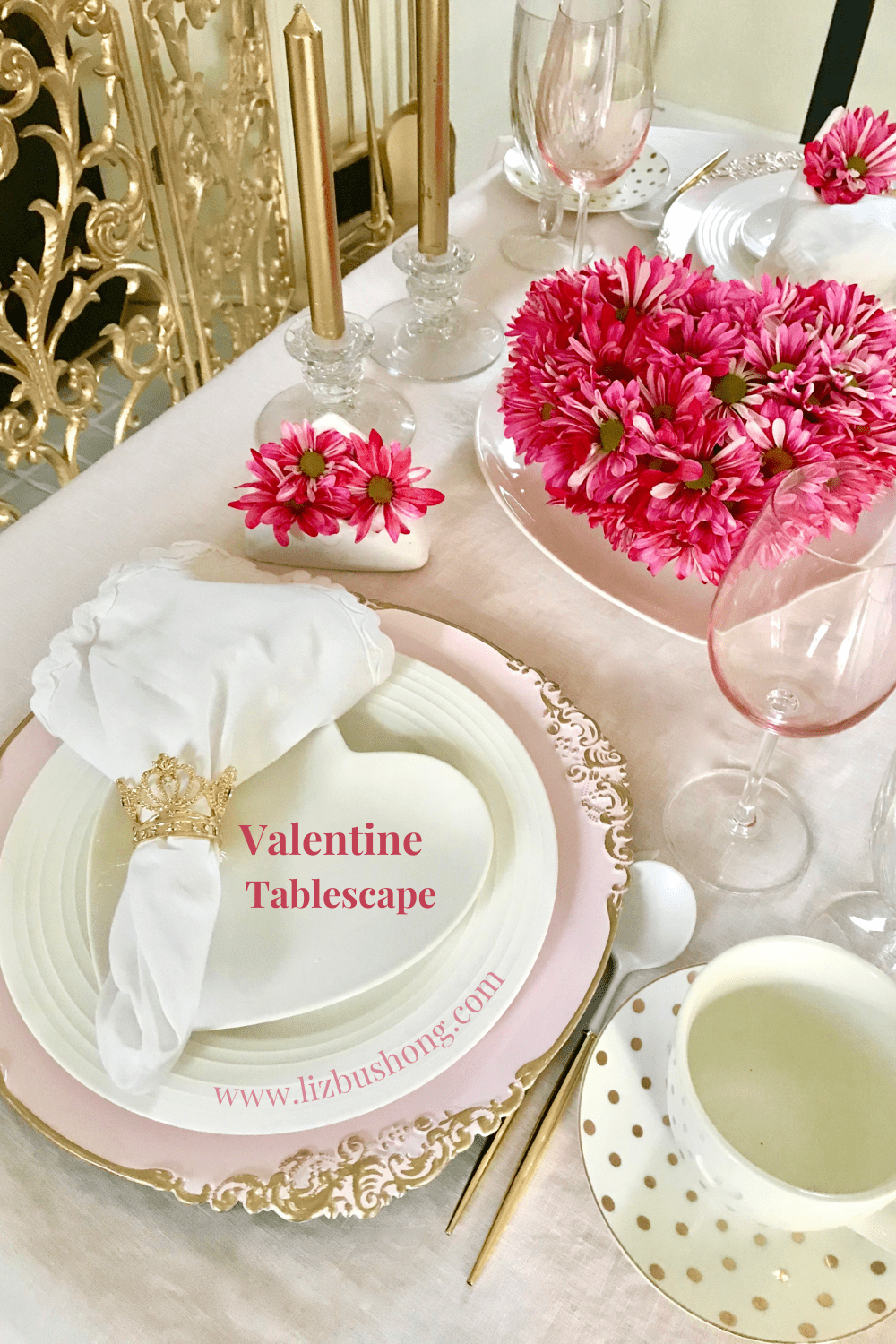 How to Set this Valentine Table
The blush table linen covers the table, if you don't have blush use white, but use a table cloth, it just helps set the overall tone of the table. It's the perfect backdrop. Next build the place-settings. 
I found these chargers at Hobby Lobby they are pink with gold trim, so pretty and almost square in shape with the gold decor on the four corners.  Bring out your classic white dinner plates and add a heart shaped salad plate.  
White cotton napkins with white rick rack and gold crown napkin rings repeats the gold color scheme as well as the gold candle tapers.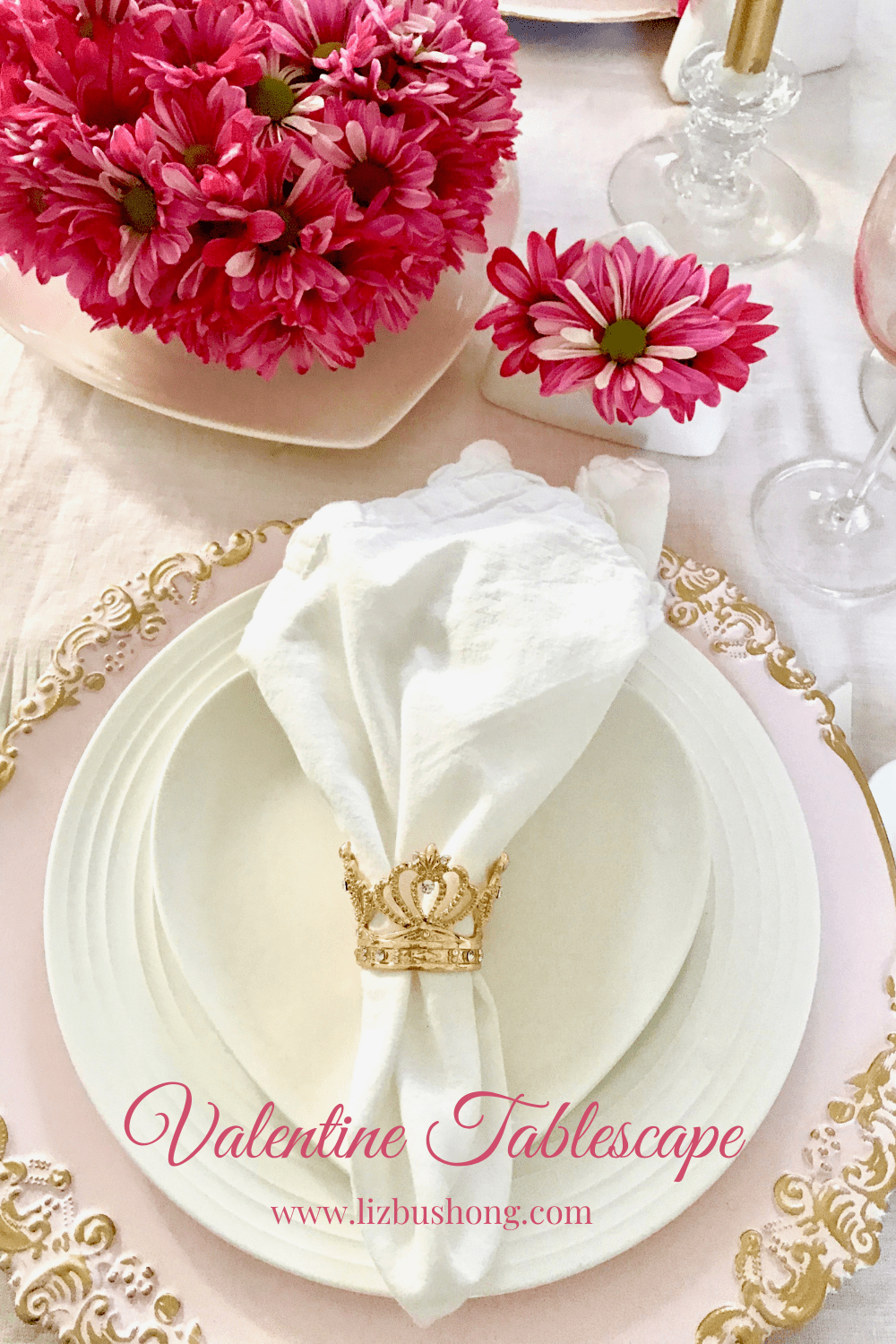 Don't Forget the Centerpiece
Create a quick and easy floral centerpiece in a heart shaped bowl.  I used an 8″ ceramic heart shaped bowl for this centerpiece.  See DIY here.  Pink Shasta Daisys lined the bowl that was filled with wet floral foam.  Only one flower was used for impact. Besides the centerpiece, the individual place settings featured a small love note vase with more daisy's.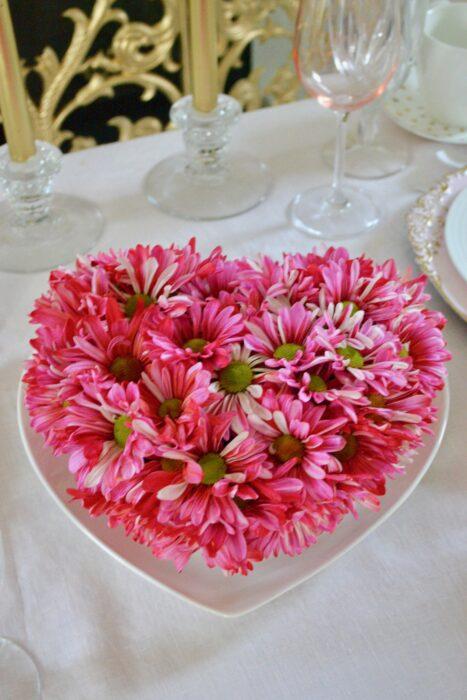 Love Note Place-setting Vase with three Daisy's.  So pretty at each setting. These can be take home favors too.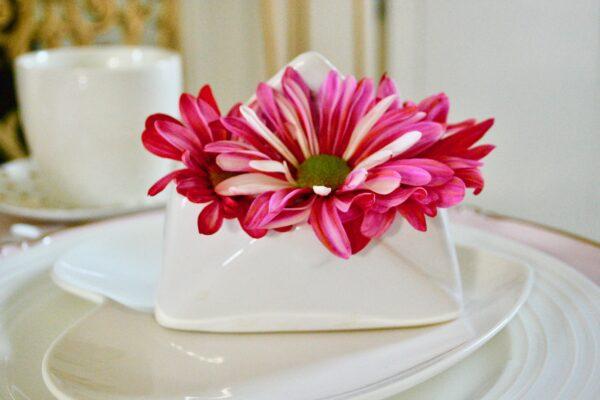 I hope you will create a pretty table for Valentine's day. It's not too late to start collecting white dinner plates and assorted salads or dessert plates. Then you can mix and match with ease and within a budget.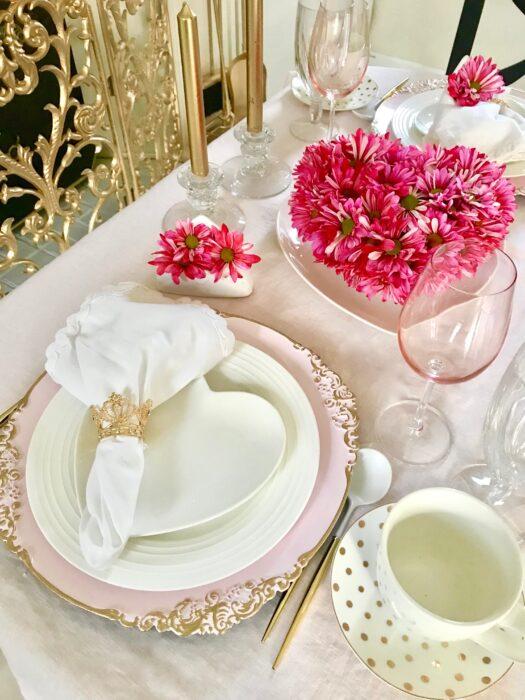 Other Ideas You Might Like to Try: