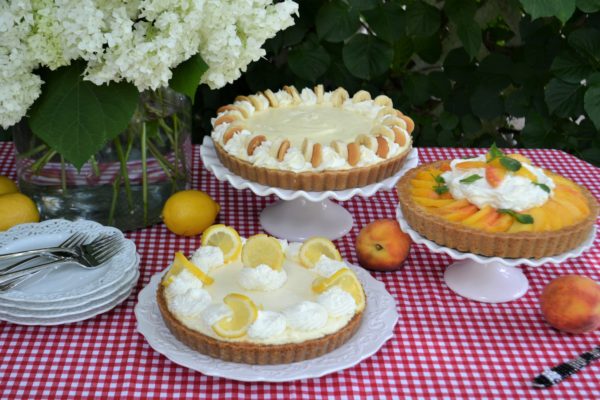 Nothing says summer dessert better than a slice of southern pie. Fresh Peaches & Cream, Lemon Cream and Caramel Banana Cream Pie are pies that are cool and creamy treats perfect for a hot summer day. What makes this trio of pies so special you might ask… simple crumb crusts and easy fillings.
If you keep two recipes on hand this summer you will want to keep the Master Crumb Crust and Sweetened Whipped Cream. No matter the crumb or whipped cream the basic recipes are the same. The crust recipe can be made with ground cookies, gingersnaps, crackers and grahams. Think outside the box when making a crust, it doesn't always have to be a pastry. The other master recipe you want to have on hand this summer and all year around is the Master Sweetened Whipped Cream. Making this fresh whipped cream is easier than you think and full of flavor. Chilled heavy whipping cream is beaten on high speed to form soft peaks. Adding a little bit of confectioner's sugar and flavoring of choice makes this cream whip and pipe beautifully. It's the cornstarch in the confectioner's sugar that makes the cream firm enough to pipe and stand up. The secret to successful whipped cream is chilling the mixing bowl, beaters and making sure your bowl is thoroughly cleaned. ( click on photo for recipes).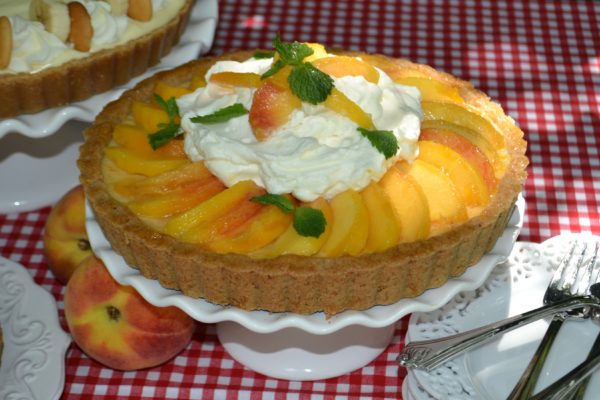 The Peaches & Cream pie is made with Butter Pecan Shortbread Cookies. Because the cookies are made with a lot of butter and sugar the crust recipe uses 2 tablespoons less sugar and butter.   Process the cookies in a food processor or crushing by hand in a plastic bag adding a bit of sugar and melted butter makes this crust easy to make. Press crumbs in a pie plate or tart pan then refrigerate or pre-bake for 5-8 minutes. Allow the crust to completely cool before adding cream fillings. For this pie, peach preserves mixed with sweetened condensed milk and egg yolks make this custard filling rich and thick. After baking and cooling the pie is garnished with fresh sliced peaches and whipped sweetened cream. Mint leaves make the pie ready to serve.
Now that you have mastered the crust and sweetened whipped cream recipe, it's time to focus on the fillings. For most crumb crusts you will use a cream filling. Fresh fruit pies are usually made with pastry crusts because the crust stands up better with the juice of the fruit. There are tricks to keeping your crust from being soggy one being brush the inside of the pastry with egg wash before baking and filling. For crumb crusts, you can line the crust with melted chocolate or in the case of the Banana Cream Pie…a layer of thick caramel. The caramel also helped keep the bananas from turning and blending into the crust.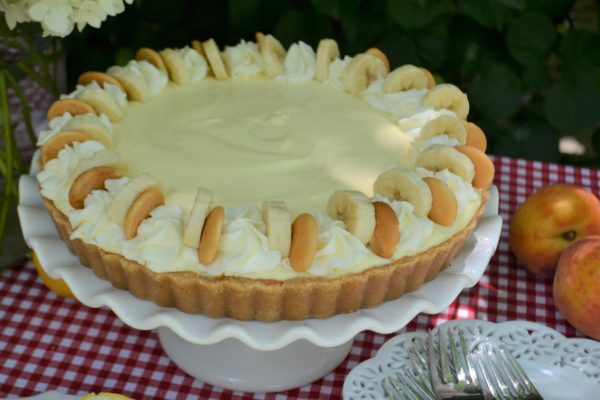 The Banana Cream Pie filling is made with Mini Vanilla Wafer cookies for the crust and French vanilla instant pudding and pie mix with sweetened condensed milk for the custard. The no-bake filling is egg free. A layer of Dulce de Leche lines the bottom crust with two layers of sliced bananas and custard. When ready to serve add fresh whipped cream with mini vanilla wafers and sliced bananas. This is a very sweet pie so if you want to cut back on the sweetness, skip the caramel base and mix the whipped cream in with the pudding mix for a lighter version.
For the most refreshing of summer pies serve up a slice of sunshine with this Lemon Cream recipe. This pie has fresh lemon juice, egg yolks, and sweetened condensed milk for the filling and baked in a traditional graham cracker crust, although lemon coolers would make a great crust too. The custard is baked in the crust 12-15 minutes and chilled to set. Fresh sweetened whipped cream mixed together with lemon curd is piled over the custard and garnished with lemon slices. It's light, creamy and just enough tartness to make it refreshing.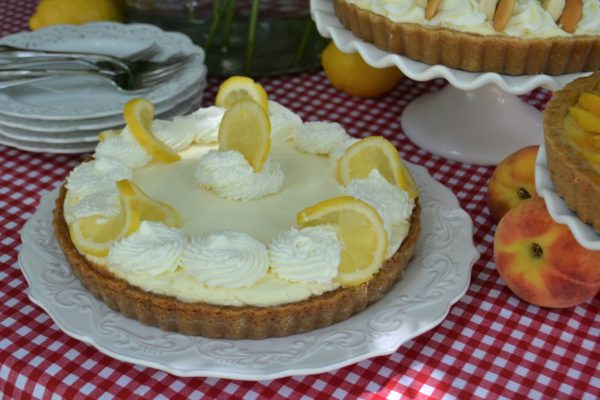 All of these simple crumb crusts and easy pie fillings will put you in a heavenly confection… a southern state of mind. Perfect for dinner, backyard barbecues and family reunions, these cream pies of total sweetness are destined to become your favorite summer classics.   Enjoy!
Helping you Make a Statement, Make it Sassy and Make it Yours! ™