Create the best red, white and blue table-scape with these fun ideas. Celebrate the 4th of July with fireworks as in table decor and food. Because fireworks is a great theme for table decor, the table centerpiece is a bundt cake. Drizzled with red, white and blue tinted frosting and sprinkled with edible confections makes this cake look like bursts of fireworks! Sugar Cookies dipped in white frosting with red and blue spider web-fireworks makes these cookies stand out. It's all for fun and festivity in celebration of the 4th of July.

Let's talk about the Table Decor
Setting the table for the 4th of July is pretty simple, with these fun ideas. Red, White and Blue kick starts the patriotic table. Red Round star edged placemats sit pretty on top of a white tablecloth. At each place setting, the white dinner plate supports paper red plaid plates with navy and white paper salads. Cute little paper white pearlized bowls are added to compliment the theme and color scheme. Inside the paper cup we served crispy french fries in parmesan coating. YUM! To complete the settings re-useable plastic flatware in red and white from sophistiplate.com adds pizzaz and important utensil.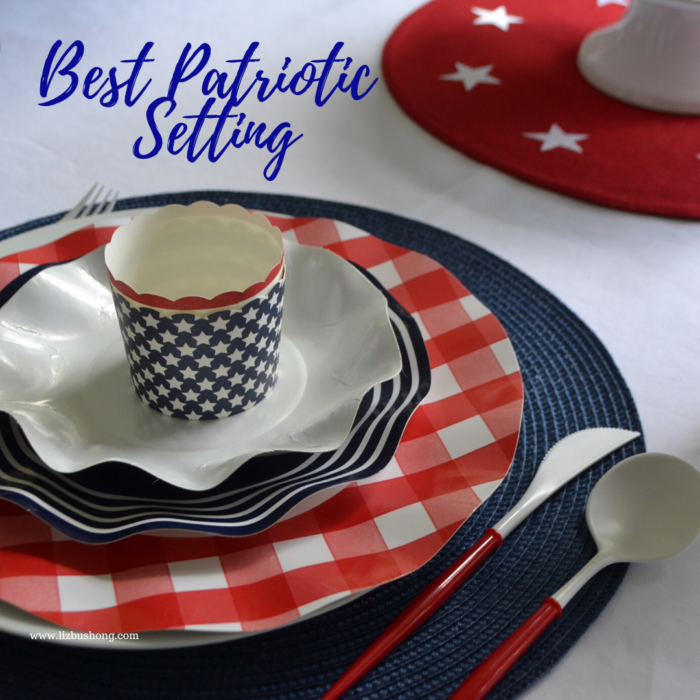 Table Centerpieces, Center Cake and Side Patriotic "Star-studded" Vases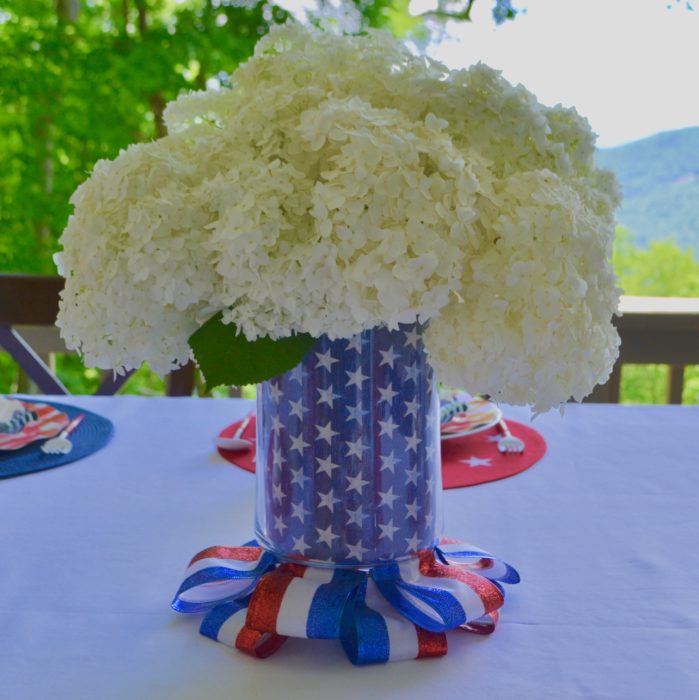 Using two glass urns, one inside the other… star studded scrapbooking paper lines between the vases. Fresh snowball hydrangeas fill the inner vase. Adding sparkle to the base of the vase, I used red, white and blue patriotic ribbon attached to a brown paper strip then hot glued to foot of vase base. This colorful band created unity with the red, white and blue color scheme. Having the vases on hand and hydrangeas from my yard made this centerpiece budget friendly. In photo below curled pipe cleaners are added to represent fireworks.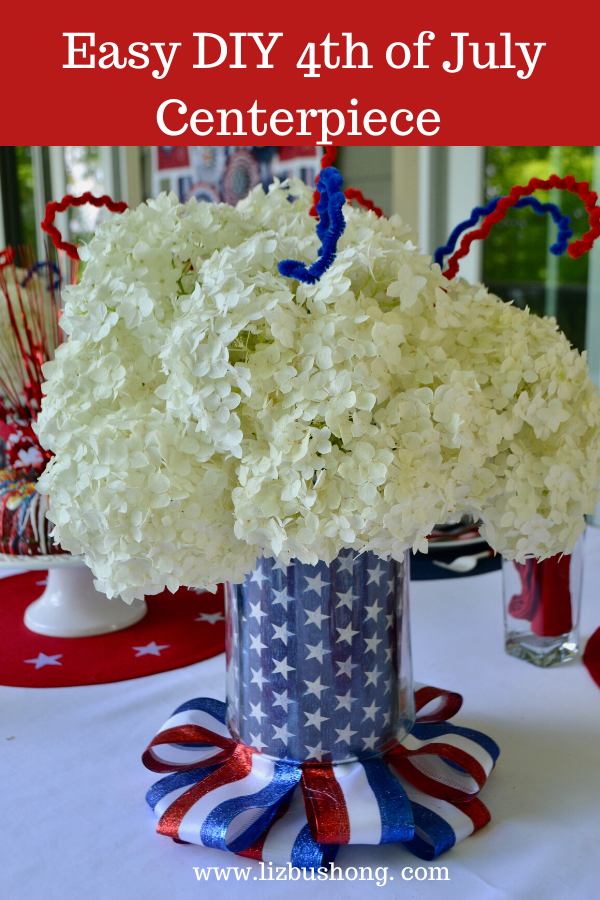 If you don't want to add the curly pipe cleaners thats optional. The flowers look great with our without the "sparkler" pipe cleaners.
Fireworks Bundt Cake As Centerpiece Main Attraction
For the Center of the table I made this red, white and blue bundt cake. This was not my original idea, however I added the metallic sparkling stars and assorted confetti to make it look like it was bursting in air.
To make this, use a small balloon weight and attach the metallic wired star pick to the weight. This fits perfectly in the center of the bundt. Cover base with plastic wrap then insert after frosting with red, white and blue drizzle and sprinkles. Get the recipe here from Betty Crocker.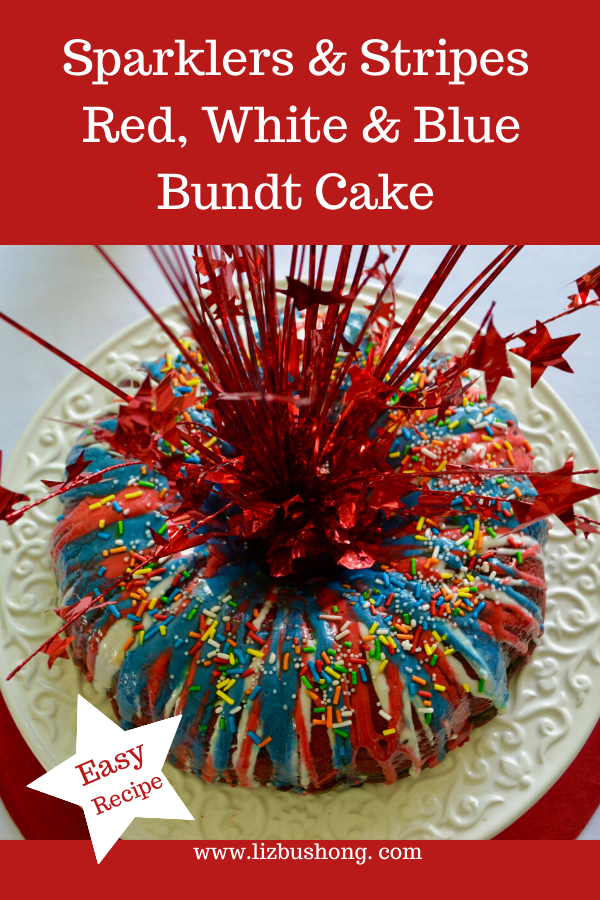 Another fun food for this celebration is the Fireworks Sugar Cookies. Easy to make, bake, and decorate. Because these cookies take some time to decorate, bake the cookies a day ahead or weeks ahead, freeze then decorate right before serving. They will be great up to 3 days after decorating. Serve at room temperature.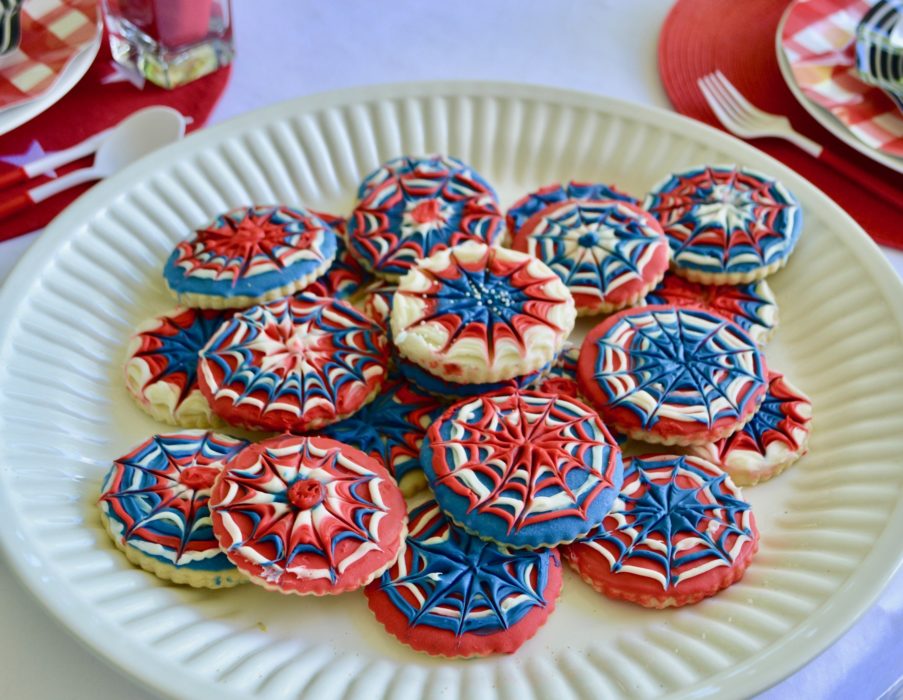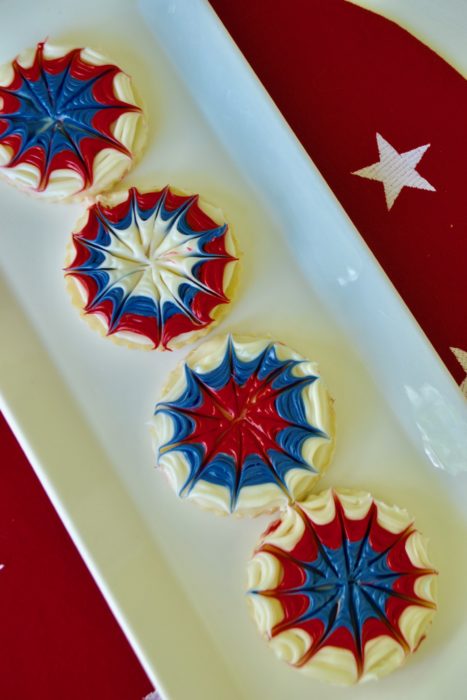 Serve mini red, white and blue cheesecakes along with the cookies and cake. It's good to have a variety of small desserts when entertaining. These cheesecakes were made in a mini muffin pan with removable bottoms. Cream cheese filling tinted with red and navy color gel. Blueberry and strawberry jam adds to the flavor as well as color that make these cheesecakes delicious. Crushed vanilla wafer cookies pressed in the bottom of the tin makes a tasty crust.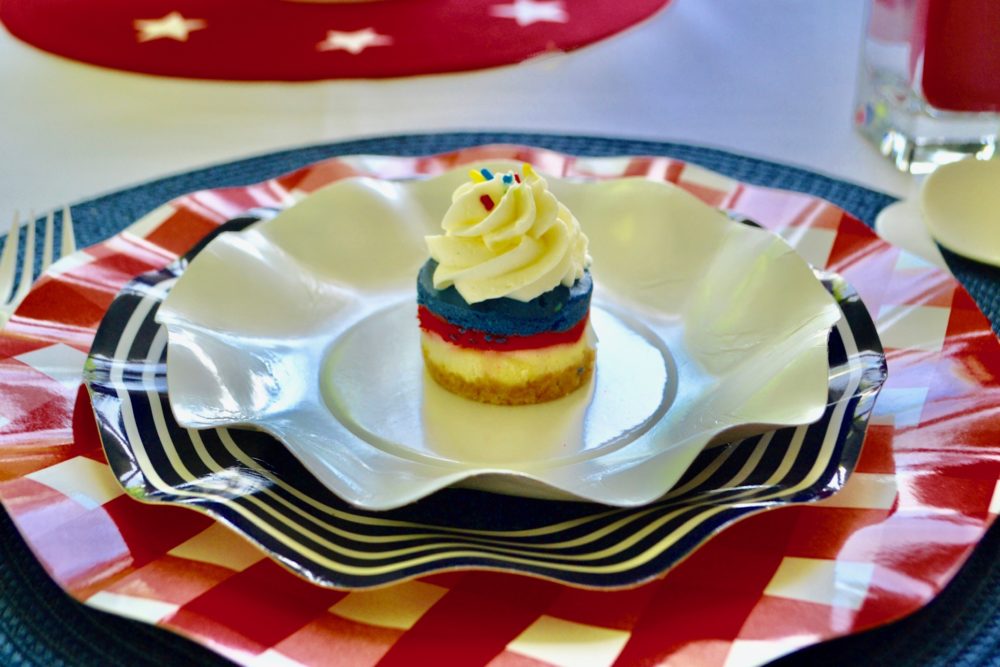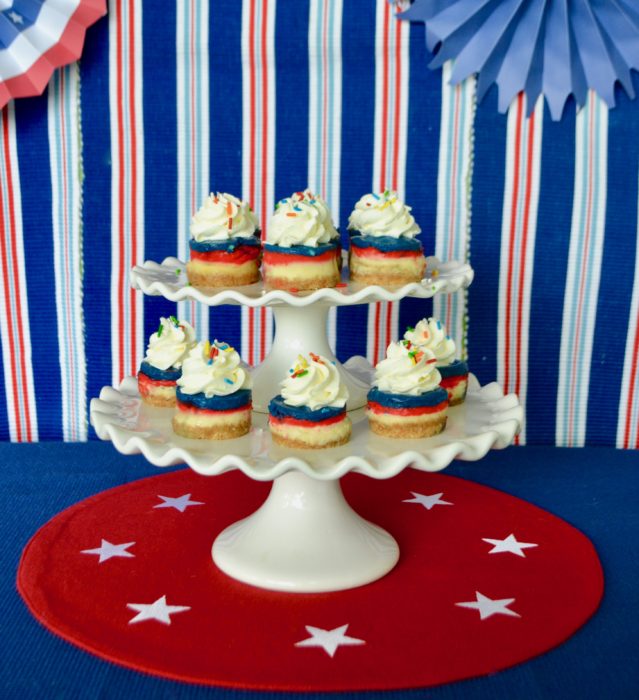 Last but not least in the dessert category, create a Berry Good American Flag. Fresh strawberries, blueberries and blackberries arranged in stars and stripes with yogurt white chocolate covered pretzels make an outstanding statement on your table. Brush the fruit with melted strawberry and blueberry jam to add shine and sweetness instead of sugar.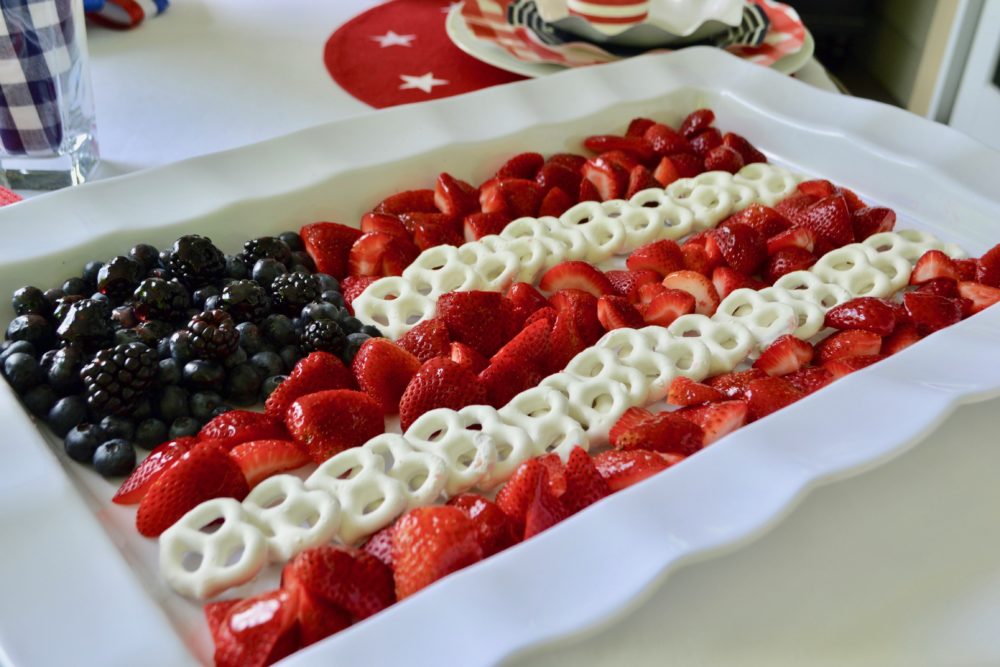 In conclusion to this special table scape adding Firework Napkin Folds complete the place setting statements. Easy to roll red napkins have wired edged ribbon cut into strips and curled with striped paper straws rolled like a Firecracker. The napkin stands tall in a drinking glass. You could lay the napkin flat on the plates, but in keeping with the balance of the table, standing napkins help with the overall balance.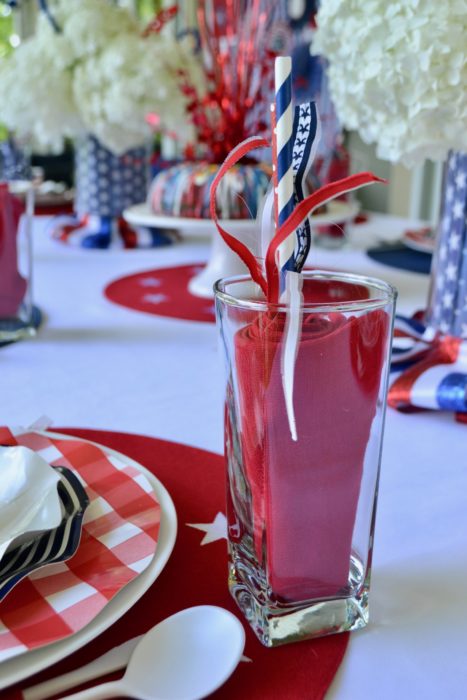 Enjoy!
Other Ideas you might like to try: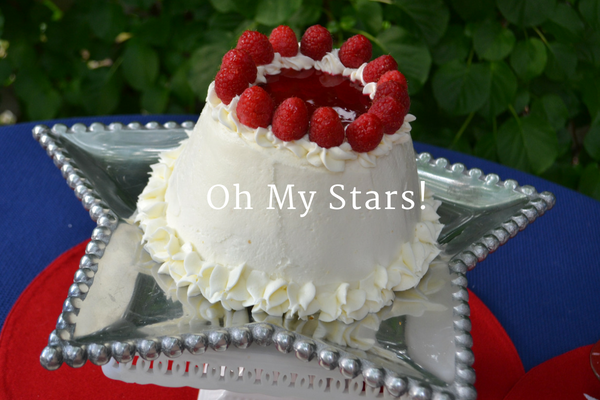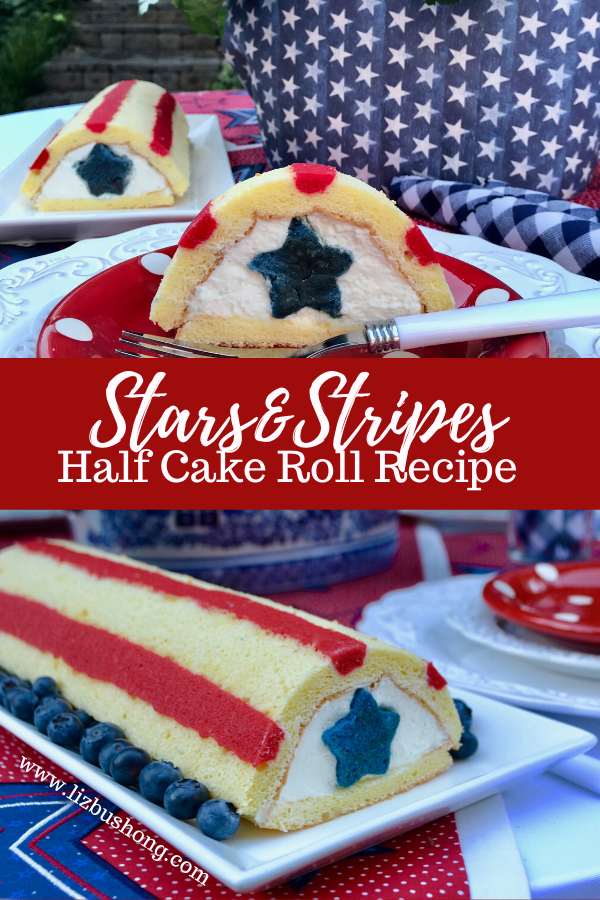 Knock it out of the Park Tablescape/Menu