Whether you need a dessert for Valentines Day or Sunday Supper, this no bake cheesecake is the best. A fun easy dessert that your family will love. This cheesecake recipe makes a smooth and creamy dessert that sets up beautifully in the refrigerator. The outside of the 6″ cake looks like a normal cheesecake, but.. there is a surprise in the middle. As you cut into the cake, bright squares of cherry and orange jello squares peep through. When you eat this dessert, it is smooth and creamy but with a kick of cherry and orange spongey jiggly, gel-like texture. It is unique and a current food trend.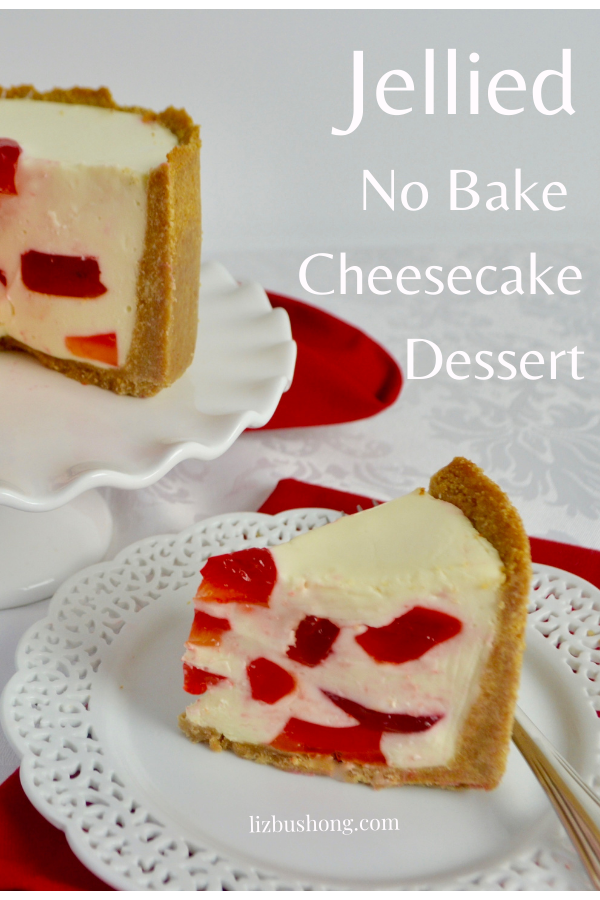 How to make this easy dessert.
Let's start with the jello. You will need a package of your favorite gelatin flavors, I used cherry and orange. Following the directions on the box of jello, stir up a batch, then pour into a 9″ x 13″ shallow pan with 2″ sides. Chill the jello until firm then cut out squares or other shapes. I made one heart for the top center of the cheesecake just for Valentines day dessert. While the jello is setting up, make the cheesecake filling.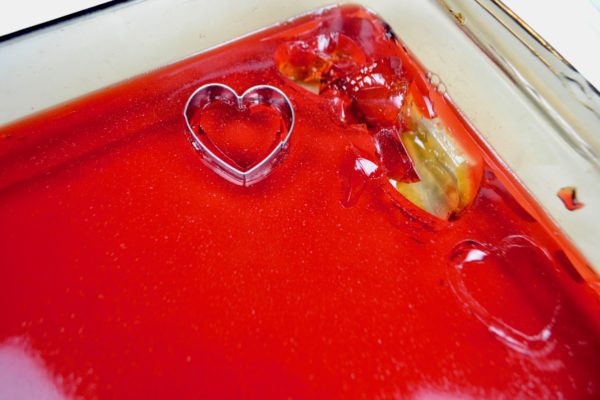 Because this recipe is no bake, the crust is graham crackers, however you can use crushed cookies instead. I used a 6″ round springform pan lined with parchment on the sides of the pan and bottom.
Making the crust: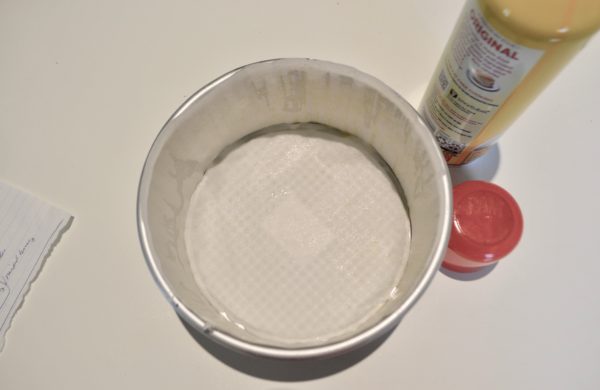 Tip: Lining the pan with parchment will ensure that the crust holds the sides together. Lightly spray with cooking spray.
Process the crumbs then add sugar, and melted butter. Process until crumbs are coated.
Tip: I also added sugar to the crumbs and baked the crust for 5 minutes at 350. But.. if you chill the crust for 30 minutes before you add the filling, you should be ok. The sugar helps hold the crust together.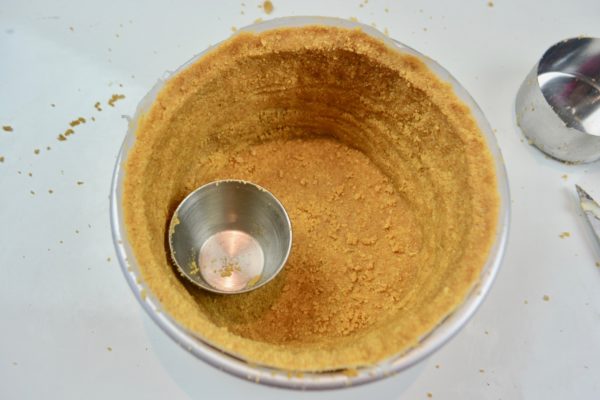 Push the crumbs up the sides of the springform pan, this is the hardest part. Use a small cup to help push the sides and bottom of crust to the pan. Form the top edge with fingers. Chill at least 30 minutes or bake.
Making the no bake cheesecake filling.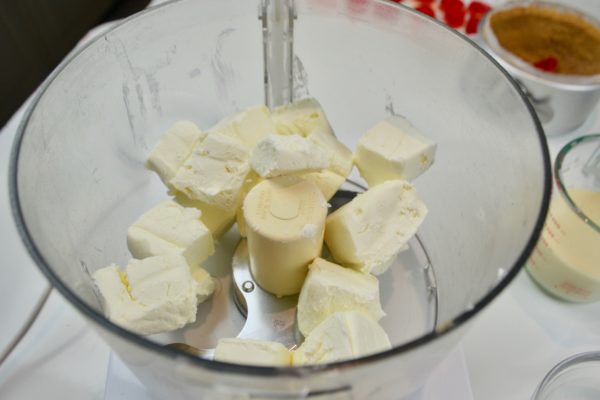 I used 2-8 ounce packages of softened cream cheese and cut into 1″ pieces. Process until smooth and creamy, then add softened unflavored gelatin. You will need a 1/4 cup boiling water and two packages of unflavored gelatin like Knox or other brand. There is no color or flavor to this gelatin, it just helps set the cheesecake since we are not baking and there are no eggs in the filling.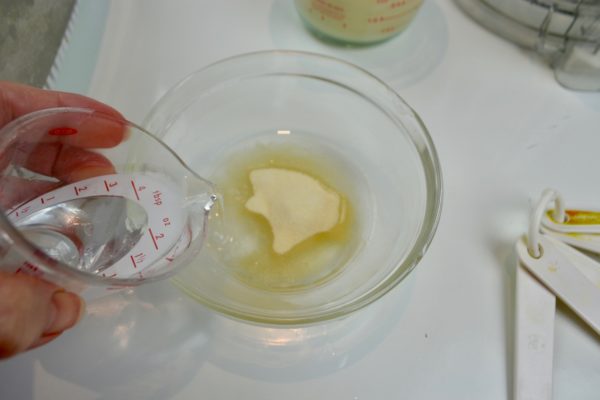 Add one can of Sweetened Condensed Milk to cream cheese mixture and 2 teaspoons orange extract.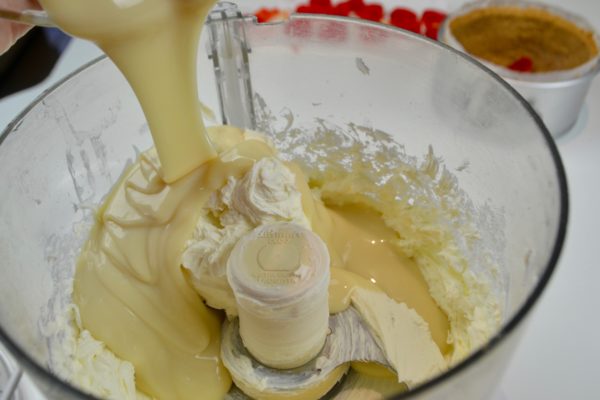 All ready to put in your prepared graham crust.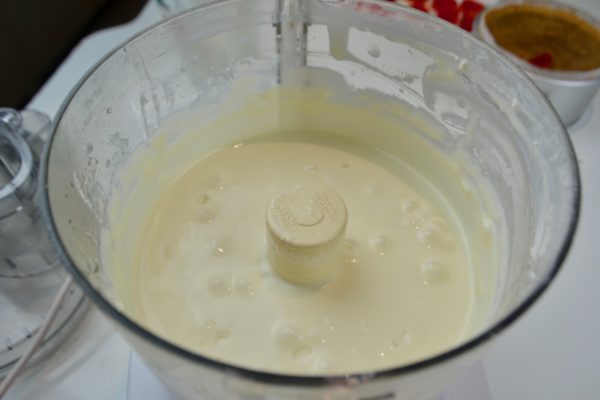 Add jello pieces to bottom of crust, pour enough cheesecake filling to cover the pieces.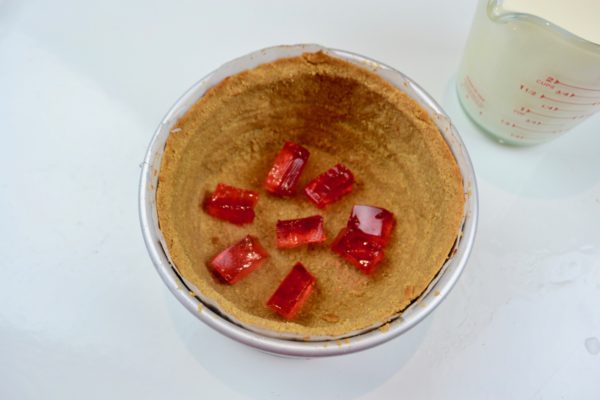 Add more jello pieces, repeat process until pan is full. Add one jello heart or desired cut out on the top of the cake.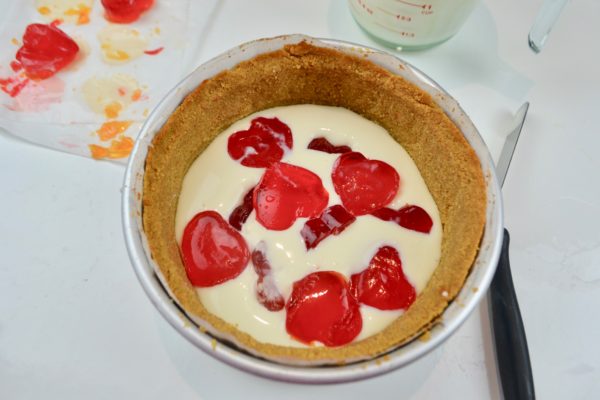 Chill cheesecake up to 3 hours or longer. The longer it is chilled the better. Actually the cheesecake tastes better after the 24 hours.
Now for the fun part… removing from pan.
Seriously this is the easy part. Unlock sides of springform pan, and remove the parchment. Look how great this is. Your cheesecake sides will stand so pretty for you.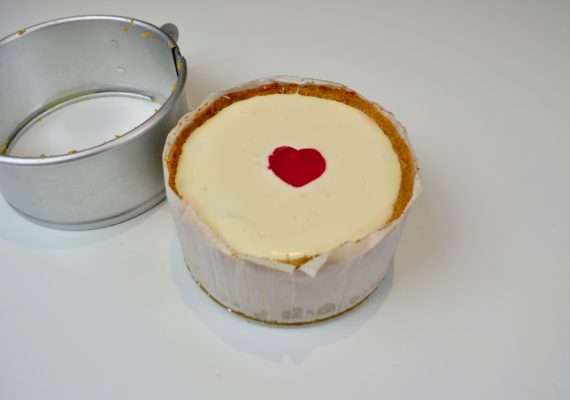 Remove the parchment paper. How about that heart jello shape. So cute. I thought about adding Valentine sprinkles but discovered they bleed so… I opted out of that idea.
Hindsight: should have added whipped cream dollops and squares or additional heart shaped jello pieces on the dollops. Next time I make this I will do that.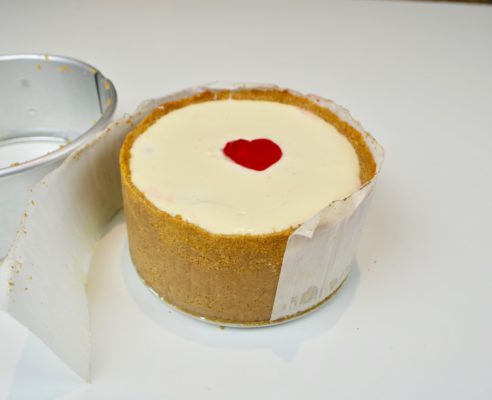 The cake is small 6″ so you can run a sharp knife under the crust to remove it from the bottom pan. Looks better without the bottom cake pan when serving on cake stand.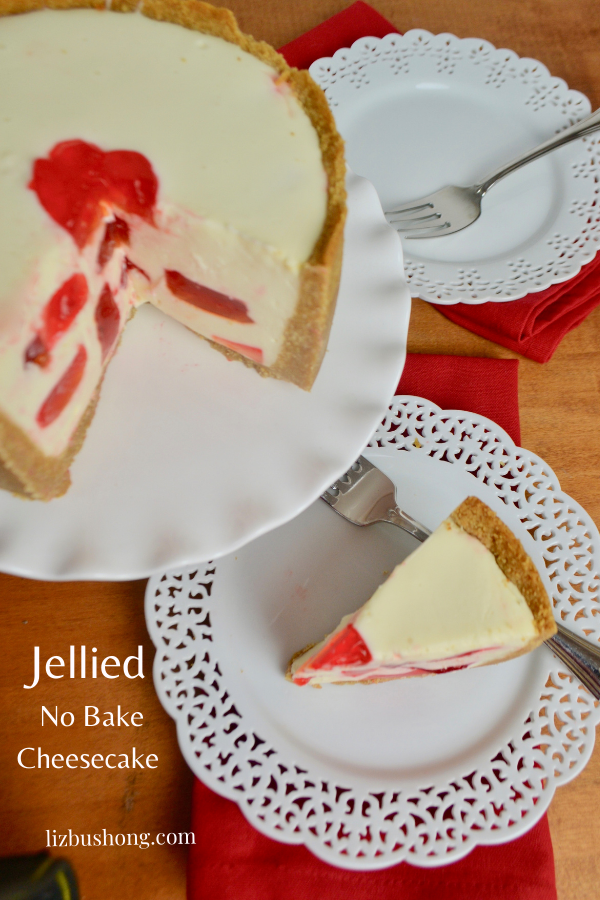 You will love the texture and flavor of this light and creamy dessert. It is light even though there is sweetened condensed milk inside. Jello adds so much fun to the look and taste. Hope you will make one.
Here's the recipe instructions.
Print
Cherry Orange No Bake Jellied Cheesecake
Smooth and creamy no bake cheesecake with graham cracker crust and jello squares peeping inside the cheese cake.
Author: Liz Bushong
Prep Time:

40 minutes

Cook Time:

none

Total Time:

60 minutes + chill up to 24 hours

Yield:

6

-servings

1

x
Category:

Dessert- No Bake

Method:

Food Processor

Cuisine:

American
Crust
2 cups graham cracker crumbs
1/4 cup granulated sugar
8 tablespoons butter, melted
Cheesecake Filling
2– 8 ounce packages of cream cheese, softened & cubed 1″ pieces
1 can sweetened condensed milk, tested Eagle Brand
2 packages unflavored gelatin, tested Knox
1/4 cup hot water
2 teaspoons orange extract
Jellied Gelatin Jigglers
2 packages of jello- tested cherry and orange
1/2 cup boiling water per jello package
1/2 cup cold water per jello package
Tools: 6″ round springform pan, parchment paper, cookie cutter or sharp knife, 9 x 13 pan for gelatin jigglers.
Instructions
Make Gelatin Jiggler's:
In two small bowls, add 1/2 cup of boiling water to each bowl, one package of cherry gelatin to one bowl and orange gelatin to other. Add 1/2 cup cold water to each bowl. Stir to dissolve.  Lightly spray 9 x 13 pan with cooking spray or other shallow pie plate, pour orange in one pan and cherry gelatin in the other. Chill gelatin until solid and firm. About 30-60 minutes. Remove from refrigerator and cut into small squares or desired shapes with cookie cutters. See notes on what to do with leftover gelatin squares.*
Make Crust:
In food processor with steel blade, pulverize to graham crackers and sugar together to form crumbs.  Add melted butter, pulse to coat crumbs.
Line 6″ round springform pan with parchment paper around the sides and bottom of pan. Lightly spray with cooking spray.
Press crumbs up the sides and bottom of pan, using a small cup to push the crumbs. Form top rim of crust with your fingers. Chill crust 30-60 minutes before filling or bake at 350 for 5 minutes and chill while making cheesecake filling. 
Cheesecake Filling:
In food processor bowl fitted with steel blade attachment, add softened cream cheese cubes. Process until smooth.
Mix 1/4 cup hot water with 2 packages of unflavored gelatin powder. Stir to dissolve, add to creamed cheese. Pulse to blend.
Add orange extract and sweetened condensed milk.  Process until smooth and creamy. Set aside.
Assemble:
Place cut jigglers in bottom of chilled graham cracker crust.
Pour cheesecake filling over jigglers, add more jigglers, repeat with filling until filling covers gelatin.  Add a heart shaped or other cut out shape on top of the cheesecake as a finish.  Chill in refrigerator for 60 minutes up to 24 hours before serving or cutting.
Remove springform pan sides and release cheesecake. Remove parchment paper from sides.  Run a sharp knife around bottom pan to release cake to place on cake stand. Remove all parchment lining.
Serve as chilled slices.  Garnish with whipped cream and additional gelatin cut outs.
Notes
If you cut out shapes of jello, you will have leftover pieces.  Save those pieces and create a single serving dish by lining the dish with whipped cream, form a well and add jello pieces. Serve chilled.
Keywords: cheesecake, jello, jellied, cherry, orange, jigglers
Here's what you can make with leftover gelatin pieces. Light dessert. Super easy!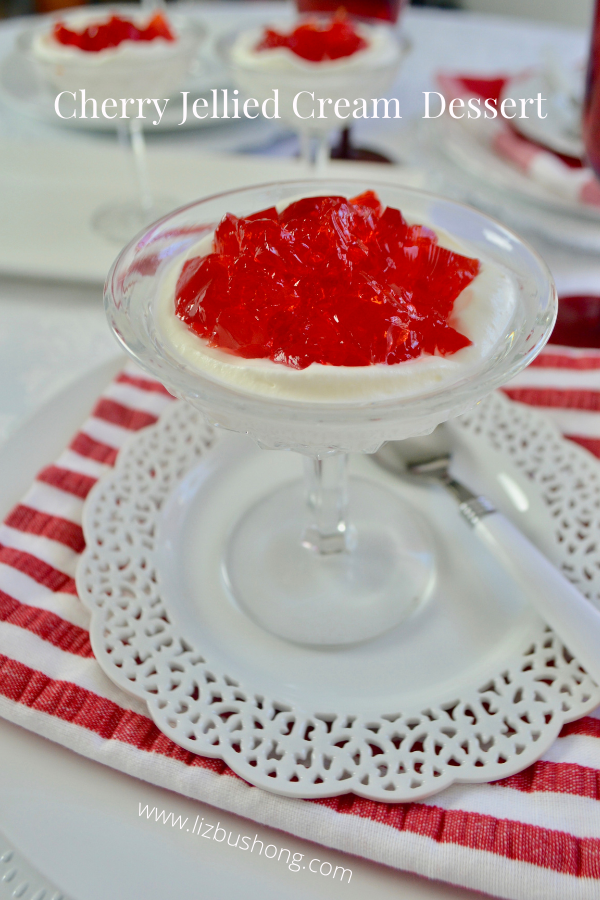 Other Ideas you might like to try:
Strawberry Cheesecake Strawberry Cheesecake Tart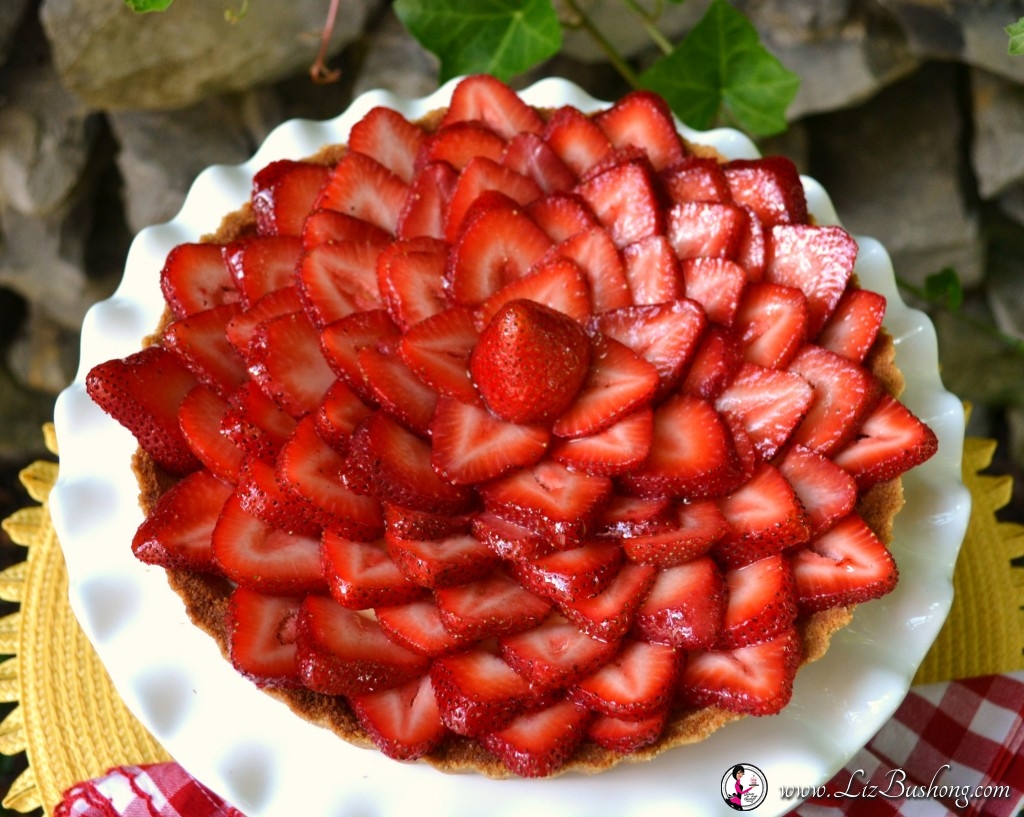 No Bake Cheesecake mini desserts