Need a refreshing light summer soup? Try Chilled White Gazpacho soup. It is made in a blender with english cucumbers, chicken broth, sour cream, white vinegar, and garlic. When ready to serve diced cherry tomatoes, sliced almonds and green onions take center stage as the garnish. Delicious on a hot day when served with Basil Cracked Pepper Scones. A make-ahead light soup for garden club and spring or summer luncheons.
How to make White Gazpacho Soup
The soup begins with a three cucumbers. Peel and dice cucumbers and place in a blender. Tip: You can use english cucumbers to help keep seeds at bay but regular cucumbers will work great too. The next ingredient is chicken broth. I use a box broth and will put the broth in the refrigerator to chill before making this soup. Since this is served cold, chilling your broth will cut down on soup chill time.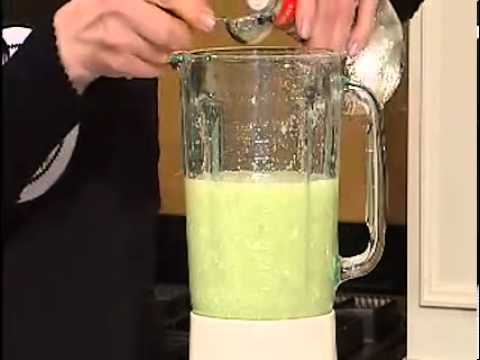 Add 3 cups sour cream, 3 tablespoons white vinegar, 2 teaspoons salt and 1 garlic clove, peeled and pressed. You can use minced garlic in the jars as another option.
Turn on blender and let it mix together. Thats it! You and your guests will love this chilled soup.
How to Serve this Soup?
I served this soup in a cute summer bowl, but anything small in cup size will work. After pouring the soup in your bowl or cup, garnish with chopped green onions, diced cherry tomatoes and toasted sliced almonds. This soup really couldn't be any easier… and boy is it delicious.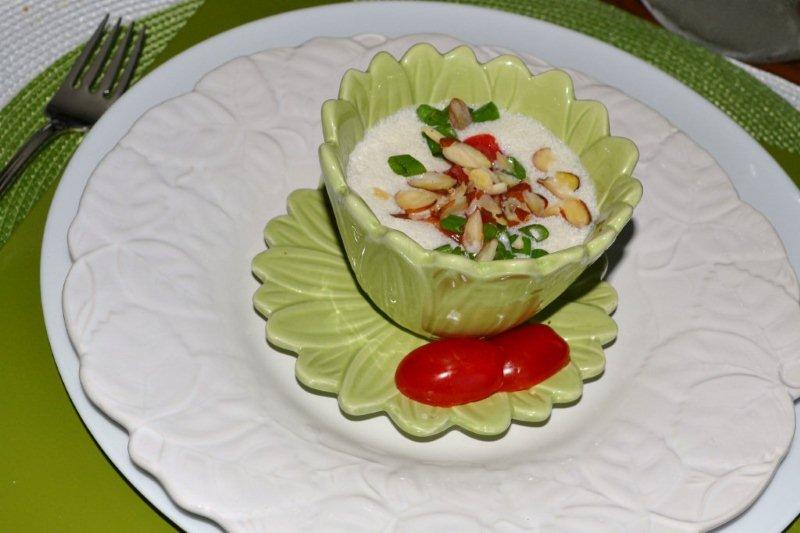 Hope you will try this recipe. Remember to keep it chilled before and after serving if you have leftovers. You can make this recipe ahead by one day, just stir well before serving. This recipe will make 6- 8 half cup servings, depending on size of cucumbers.
Here are some cute cups with plates you might like for serving this soup. I used a small brand new planter for serving my soup with out a drain hole. LOL.
Print
White Gazpacho Soup Recipe
This soup is served chilled and the can be made ahead.  Easy to make and take, but keep refrigerated.
3 medium cucumbers, peeled and cubed
3 cups chicken broth, cooled
3 cups sour cream
3 tablespoons white vinegar
2 teaspoons salt
1 clove garlic, pressed
Garnish:
2 tomatoes, chopped
¾ cup toasted almonds, chopped-optional
½ cup sliced green onions
¼ cup chopped spinach, optional
Instructions
In a blender, whirl cucumbers with 1 cup chicken broth, pour into a large bowl.
Add remaining broth, sour cream. vinegar, salt and garlic
Refrigerate until well chilled.
Serve in chilled soup bowls or bowl of choice
Garnish with chopped tomatoes, green onions, and chopped spinach or as desired.
Serve with Basil and Cracked Pepper Scones
Consider serving Lemon Blueberry Scones with this soup.
Other Ideas You Might Like to Try: