Roasted Tomato Soup is made with baked Roma tomatoes, onions, carrots, garlic, chicken broth and spices that are blended together into a smooth velvety fall soup.  Tomatoes and vegetables are first coated with olive oil and baked in a large foil lined baking pan at 450 degrees for 60 minutes.  After cooling vegetables for  5 minutes, the veggies are blended together using a blender or immersion stick blender.   This soup is best served with crusty bread, mini toasted cheese sandwiches or cheddar cheese straws.  The cheddar cheese  straws can be shaped into large spoons or small pressed cookie style designs.  


How to Make the Roasted Tomato Soup
This recipe is so easy and so good.  All you need to do is purchase Roma tomatoes, wash and quarter, peel and chop carrots into 1-2″ pieces, cut up an onion and two or three whole garlic cloves.  Toss in a zip lock bag or large bowl and coat with olive oil.
Place these vegtables on a lightly cooking sprayed baking sheet and bake at 400 for 30 minutes.  If not done at 30, bake a little longer until vegetables are cooked.  Allow to cool in pan, discard garlic from the heads then with a blender or immersion hand blender mix until vegetables are smooth and creamy.
Place soup in saucepan, add remaining ingredients and cook until throughly heated.  Serve in cups or large bowls.  You can also make cheddar cheese spoons that make the soup more fun to eat.  Or small grilled sandwiches.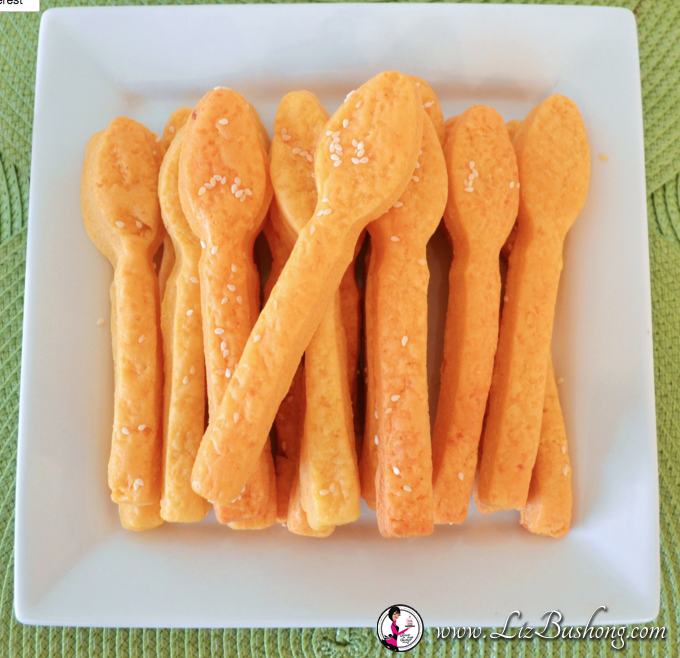 Hope you will try this recipe. It's a keeper!
Roasted Tomato Soup Recipe
Print
Roasted Tomato Soup Recipe
To help blend the roasted vegetables use a blender or immersion blender for best results.  Roma tomatoes are suggested for this hearty soup, they have a fuller flavor and bake beautifully.  Easy simple fall soup that you will want to serve often.
Author: Liz Bushong
Prep Time:

8 minutes

Cook Time:

90 minutes

Total Time:

1 hour 38 minutes

Yield:

3 quarts

1

x
Category:

Soup

Method:

Baked

Cuisine:

American
5 pounds Roma tomatoes, halved
1 large yellow onion, peeled and sliced thin
3 large carrots, peeled, sliced 1/2" thick
2 garlic heads, peeled cut in half
1/4 cup olive oil
2 teaspoons salt
2 teaspoons black pepper, ground
2– 32 oz. chicken broth
1 tablespoon lemon juice
1 tablespoon Worcestershire sauce
1/4 teaspoon ground red pepper, optional
Garnish: Flat leaf parsley or celery sticks.
Instructions
1. Preheat oven to 450 degrees.  Line a roasting pan with Aluminum foil. Spray foil with     cooking spray.
2. In large bowl, combine tomatoes, onion, carrots, garlic, olive oil, salt and pepper.
3. Pour vegetables into prepared pan and bake for one hour. At 30 minutes stir, continue to bake another 30 minutes.  Remove from oven and cool 10 minutes.
4. Using a blender or immersion blender, blend vegetables to puree or very smooth.
5.  In large stock pot, combine puree, broth, lemon juice, Worcestershire sauce, more salt and pepper if needed.  Add red pepper if desired. Whisk until smooth.
6.  Bring to a simmer over medium heat.  Cook 10 minutes.
Notes
Serve in shot glasses or small glass bowls, garnish with celery sticks and Mini Grilled           Cheese Sandwich triangles.  Or cheddar cheese straws shaped in large spoons or cookie pressed into shapes. 
---
Other Ideas You Might Like to Try: