Need a special dessert for the Holidays?  Try this recipe Chocolate Ganache Peppermint Cheesecake Dome Dessert! Ganache covers a frozen half sphere dome of No bake Peppermint Cheesecake mousse and chocolate mint cookie. Takes just moments to make and keeps frozen until 45 minutes before serving. Your guests & family will think you are a genius!  Hope you will try it.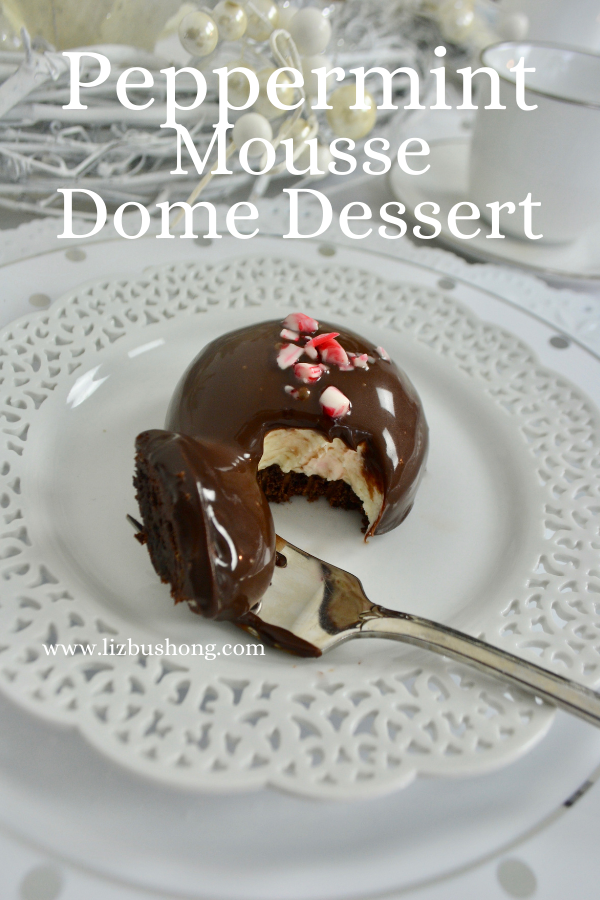 How to Make Chocolate Ganache Peppermint Cheesecake Dome Dessert
First what is a dome dessert?  So glad you asked? Dome cakes or desserts are made with silicone mold half sphere rounds.  Usually the mold is filled with mousse, ice creams, even lined with chocolate to make hot cocoa bombs. The just make eating desserts so much fun. Plus they look so pretty. While the dessert looks complicated, it is really very simple.
When I made this dessert, I already had peppermint thin cookies made, so it was a matter of taking them from the freezer.  My mold makes 6- 2″ round spheres.  Putting two spheres together will make a ball, but for this dessert, we only used half spheres.
You will need the following ingredients for this dessert, dark chocolate Ghirardelli Dark Chocolate melting wafers, peppermint mousse, and chocolate mint thin cookies.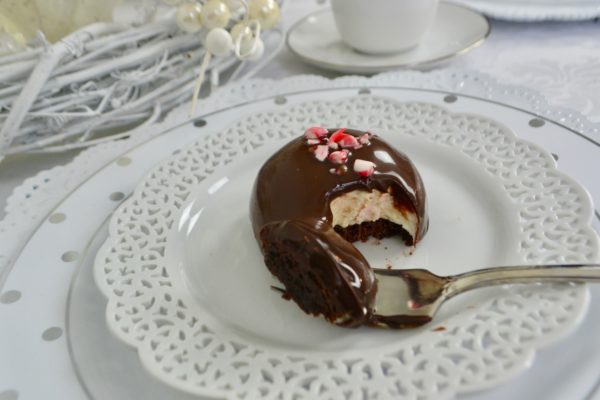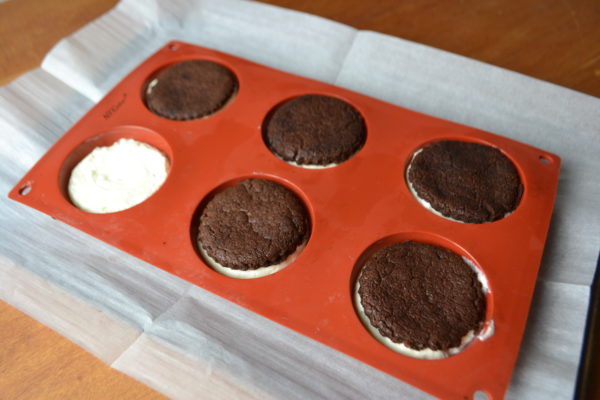 With this recipe, the filling is piped into the mold and a 2-1/2 inch round peppermint cookie is placed on top of the filling to serve as a base for the dessert.  Once the dessert is completely frozen it is removed from the mold and covered with melted ganache.
*The cookie is Peppermint Bark Chocolate Sugar Cookie. Recipe here.  
*Make cookies first before making mousse, if you decide to use this recipe.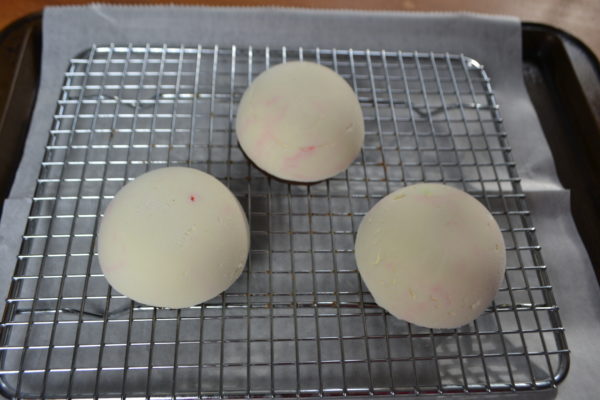 You can store these domes once frozen in a covered container in the freezer. About an hour or two before you are ready to serve, coat the bombs with ganache.
**If you freeze the domes with ganache for long period of time, the chocolate will seize up causing small little white bubbles on your smooth shiny chocolate.  Also, the peppermint candy will bleed and not be pretty.
For best results, cover the domes with ganache the day they will be served.  While ganache is wet, sprinkle with chopped candy cane pieces.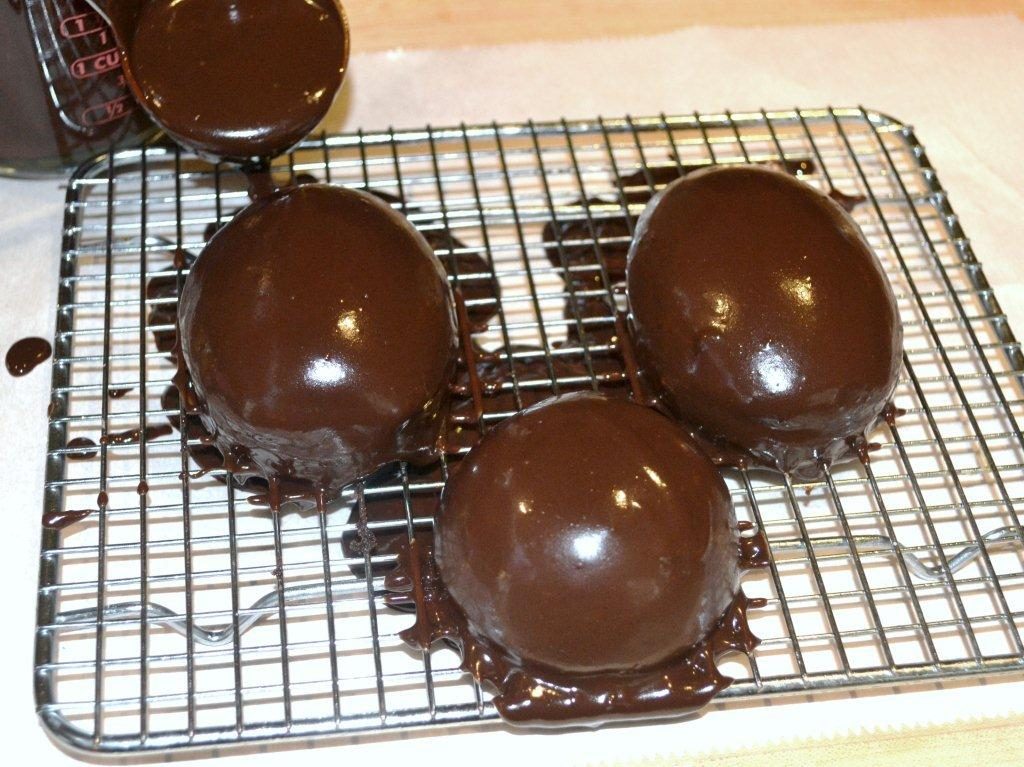 Chopped and crushed peppermint candy canes will stick to the top of the dome if ganache is not set and is the perfect garnish for this dessert. Whatever your filling is, that should be repeated in the garnish. So people will know what they are getting.  Example, if raspberry mousse, then a cluster of small fresh raspberries should be the garnish.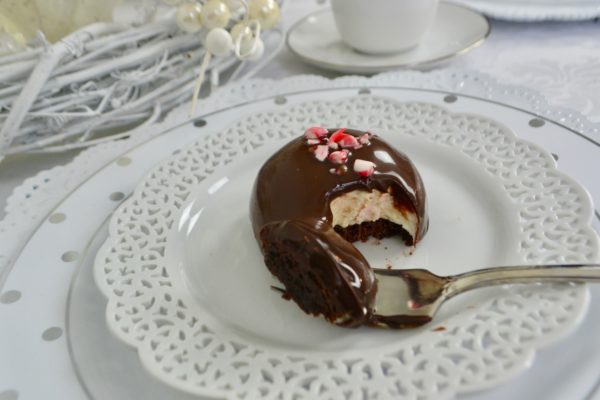 Print
Chocolate Ganache Peppermint Cheesecake Dome Dessert
Creamy peppermint no bake cheesecake mousse with chocolate peppermint cookie fills a ganache covered dome dessert.  You will need a half sphere mold- 2-1/2 " round to make this dessert.
Author: Liz Bushong
Prep Time:

60 minutes if baking cookies

Cook Time:

Cookie bake 8-10 minutes

Total Time:

60 minutes

Yield:

6

- half sphere mini desserts

1

x
Category:

Desserts

Method:

Whipping and freeze

Cuisine:

American
Peppermint Mousse
8 ounces cream cheese, softened
3/4 cup powdered sugar
1/2 teaspoon crème bouquet or clear vanilla extract
1/4 teaspoon LorAnn peppermint oil or 1/2 teaspoon extract
1– 1/4 cups heavy cream
1/2 teaspoon corn syrup
4–5 Crushed peppermint canes for garnish
6–1/2" round peppermint cookie (or dark chocolate cookie or cake round)
Ganache
1/2 cup heavy whipping cream
1 cup Ghirardelli Dark Chocolate Melting Wafers
Instructions
Make Peppermint Mousse
With a stand mixer with paddle attachment, beat softened cream cheese on high until smooth.
Add the powdered sugar, peppermint oil (or extract) until well incorporated. Set aside.
In a separate bowl, whip chilled heavy cream with whisk attachment of hand held electric mixer. Whip until soft peaks form. Add corn syrup, and crème bouquet (or vanilla extract) continue beating until stiff peaks.
Fold half of the whipped cream into the cream cheese mixture. Return mixture to mixing bowl with whisk attachment add remaining half of whipped cream. Beat just to blend.
Pipe with large round tip the mousse into silicone sphere 3/4 full. Top with chocolate cookie the same size as sphere diameter 2-1/2″.  Press the top of cookie gently level with top of mold.
Place mold on a small baking sheet and freeze until totally frozen at least 60 minutes or longer.
Make Ganache
In 2 cup glass mixing cup, pour heavy cream.  Microwave 30 seconds to warm. Do not boil cream.  Remove from microwave and add chocolate melting wafers.  Let cream and chocolate sit for 5 minutes, then stir until thick and creamy. Mixture should be pourable but not to thin or too thick.
Assemble Dome Desserts
Crush or chop peppermint candy canes, set aside.
Remove frozen domes from freezer.  Line a baking sheet with parchment paper and cooling rack grid. Carefully un-mold dessert domes from mold and place on grid/cooling rack about 2″ apart.  You will be pouring the ganache over the domes so allow space between each dome.
Pour melted ganache over the frozen domes coating all sides.  Immediately sprinkle with crushed peppermint candy canes.
Return to freezer to set until serving time.
To Serve:  Remove from freezer 25 minutes before serving for a creamy chilled dessert.
Notes
Recipe can be doubled.
Domes can be made ahead and frozen up to 2 weeks without ganache. Cover domes with ganache an hour or two before serving.
Keywords: chocolate, dome, cookies, peppermint, mousse, candy canes
Decorate your table in white and silver for an elegant dinner party. Use white chargers, (found at Hobby Lobby)  silver and white polka dot dinner plates ( I used disposable plastic, check out link), and a lace edged dessert plate from Pier 1 that I purchased years ago.
The centerpiece is a white grapevine wreath, with white, and off white -goldish-silver ornaments, faux white poinsettias and berry stems. Inside the wreath on a large round platter held the silver-soft gold ornaments, some were shiny and some matte. Lots of sparkle. The silver rimmed coffee cups & saucers came from my inventory.
Very simple to put together and budget friendly.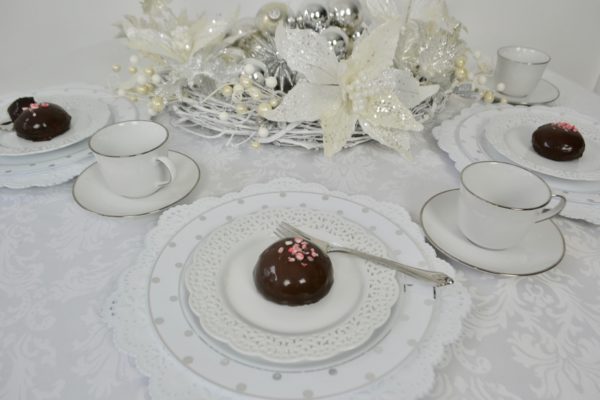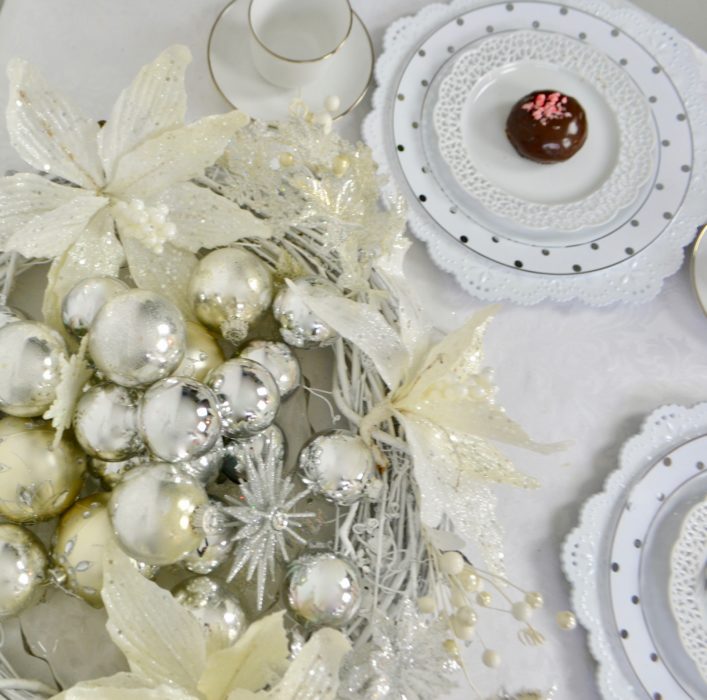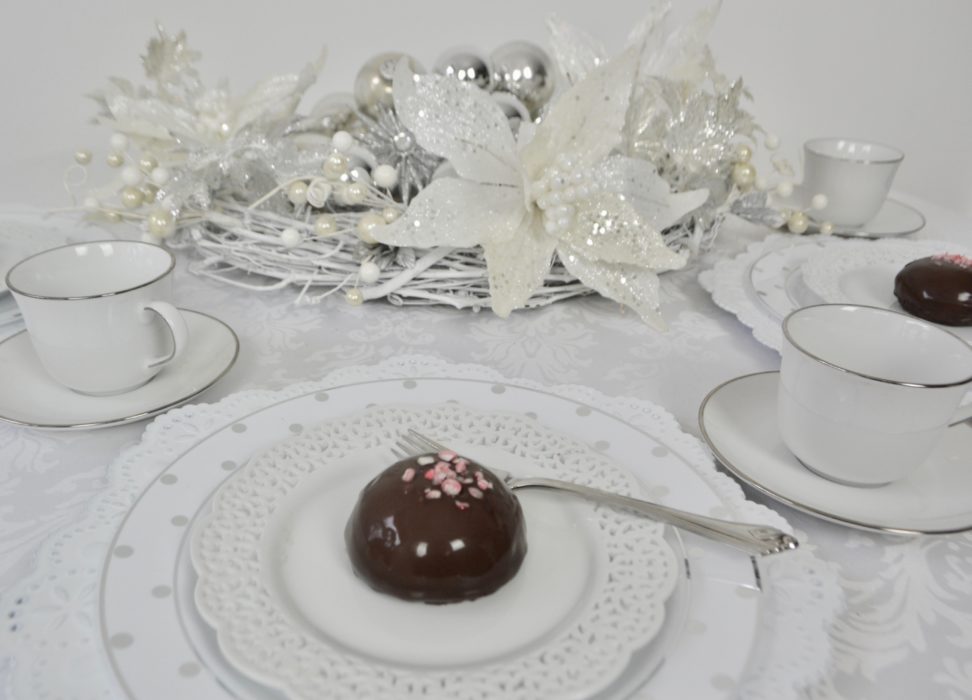 Enjoy!  Let me know if you make this dessert or table scape. xoxo
Helping you Make a Statement, Make it Sassy and Make it Your's. ®
Thanks for reading and subscribe to lizbushong.com to have each post delivered straight to your e-mail box.  
Liz XO
Other Peppermint Ideas you might like to try: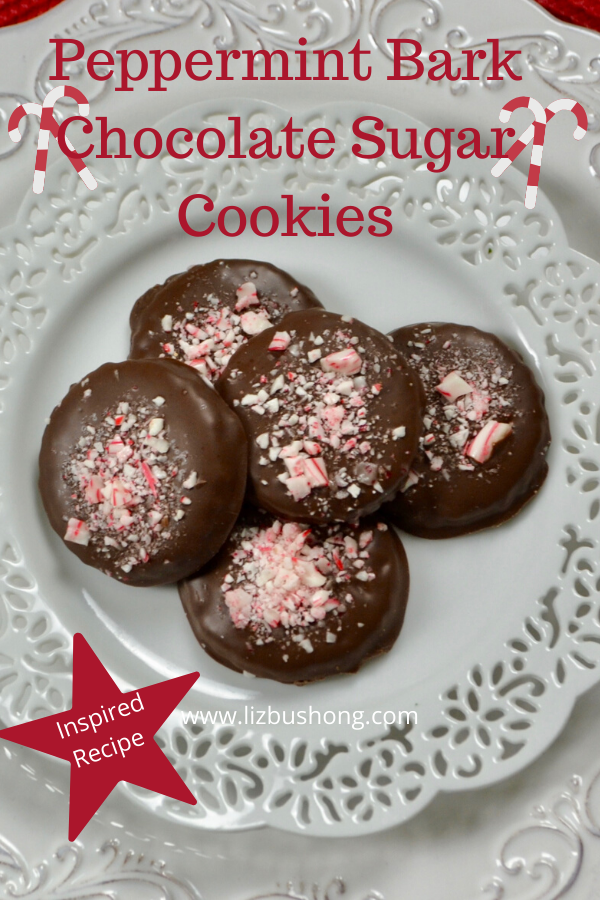 Peppermint Biscotti as Gifts