If you like coffee specialty drinks and want to make them at home, here's the recipe for you.  Gingerbread latte is filled with ground cinnamon, ginger, and nutmeg, molasses, gingerbread syrup, heavy cream, milk and strong coffee .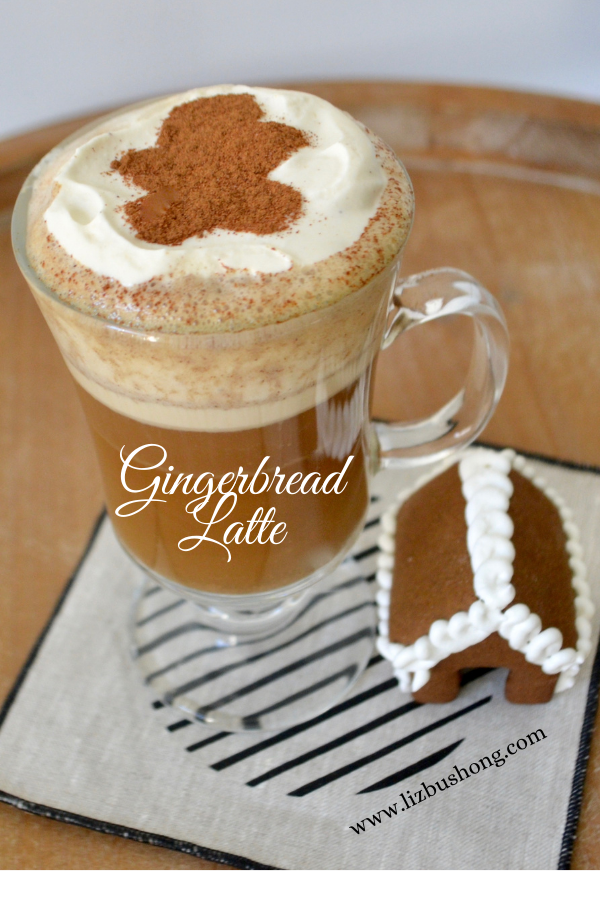 Cuddle up with a warm cup of Gingerbread latte that is topped with gingerbread flavored whipped cream.  This recipe is so delicious you will love it along with a small gingerbread cookie (s).  Make a double batch cause you will want to serve this for guests who stop by for a visit.
What you need to make this latte.
Strong coffee as in espresso, if you don't have a coffee machine, espresso maker, you can use your Nespresso, Keurig, or French press. .. even a regular coffee maker!  Just add more coffee to your home brewer with less water so you get a strong espresso. Also helps to use a bold coffee from dark roast beans.  You can also make this decaf!
Unsulfered molasses tested Grandmas' brand.  Blackstrap is very strong and not as sweet or mild as Grandma's.
Any kind of milk, coconut almond milk is delicious but any milk will work.
Heavy whipping cream
Gingerbread simple syrup- recipe below
Ground cinnamon, nutmeg and ginger- all gingerbread flavors.
Sugar or brown sugar.
Hand mixer with whip attachment
Electric Milk Frother -If you don't have one of these, use your whip attachment. Warm your milk in a cup and whip air into the milk to create the froth.
How to make Gingerbread Simple Syrup.
In a medium saucepan, add 1-1/4 cups water, 1 -1/4 cups sugar, 4 tablespoons molasses, 1 teaspoon ground ginger-cinnamon and 1/2 teaspoon ground nutmeg.  Stir to dissolve sugar and bring mixture to slight boil. When bubbles appear around the edge of the pan.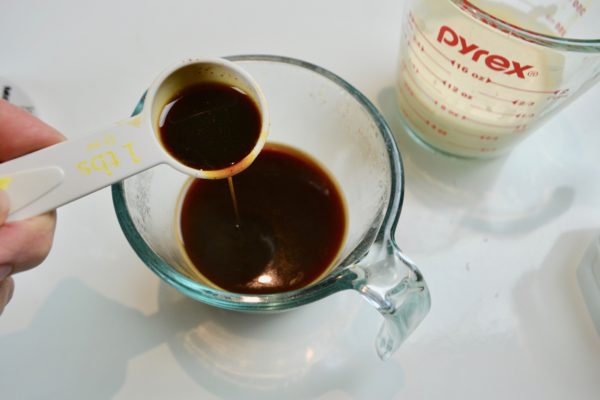 This will be added to the espresso and  whipped cream topping. Store remaining syrup in the refrigerator for up to 7 days. Makes 1-1/2 cups of syrup.
In addition to espresso, this syrup can be used in any beverage, tea, hot chocolate, even to maple syrup for pancakes/waffles/biscuits.  Where ever you use simple syrup you can use this recipe.
Let's Make the Latte.
Make the gingerbread syrup. (GBS) Pour into an airtight container. Keep refrigerated until ready to use. Reserve 7 tablespoons for 2 latte's. 
Whip the heavy cream with 2 tablespoons GBS to soft peaks.  Set aside.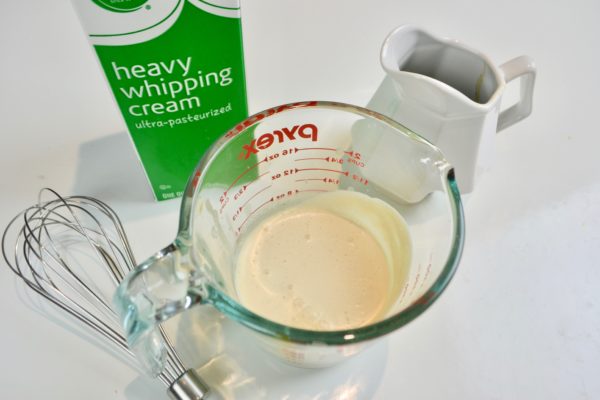 In microwave safe cup, add milk microwave 30 seconds to heat and not to boil. Froth milk with whisk attachment or frothing tool.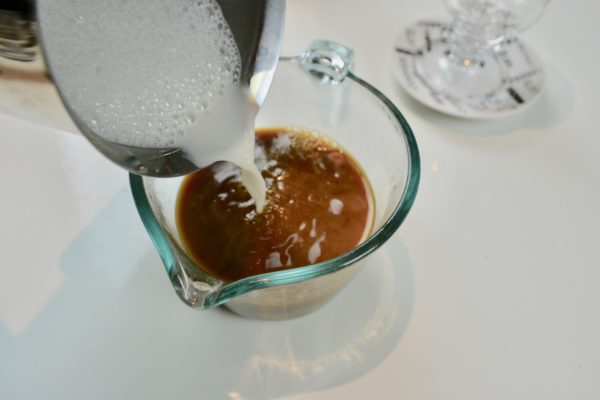 Make 2 cups strong coffee or espresso add 2 tablespoons GBS and stir.
Add frothed milk to coffee mixture.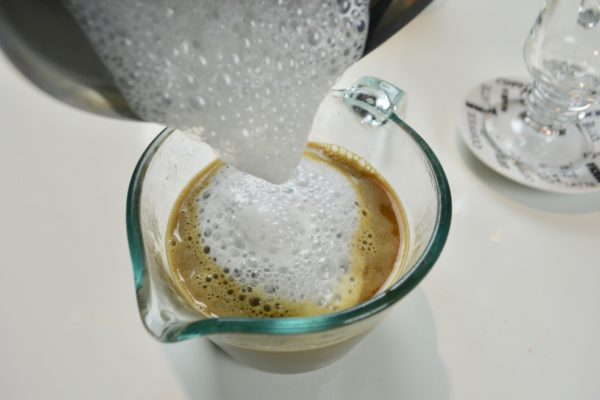 Pour the coffee mixture into two warm mugs. Add whipped cream topping, garnish with ground cinnamon. Stencil if desired gingerbread man design using a mini cookie cutter and piece of parchment.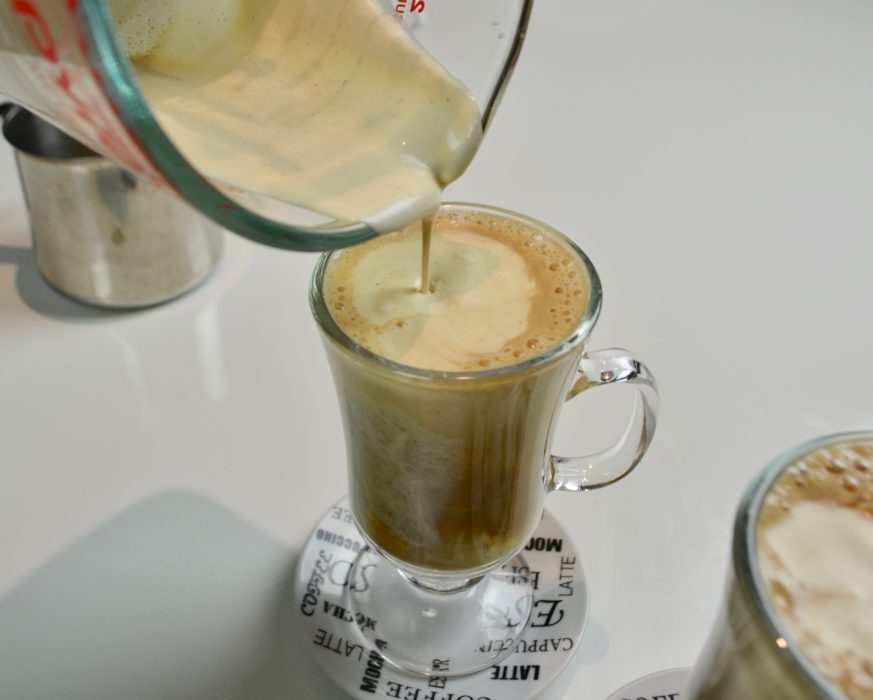 To Make gingerbread stencil. 
Cut a 6″ round circle of parchment paper, fold paper in half and half again to find center of paper.  Unfold paper and trace the mini ornament design over the center. Fold paper in half again lining up the marked pattern then cut out with scissors.  Open paper and position stencil over the whipped cream and sprinkle with cinnamon, remove stencil to reveal pretty design.  You will need to make two patterns from parchment paper or make one pattern using stencil making material.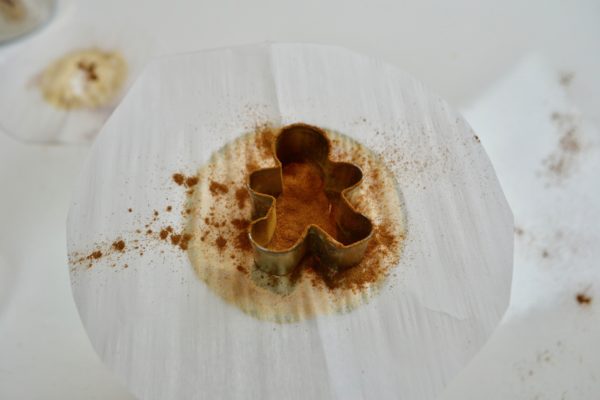 TA DA!  Sit back and Sip!  Perfect for an afternoon pick up on a cold winter day.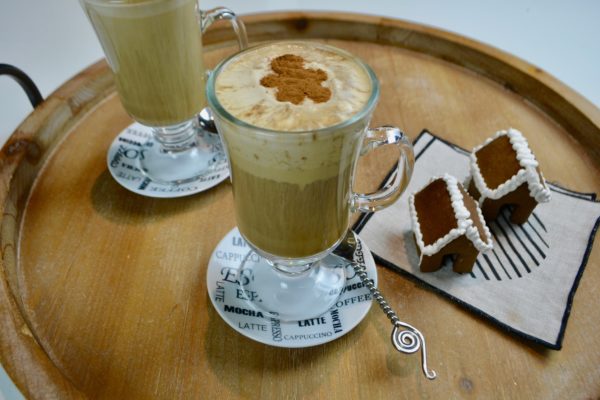 ( I added a new feature to my recipe, metric or US units are available, just click on which ever one you prefer. Hope this is helpful.)
Print
Gingerbread Latte with Gingerbread Syrup
Gingerbread flavors ground cinnamon, ginger and nutmeg infused in gingerbread simple syrup, espresso and heavy whipping cream. Ground cinnamon stenciled gingerbread man adds cute garnish.
Author: Liz Bushong
Prep Time:

9 minutes

Cook Time:

9 minutes

Total Time:

9-10 minutes

Yield:

2

-

10

ounce latte's

1

x
Category:

Beverage-Coffee

Method:

Brewing -Whipping

Cuisine:

American-German
Gingerbread Simple Syrup- Makes 1-1/2 cups or 12 ounces
1–1/4 cups water
1 –1/4 cups sugar
4 tablespoons molasses
1 teaspoon ground ginger
1 teaspoon ground cinnamon
1/2 teaspoon ground nutmeg
1/8 teaspoon salt
Whipped Cream Topping- Makes 2 latte's
2/3 cup heavy whipping cream
3 tablespoons gingerbread syrup
Espresso- Makes 2 latte's
2 cups dark roast espresso or strong coffee
4 tablespoons Gingerbread Simple Syrup
1/2 cup milk, any kind to froth
Garnish: Ground cinnamon, mini gingerbread ornament as stencil, mini gingerbread house/cookie
Instructions
Gingerbread Simple Syrup
In medium saucepan, add all ingredients for syrup recipe, stir until sugar is dissolved over medium high heat.  Bring to soft boil, as bubbles line the edge of the saucepan.  Be careful not to burn syrup. Reserve 7 tablespoons for two latte's. Pour remaining syrup into an air tight container in refrigerator for future use.  Syrup will last for one week.
Whipped Cream Gingerbread Topping
In small mixing bowl and hand mixer with whisk attachment, whip 2/3 cup chilled heavy cream with 3 tablespoons gingerbread simple syrup to soft peaks.  Set aside. This makes two latte's.
Frothing Milk
In 2 cup saucepan or microwave safe mixing cup, add milk, microwave 30 seconds or bring to soft boil in saucepan.  Froth milk with hand held frother, steam wand on coffee machine or whip with whisk of mixer until double in size. This mixture makes 2 latte's.
Assemble Gingerbread latte
Make 2 cups espresso/strong coffee or decaf bold. Place one cup coffee in two mugs or decorative cups (10 ounce).
To each cup of coffee add 2 tablespoons gingerbread syrup, stir.  Add frothed milk, and top with whipped cream topping.
Stencil gingerbread design on top of whipped topping if desired or sprinkle with ground cinnamon.  Serve with gingerbread cookies or mini gingerbread house.
Drink and enjoy!
Notes
Recipe was inspired by coffee house's gingerbread latte and coffeeat3.com
Thanks for reading and subscribe to lizbushong.com to have each post delivered straight to your e-mail box.  
Liz XO
Other Ideas you might like to try: