Every Christmas Cookie tray needs to have a mixture of sweet candies. These no bake Peanut Butter Buckeyes are one of the all time favorites.  One inch peanut butter balls are dipped in dark chocolate that looks just like a buck eye.

What is a Buck Eye?
I wasn't sure what a buck eye was so here is a photo and explanation.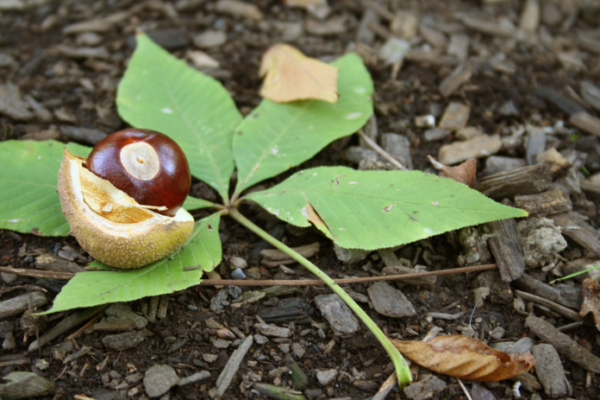 So…Peanut Butter Buckeye candies look just like this little nut.  Amazing how much these candies mimic this tree nut.  Click on link to learn more about the nut.
How to make Peanut Butter Buckeyes
In a large mixing bowl of an electric mixer fitted with beater attachment, cream together butter and peanut butter.  I used Jif® creamy peanut butter and real butter not margarine for best mixing and flavor.  Stir in vanilla and salt, then add confectioners sugar.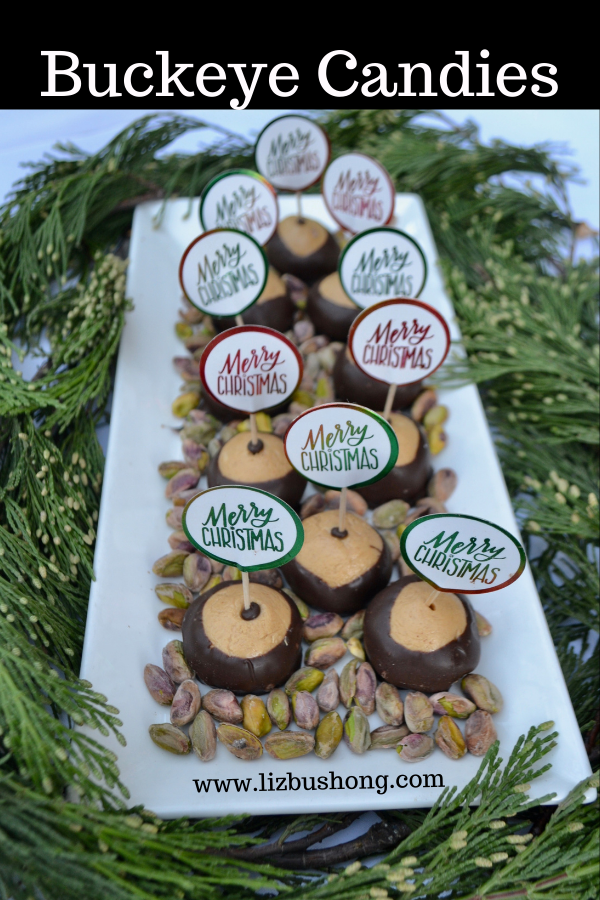 The candy dough should stick together when pressed into a ball.  If it does not hold together, add more peanut butter, however if it is too sticky add more powdered sugar.
Roll the candy dough into 1″ round balls or size you prefer. Place on parchment lined baking sheet and pick each ball with a toothpick or decorative pick.  Chill candies for 15 minutes or freeze.
If you want to make these ahead, this is the time to place in zip lock bags and freeze before dipping in chocolate. Tip:  don't add picks if freezing ahead.
Dipping Candies in Chocolate
Chop white chocolate and dark chocolate bark -tested Ghirardelli, into fine pieces and heat over a double boiler stirring to completely melt. Stir together to mix the chocolates.
Remove candy from freezer/refrigerator, with pick in center of ball, dip each ball into chocolate about 2/3 of the way so that they look like a real buckeye.  Place the dipped candy on parchment lined baking sheet to set.  This will take about 10-15 minutes.  You can leave the picks in the candy if desired for easy pick up.

Cookies in photo include Maple Nut Candies, Caramel Nut Bars, Buckeyes, Peppermint cookies dark and and white chocolate, Lemon Ricotta Cookies, and Cranberry Pinwheels.
Recipe for Buck Eye Candies 
Print
Christmas Candy-Peanut Butter Buckeyes
No bake peanut butter balls dipped in white and dark chocolate to mimic a buckeye. Easy candy recipe for cookie trays and gift giving.
Author: Liz Bushong
Prep Time:

20 minutes

Cook Time:

melting chocolate 15 minutes

Total Time:

35 minutes

Yield:

40

-

1

" round balls

1

x
Category:

Dessert-Christmas Candy

Method:

Shape & Dip

Cuisine:

American
2–1/4 cups (18 ounce) creamy peanut butter
1/2 cup salted butter, softened
1 teaspoon vanilla extract
1/8 teaspoon salt
1 pound or 3–1/2 cups confectioner's sugar
1 pound white almond bark or Ghirardelli melting wafers- finely chopped
1/2 pound semi sweet- dark chocolate bark or Ghirardelli melting wafers, finely chopped
Toothpicks or cocktails picks
Instructions
Line two baking sheets with parchment paper. Make sure baking sheets will fit in refrigerator or freezer for this candy needs to be chilled before dipping in chocolate.
Place in large mixing bowl of stand mixer fitted with beater attachment, cream together butter and peanut butter, vanilla, and salt on medium speed. Scrape down the bowl and mix to blend.
Add powdered sugar and mix on low speed. Candy dough should hold together to form balls.  If too sticky add more confectioner's sugar, if too dry add more peanut butter.
Shape 1″ dough balls into rounds. Place on parchment lined baking sheet. Add picks, then chill for 15 minutes in freezer or refrigerator.
Meanwhile, in top of double boiler add chopped chocolates and melt over medium heat, stir until chocolate is melted and combined.
Remove chilled candies from refrigerator/freezer, dip each candy ball 2/3 of the way into melted chocolate.  Place candy on parchment lined baking sheet and allow to set, about 10-15 minutes.
Store in covered container or package as gifts.
Keep candies chilled for best result if not serving right away.
Notes
Can be made ahead and frozen until ready to dip in chocolates.  Roll candy into balls and place in freezer bag until ready to dip. Follow instructions for dipping when ready.
Keywords: buckeyes, candy
Other Ideas you might like to make:
Hosting a Christmas Open House? Cookies & Candy Bar lizbushong.com- Tap on photos for recipes.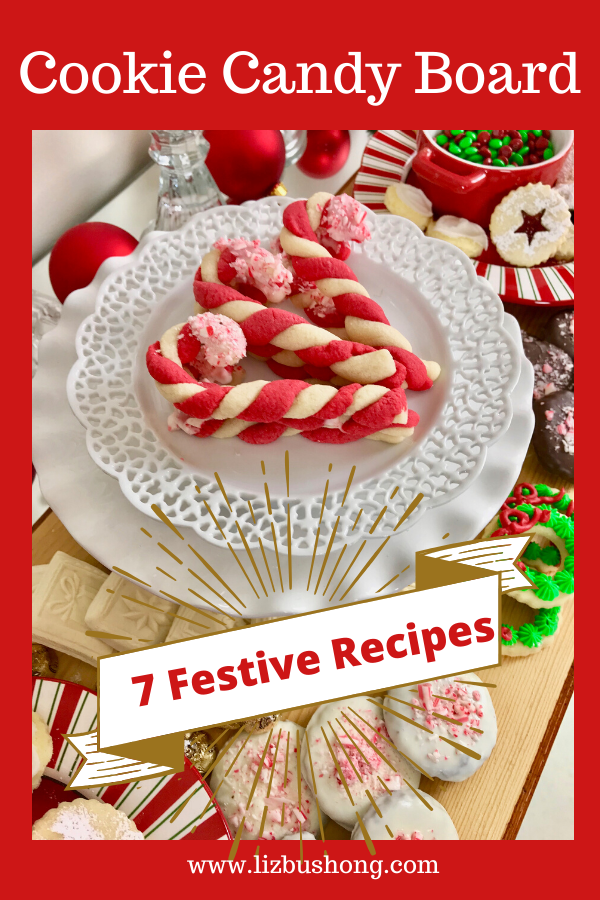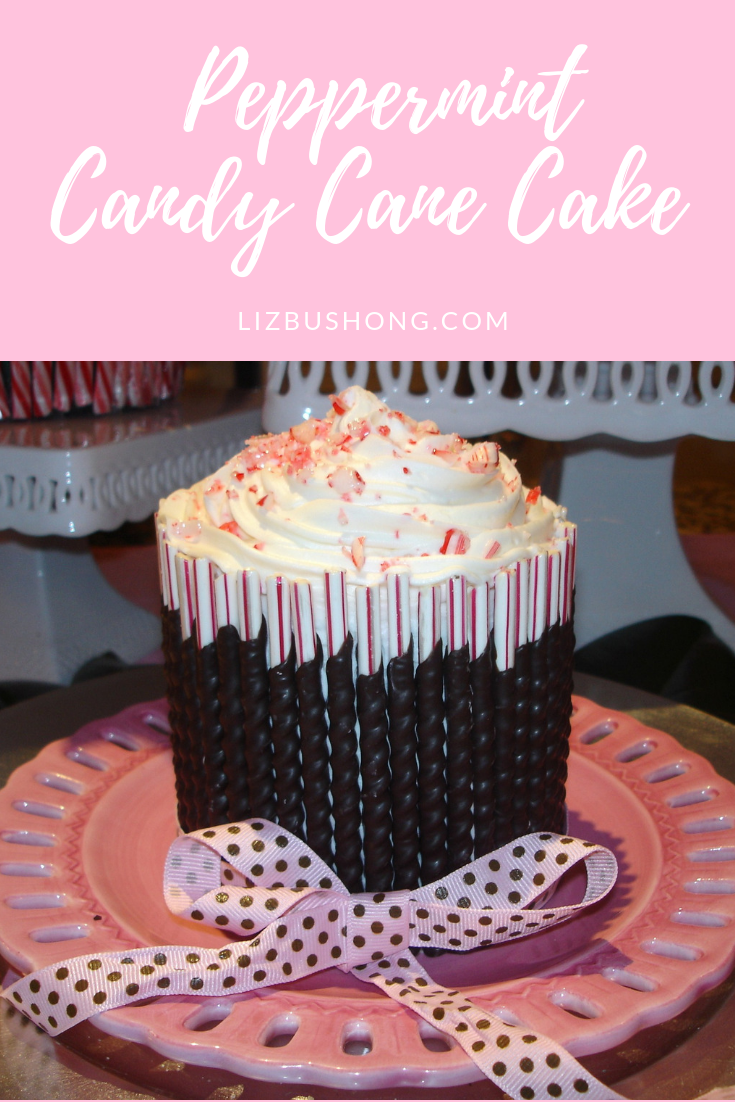 Stained Glass Chocolates- NO Bake