Hearty pieces of cooked chicken breasts in broth seasoned with onions, celery, carrots, and poultry seasoning is the perfect base for the matzoh balls which are made and cooked separately in chicken broth then added to the soup base. Soul warming soup on a cold winter day.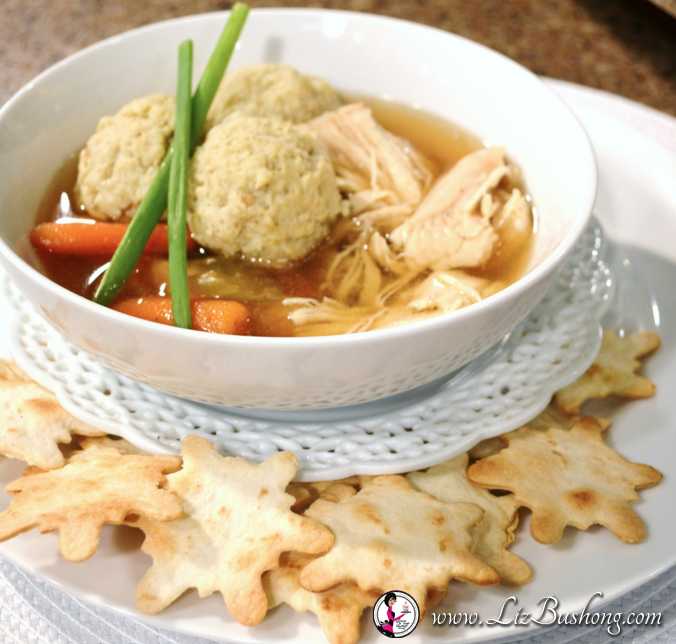 The Chicken and Broth:
If you don't want to cook an entire chicken to get the broth and meat, you can buy a rotisserie chicken.  The rotisserie chicken is easy to remove from the bone and strips are placed in  the rich chicken broth.
Baking a whole chicken in a crock pot will give you wonderful broth. With a slow cook  of the chicken with carrots, onion and celery the broth will be delicious.  You can also use skinless chicken breast or strips but marinate the chicken and bake before adding to the soup.  Marinate chicken pieces in olive oil and lemon juice with rosemary sprigs, place in zip lock bag and let the chicken soak up the marinade an hour.  If you don't have time for the marinade, bake the strips with this marinade, but never…. never.. use marinade that you have soaked raw meat in your baked dishes for it can cause illness.
The Broth: McCormick Kitchen Basics
When using a rotisserie chicken instead of crock pot method you will need chicken broth. My favorite soup stock brand is McCormick Gourmet Kitchen Basics.    No MSG and other unwanted ingredients.  Has great flavor and rich color.
How to Make Matzo Balls 
I used a Matzo Ball Mix for the matzo balls. Major grocery stores has this in the ethnic-kosher section.  This mix makes the recipe super easy.  To season the balls, I added 1-1/2 teaspoons poultry seasoning to the dry mix, plus 2 eggs and 2 tablespoons vegetable oil.  The batter needs to chill about 15 minutes to firm before forming into 2 inch balls. Sometimes I will make smaller 1″ balls to have more in the soup base.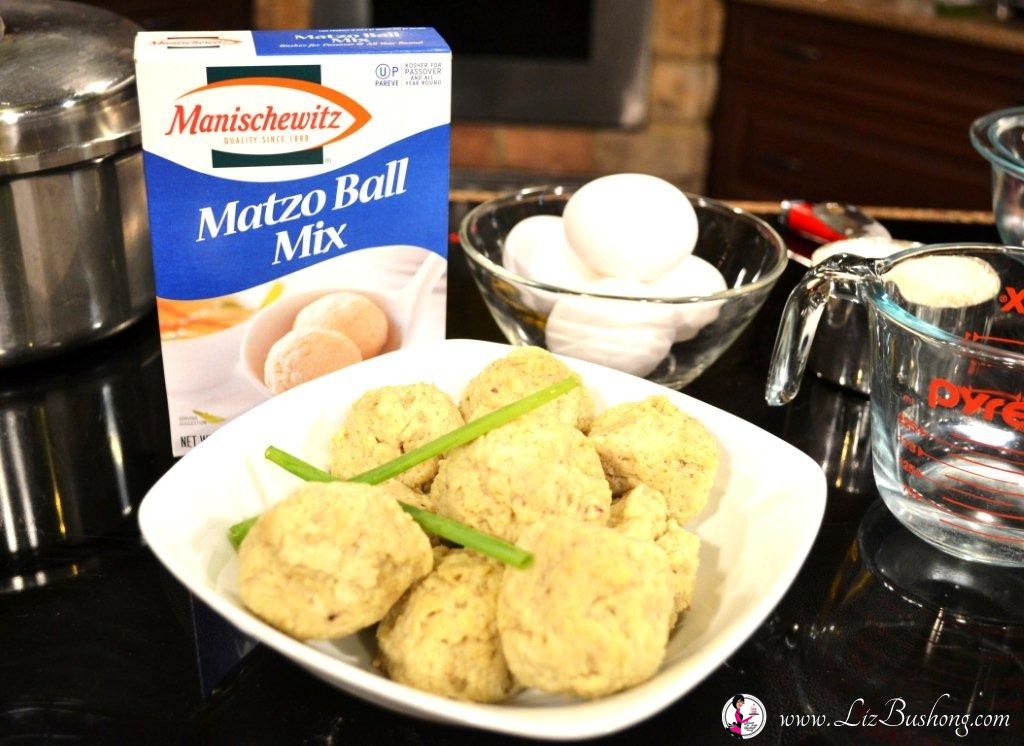 In a large saucepan filled with chicken broth bring to a boil.  Drop the chilled dumplings in the boiling broth.  Cover the saucepan with lid and reduce heat to simmer until thoroughly cooked about 15 -20 minutes. They will rise to the top as they cook so be careful not to put to many dumplings in at a time.
Remove the cooked dumplings from the broth and set aside. Discard broth or use for dressing.
Adding the balls to the soup base
In the meantime, fill a dutch oven with reserved crockpot chicken broth, or if not using crock pot method  add 2 cartons or 64 ounces of chicken broth, whole mini carrots, sliced or diced onions, minced garlic and celery pieces. Bring to a simmer then add chicken pieces and dumplings/balls.
Make sure your vegetables are fully cooked before adding chicken pieces and matzo balls.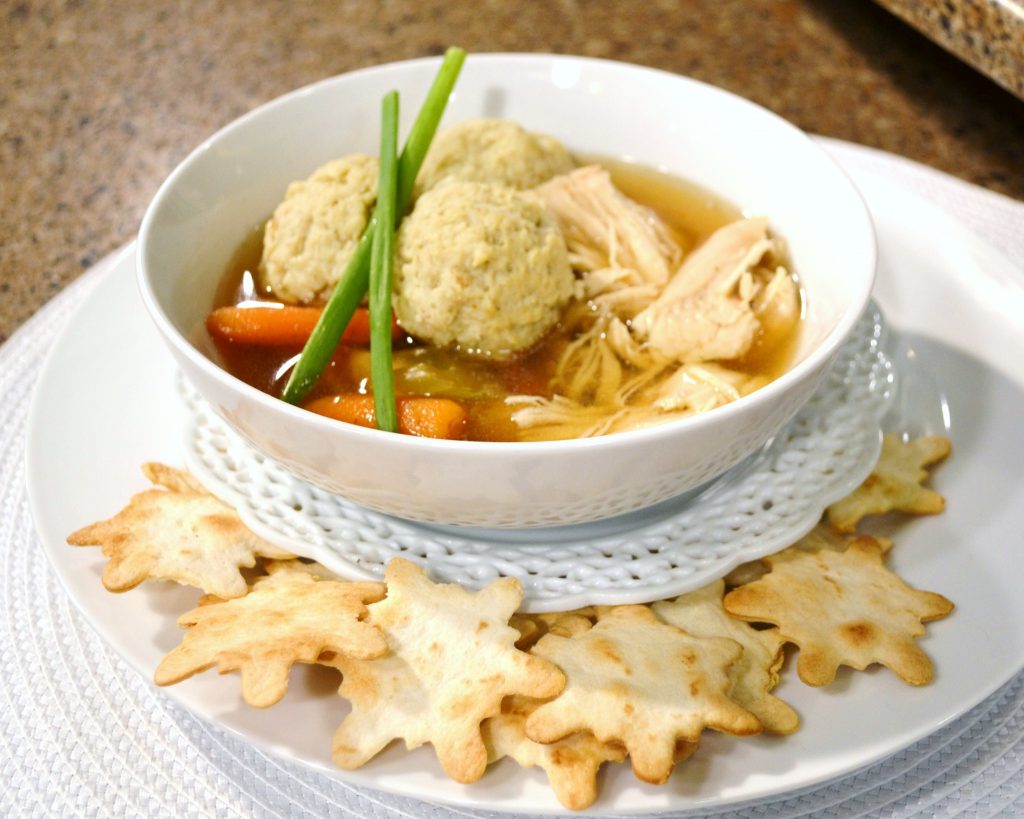 For another way to serve the soup, pour into a mason quart jar, make sure your matzo balls are the 1″ size.  Cover the jar with a large white sock with heel and toe removed to create a jar cozy. It is fun to serve especially with pie crust-" Mini Mittens " crackers.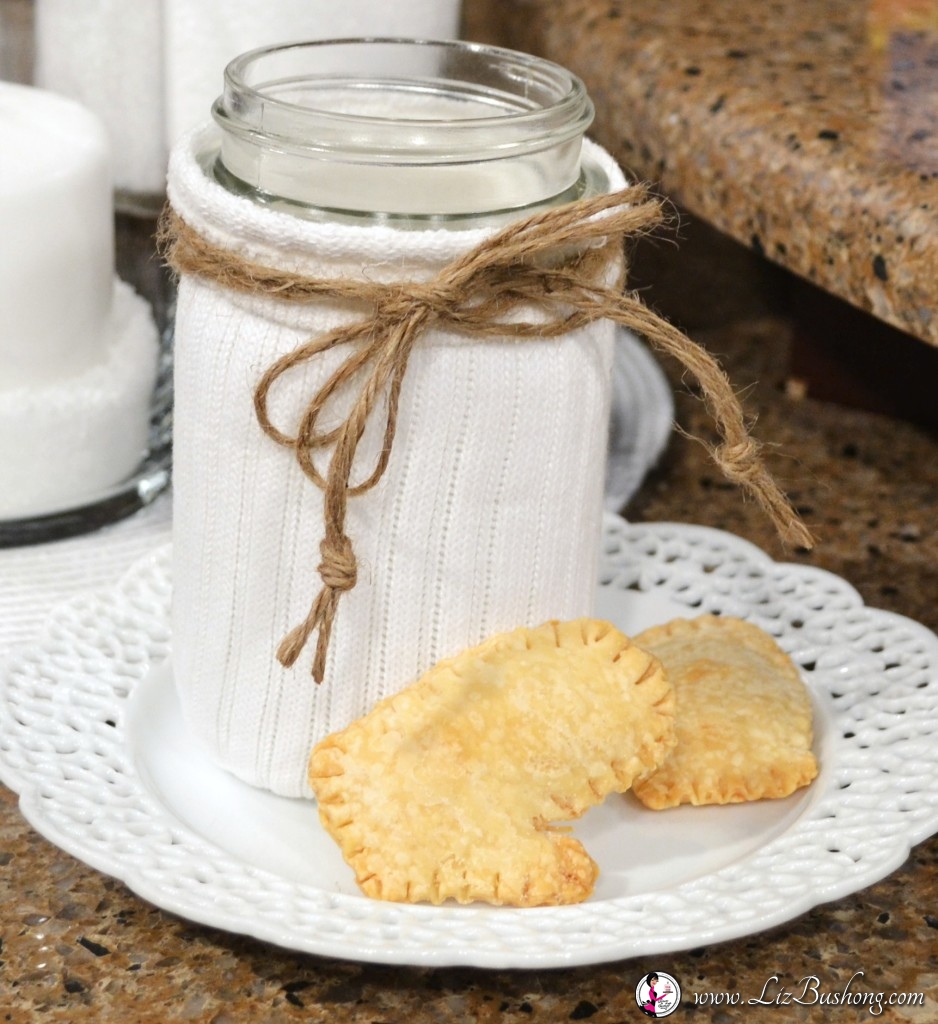 Ok  Here's the recipe for Soup and Pie Crust Crackers
Print
Chicken Matzoh Ball Soup Recipe
Author: Liz Bushong
Prep Time:

15 minutes

Cook Time:

rotisserie-45 minutes-crockpot 4 hours

Total Time:

1 hour

Yield:

6

-

8

servings

1

x
Category:

Soup

Method:

Stovetop or crockpot

Cuisine:

American-Jewish
3 chicken breasts or rotisserie chicken
2– 32 ounce chicken broth
1 medium onion, sliced
3 stalks celery, sliced
3 large carrots, peeled, sliced into discs
1 teaspoon sea salt
1 teaspoon white pepper
Matzoh Ball batter*
*Matzoh Balls:  Makes: 2 ½ cups or 12 medium sized balls
1 cup Matzoh meal
4 large eggs, slightly beaten
¼ cup light vegetable oil
¼ cup water
1 teaspoon sea salt
¼ teaspoon poultry seasoning
Pie Crust Crackers
1 package refrigerated pie crusts
1 cup grated parmesan cheese
egg wash: 1 egg + 1 teaspoon water
Instructions
In crock pot, place chicken breast, sliced onion, celery, carrots and 32 ounces chicken broth.
If using rotisserie chicken omit crock pot but in a large saucepan, saute onion, celery, and carrots in 2 tablespoons olive oil until onions are translucent.  Add chicken broth, simmer for 40 minutes until carrots and celery are cooked. Continue with step 6.
Place crockpot on high for 4 hours or low for overnight.
When fully cooked, drain vegetables from meat.
Place reserved broth and carrots in a large saucepan.
Shred chicken and return to reserved broth. Broth should be clear.  This is your base for the Chicken Matzoh Ball soup.
MAKE MATZO BALLS
In medium mixing bowl, combine meal, eggs, oil, water, salt and seasoning.
Mix with a fork until well blended.  Cover and refrigerate for 30 minutes.
In another large saucepan, bring the remaining 32 ounce chicken broth to a rolling boil.
With an ice cream scoop or large spoon, shape matzoh into balls.
Drop balls into boiling chicken broth.  When they fluff and rise to the top, remove and place balls into soup bowls or chicken soup.
Strain any Matzoh material from the chicken broth, then add this broth to the Chicken soup base.
 To serve:  Place 3 Matzoh balls in soup bowl, add pieces of chicken, carrots and then the broth to cover.  Or ladle the entire soup into the bowl as desired. Garnish with chive stems and pie crust crackers or crackers of choice.
Pie Crust Crackers 
Preheat oven to 425 degrees. Line baking sheet with parchment paper. Set aside.
Allow pie crust to warm to room temperature about 15 minutes.
On lightly floured surface unroll crust, sprinkle parmesan cheese over the crust evenly.
Unroll second crust and place on top of cheese.  Line up crusts to match, gently roll crust together to flatten and help laminate the cheese into both crusts.
With 1″ small star or mitten cookie cutter, cut crusts into shapes.  Place on parchment lined baking  sheet. With a salad or small fork prick edges of each cracker of mini mittens or shapes to ensure the two crusts stick together.
Brush with mixed egg wash, sprinkle with sea salt or other herbs if desired.
Bake at 425 for 5 -6 minutes. Allow to cool.
Store in zip lock bag or covered container until serving.
Notes
To serve:  Place 3 Matzoh balls in soup bowl, add pieces of chicken, carrots and then the broth to cover.  Or ladle the entire soup into the bowl as desired. Garnish with chive stems and pie crust crackers.
Rotisserie chicken makes the recipe faster, select lemon herb for best results.
If you want a clear broth for your soup, you will be cooking the balls in separate saucepan with chicken broth.  Cooking matzo in chicken broth adds additional flavor to the balls.
Other Ideas you might want to try: