Whether you are entertaining for a crowd or just for yourself, making this Triple Chocolate Ice Cream will make you happy. Three kinds of chocolate make this ice cream deep and deliciously good. Along with half and half, egg yolks and heavy whipping cream the ice cream becomes rich and creamy during freezing process. You're family and friends will love this at home ice cream.

What does the ice cream taste like besides chocolate?
The texture of the ice cream is like a frozen custard. Smooth and creamy due to the egg yolks and heavy cream. It is perfect for serving in small dishes or large bowls with extra toppings. One note, the melting factor is faster than most purchased ice creams, for there is no stabilizers to keep it frozen solid. In addition, the flavor is outstanding with the three kinds of chocolate. I used Bakers Sweetened and Unsweetened Baking Chocolate, and Special Dark Hersey cocoa powder in this recipe. However, you could use Ghirardelli or other chocolate bars. As a matter of fact, you could add any additions to the ice cream after it has chilled over night before turning in an ice cream maker.
How to you make home-made ice cream?
Making home made ice cream is not difficult and the ingredients are easily found at the grocery store. As mentioned, heavy whipping cream, half & half, eggs, and sugar are the base ingredients for any ice cream. For this recipe, whipping cream and chopped chocolates are melted together in a saucepan over low heat until chocolate melts.
In a separate bowl, sugar and cocoa powder are combined and set aside until the egg yolks are whipped. Yes, this recipe uses 4 egg yolks and not the egg whites. The yolks are beaten in large mixing bowl with a wire whisk while the sugar and cocoa powder are gradually added, then the melted chocolate and additional whipping cream is added to the mixing bowl. This blend is put in a large sauce pan over medium heat while stirring constantly til small bubbles form around the edge of the pan. It is important not to boil the mixture. At this point, you pour the mixture into larger bowl to add vanilla, salt and remaining cream. Cover this mixture and chill for at least 8 hours or overnight.
Do I need an ice cream maker to make this ice cream?
Not necessarily. For a rich creamy mixture using an Ice Cream maker will make life easier for you. If you don't have one, you can place the mixture in a freezer safe container then every 30 minutes beat or whip the mixture and return back to the freezer, you repeat this process until you reach a creamy mixture. In my opinion, you need an ice cream maker for this recipe for best results.
I have a kitchen aid stand mixer and use the ice cream maker attachment. I store the freeze bowl in the freezer year round. It is easy to use and makes really great ice cream.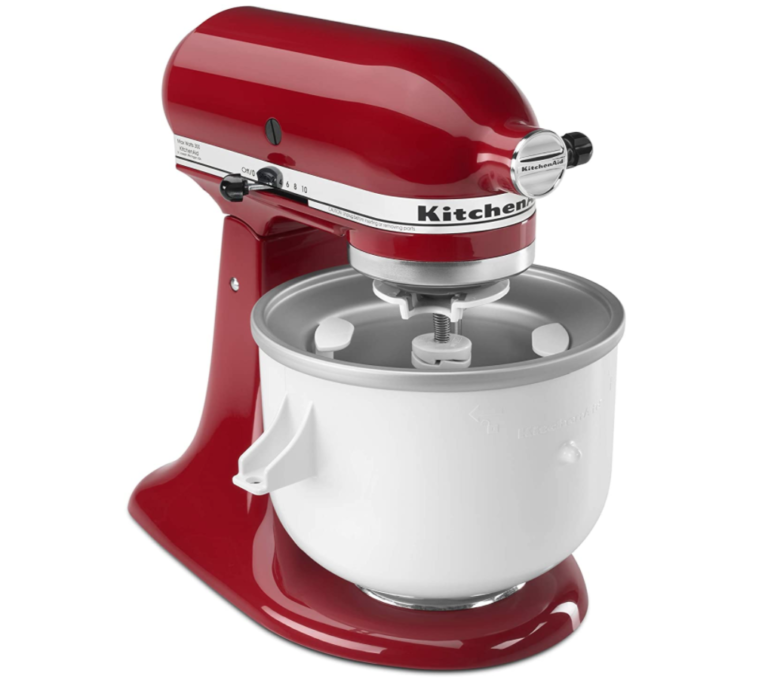 You can see the ice cream in the freezer bowl with the dasher attachment churning the mixture. It is easy to attach and mix. If you have this maker you can make ice cream any time you want. (mixer/maker photo credits-Kitchen Aid).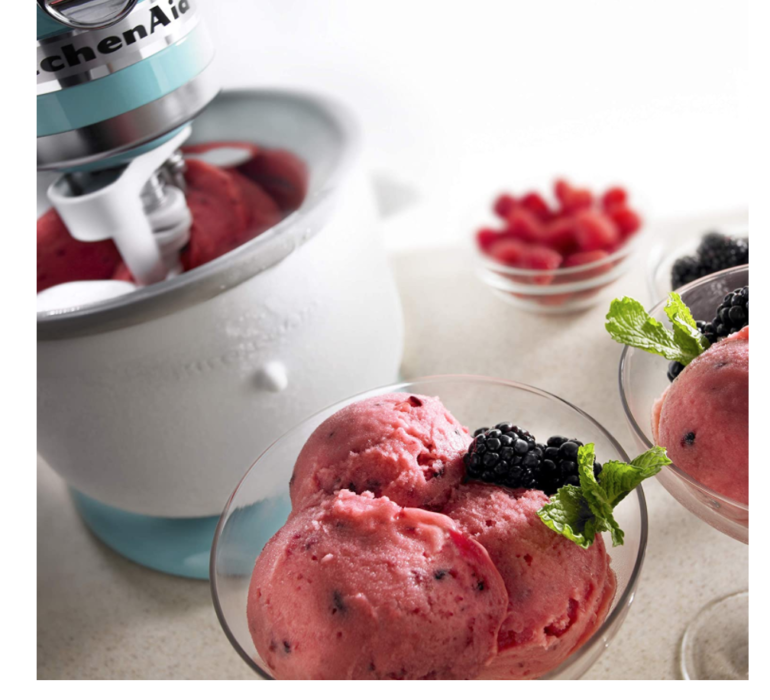 Tips for Making the Best Ice Cream
The freeze bowl attachment must be completely frozen, at least 24 hours ahead to make the ice cream churn and set up.
When making this recipe because the mixture is precooked due to eggs, this mixture must be completely cooled in refrigerator overnight or until completely chilled before churning in the maker.
The type of cream you use in your recipe will determine how rich in flavor and texture you want in your ice cream. I would not recommend almond milk or any milk below 10% fat. The higher the fat % the creamier the ice cream.
Heavy Cream has 36% fat, Whipping Cream up to 30%, Half & Half has 10% fat.
Print
Triple Chocolate Ice Cream Recipe
Home made Triple Chocolate Ice Cream with chocolate chards as a garnish.
Author: Liz Bushong
Prep Time:

35 minutes + overnight chill

Cook Time:

5-8 minutes

Total Time:

24 hours

Yield:

8

-

1/2

cup servings

1

x
Category:

Dessert

Method:

Mixing-chilling

Cuisine:

American
1 cup heavy whipping cream, divided
1–1 ounce semisweet baking chocolate- chopped-tested Baker's
1–1 ounce unsweetened baking chocolate-chopped- tested Baker's
1 cup half & half
1/2 cup sugar
2 tablespoons unsweetened Hershey's Special Dark Cocoa powder
4 egg yolks
2 teaspoons pure vanilla
1/4 teaspoon salt
Chocolate Chards-Optional
1/2 cup melted dark chocolate wafers or semi-sweet chocolate chips
parchment paper 5" x 8″
Instructions
Place 1/2 cup heavy whipping cream, chopped semi sweet and unsweetened chocolate in a small saucepan.  Heat over medium low heat until chocolate melts.  Set aside melted chocolate. Reserve while making remaining mixture.
In custard cup, mix sugar and dry cocoa together, set aside.
In large mixing bowl of stand mixer fitted with wire whisk, add egg yolks.  Beat on low speed mix eggs one minute, gradually add sugar and cocoa mixture until well blended and thickened.
Continue mixing and add reserved melted chocolate to the egg mixture.  Add 1 cup half & half, mix until well blended.
Return this mixture to a medium saucepan, stir constantly over medium heat until small bubbles form around the edge of the pan and mixture is steamy. Do not boil.
Transfer this mixture into a large bowl for storing in refrigerator, add vanilla and salt.  Cover and chill 8 hours or up to 24 hours.
Make Chocolate Chards: Melt dark chocolate wafers or chocolate chips in microwave at 10-second intervals until melted and smooth. On 5" x 8" piece of parchment paper, spread melted chocolate on paper in thin layer. Roll one end of parchment with chocolate like a jellyroll. Place parchment roll in freezer to harden 15 minutes. When ready to serve ice cream, unroll chocolate log and pick up chards to position on top of ice cream in individual serving dishes.
Churning Ice Cream:  Follow instructions with your respective ice cream maker. Churning the cream at least 10-15 minutes or until desired consistency, adding additional chocolate pieces or bars if desired.  Immediately transfer ice cream into freezing container and freeze to solidify or spoon into serving dishes.
Notes
Double recipe to make 16- 1/2 cup servings.
The longer the freeze the more solid and developed the flavors.
See additional notes in body of post.
Recipe inspired by Kitchen Aid.com
Other Ideas you might like to try: