Tailgating in the south is finally here! It's official…Football has returned and the tailgate is in play!  Kick-off the fall season with family, friends, fun, food and football!  The action begins with a pre-game and post game feast sure to win fans. This tailgate is all about Blue and Gold, East Tennessee State University team colors.  Of course substitute your team colors for the blue and gold to make it Yours!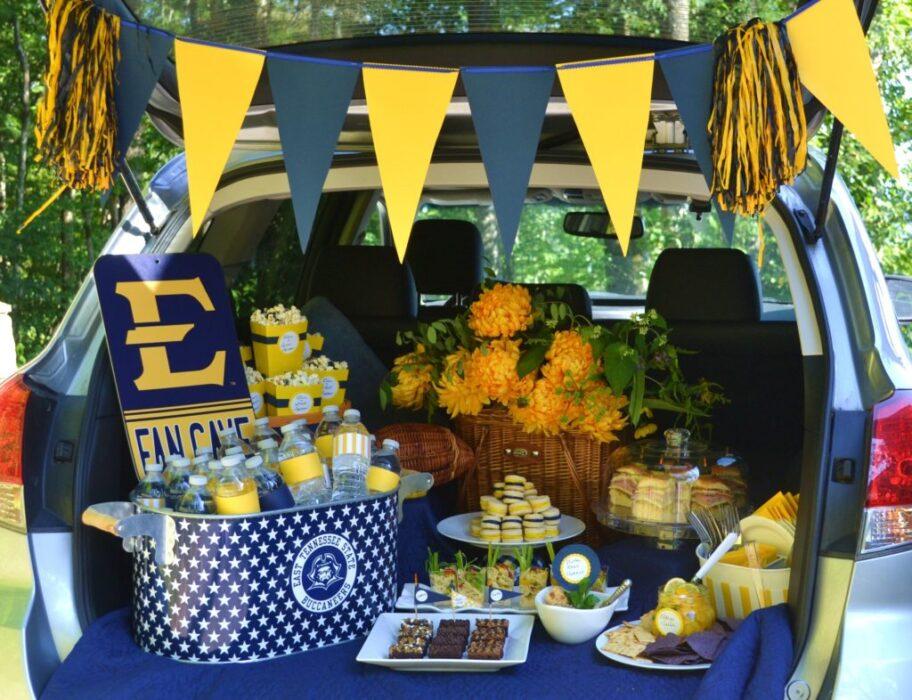 Tailgate-entertaining in the south is all about the move able feast. Tasty foods that travel well and lots of desserts.  We southerners love anything sweet, sweet tea, brownies, cakes, pies, cookies, you name it.. if it has chocolate in it.. even better.
This game-day menu features make-a-head stress free recipes.  To get the party started serve two sweet and savory appetizers; Mango Pineapple Salsa and Butter Bean Hummus.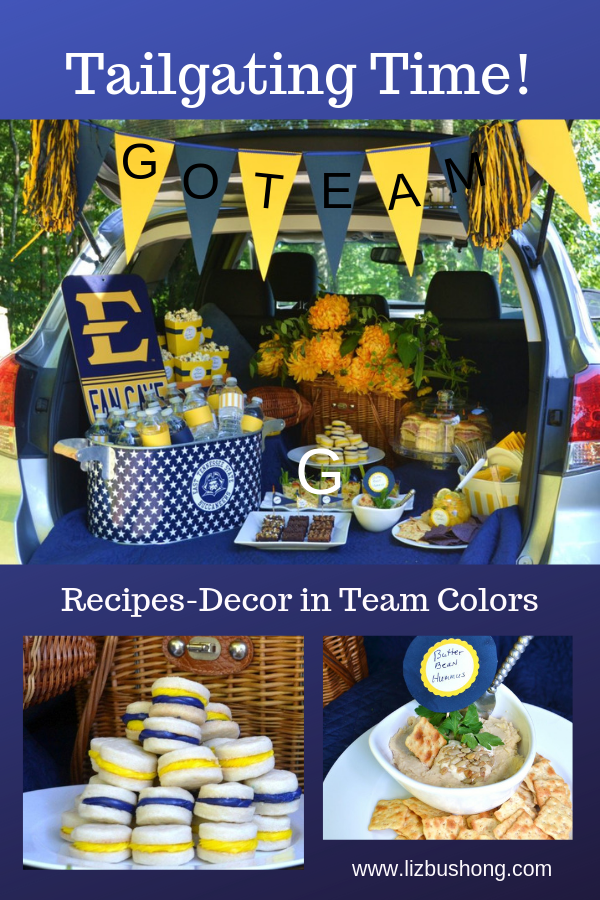 Mango Salsa that Coordinates with Team Colors
Tap on photos for recipes.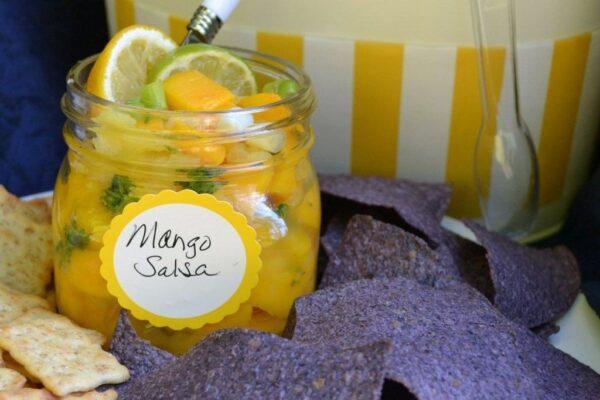 The mango salsa is sweet and spicy all in one bite. The butter bean hummus has a smooth consistency with a hint of spice and sesame seeds.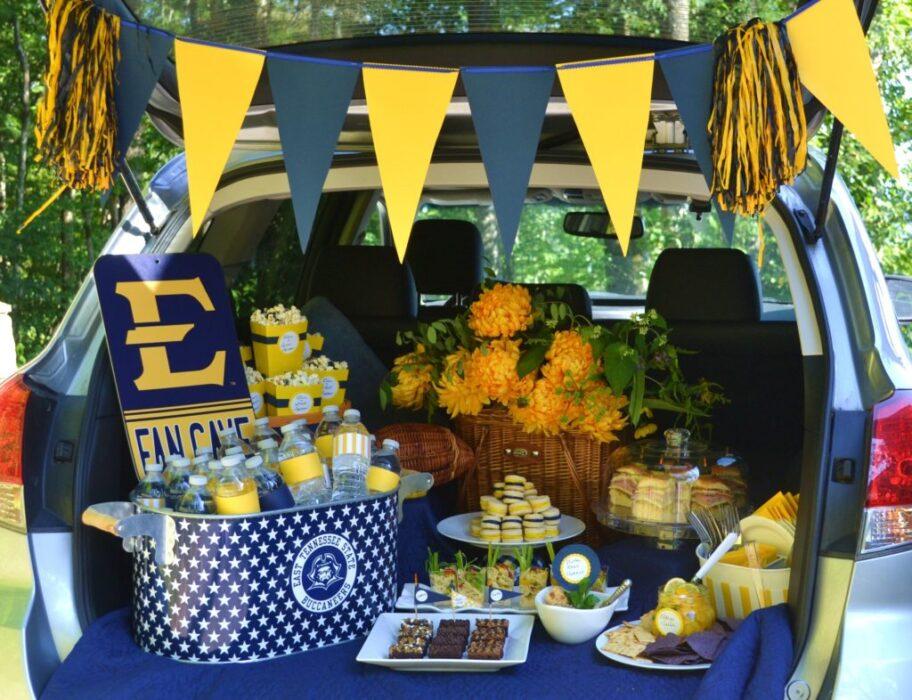 Something Sweet & Sparkly|Blue and Gold Popcorn
White bark-coated Blue and Gold popcorn with edible glitter will score big as individual snacks.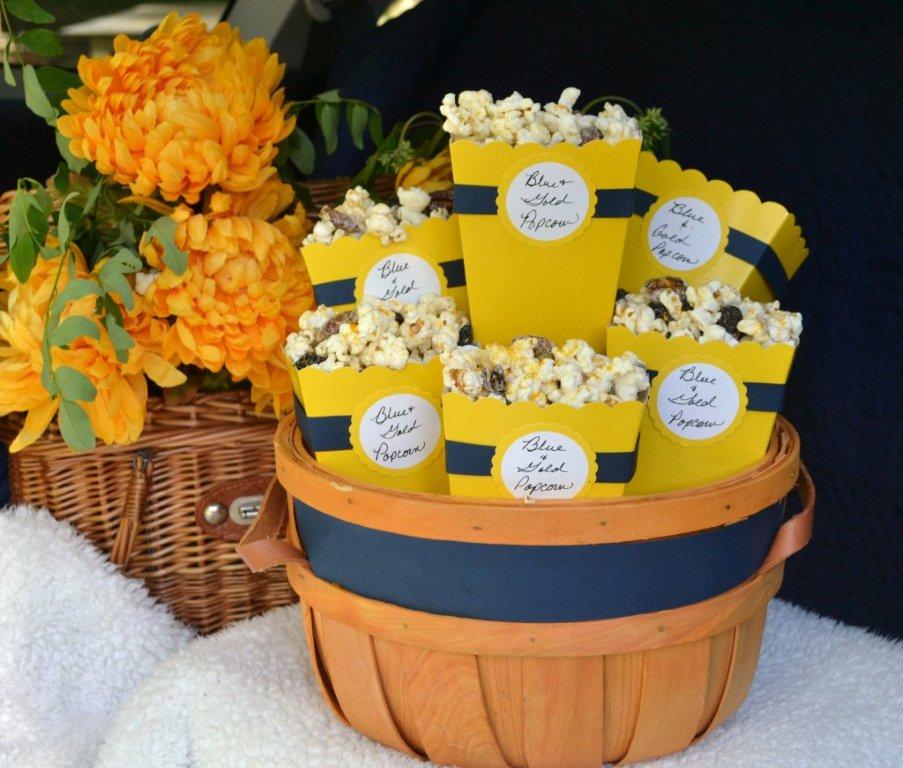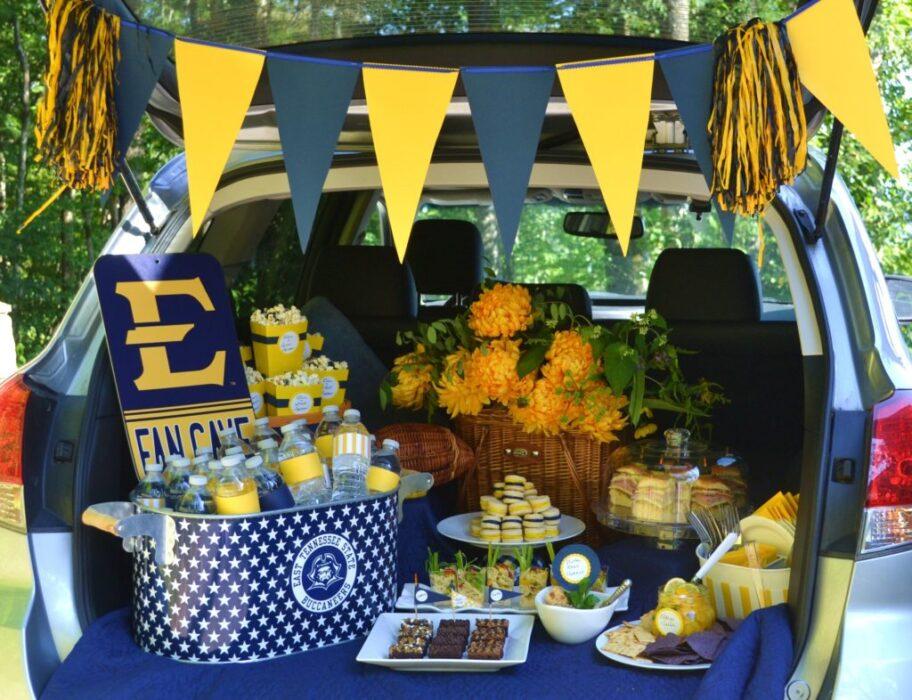 Creative entertaining ideas make this tailgate menu simple and festive. Colorful and coordinated  accessories and foods will turn your tailgate into an eye-catching buffet.  A queen sized quilt-turned-tablecloth along with wicker baskets  and buckets create varying heights and textures to your display; and don't forget a pretty floral arrangement in team colors for that special home to tailgate casual look.
Bands of team color scheme- scrap booking paper adds an easy decorative touch around water bottles, baskets and food tag labels.  The metal blue and white ice chest features a team magnet that was attached directly to one side.  Think outside the box when you decorate for this home away from home entertaining event. Be sure to pack a few essentials such as water, cups, plates, utensils, and plenty of ice.
Decorate Water Bottles with Team Colors

Tailgating in the South More Menu Ideas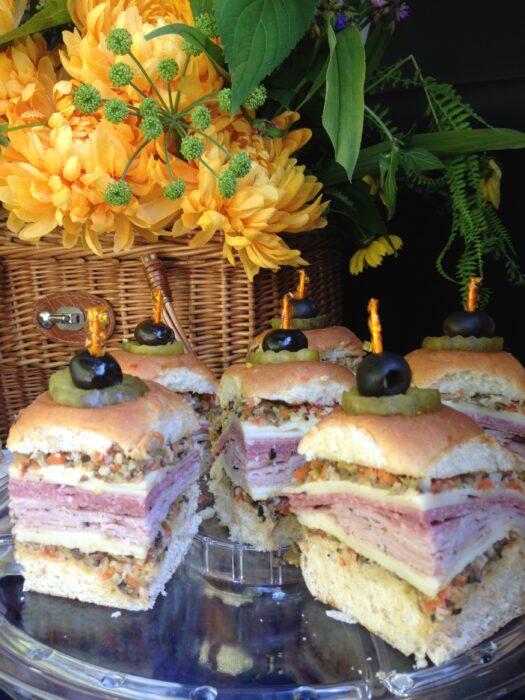 The traditional Muffaletta Sandwich  is a Sicilian sandwich with a salty, savory blend of meats, cheese and olive relish stacked in a round loaf of crusty bread. This recipe features Black Forest Ham, Provolone Cheese, Hard Salami and vegetable-olive relish stacked beautifully between sweet Hawaiian dinner rolls. Each stack is sliced into small squares then wrapped in plastic wrap overnight for the flavors to develop and easy game-day serving.
Team Cream Wafer Sandwich Cookies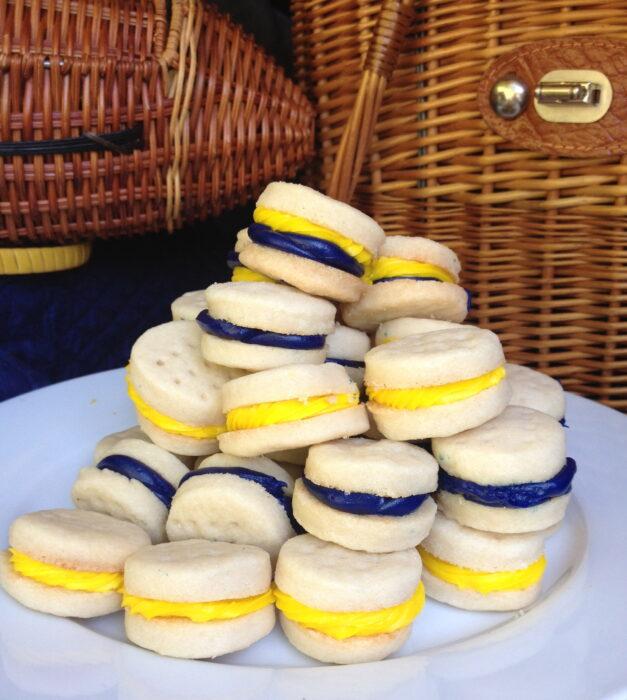 Remember I mentioned that southerners like sweets. This cute little cookie is buttery soft and filled with buttercream frosting in the blue and gold color scheme. Bake this cookie and fill with your team's special color palette.  You will definitely score big on this sweet dessert.  To round out the sweet filled menu, purchase or make brownies, everyone's favorite dessert and other easy to eat cookies and cakes.
Even though you are not entertaining at home, a tailgate really is an extension of your home. With that in mind, make sure you bring along a few comforts of home, like sanitizing hand wipes, extra napkins, perhaps individual wet and warm wash cloths, bug spray, suntan lotion, Kleenex, paper towel and even toilet tissue. Small quilts or flannel blankets are also a few home comforts that you could offer your guests on a cool day.
Tailgating in the South is like pimento cheese and white bread or ice and sweet tea. It is as easy as moon pie! After all the planning and dreaming about this momentous event; don't forget your tickets!!!
Helping you Make a statement, Make it sassy and Make it Your's! ®
Other Ideas You Might Like to Try: