Garden Fresh Picnic Recipes are easy to prepare fresh picked vegetables from  the farm stand or your backyard garden.  Crisp lettuce, cucumbers, bell peppers, radishes, onions, carrots, herbs and other garden fresh veggies are eaten raw and very healthy for you.  Appetizers to Main Entrees make this summer picnic a feast for your eyes as well as your tummy.
Garden Fresh Picnic Recipes for a Summer Feast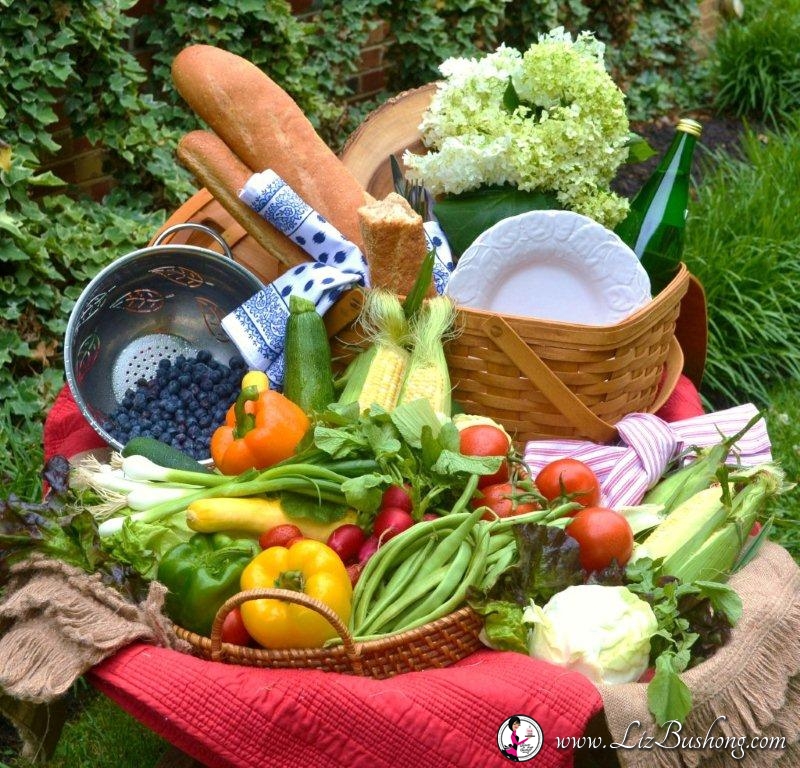 For this tablescape I used my old wheel barrel, that you can't see in the photo.  The red quilt is the base of the display with a burlap runner and several baskets.  The wheel barrel can be rolled under your favorite tree and then unloaded to enjoy the summer bounty.  Of course, the picnic basket was packed ahead with easy to make summer time recipes like Garden Fresh Pesto Crostini and Beef Stuffed Pockets with  Garden Fresh Vegetable spread.
 Garden Fresh Picnic Recipe -Pesto Crostini
The Pesto Crostini is made with Arugula and basil, walnuts, olive oil and Parmesan cheese then spread over a small crusty bread or crostini.  A slice of cherry tomato is placed on top of the crostini for added texture, taste and presentation. Get Recipe:  Pesto Crostini .
Easy appetizer for summer entertaining. 
Garden Fresh Picnic Recipe-Stuffed Beef Pockets
The Beef Pockets with Garden Vegetable spread is so easy to make.  Purchase deli beef slices , a long crusty bread, and cream cheese.  Chop every garden vegetable that you pick from your garden and mix it with the cream cheese mixture.  Oh.. the cream cheese also has horseradish and mayo with a few herbs.  See recipe here: Stuffed Beef Pockets with Vegetable Spread
Super Fun Summer Sandwich
Garden Fresh Picnic Recipe: Blueberry Peach Cobbler
For an easy to bake dessert, Blueberry and Peach half pint cobblers was served picnic style.  With the handy half pint jar being only 1/2 cup serving you might want to bake a few extra to have on hand.  The jars are canning jars and are oven and freezer safe… of course not a the same time.  LOL  See recipe for Blueberry Peach Cobbler.   
In addition be sure to serve with a scoop of Vanilla ice cream.
Mason Jar Quick Cobbler for Summer Entertaining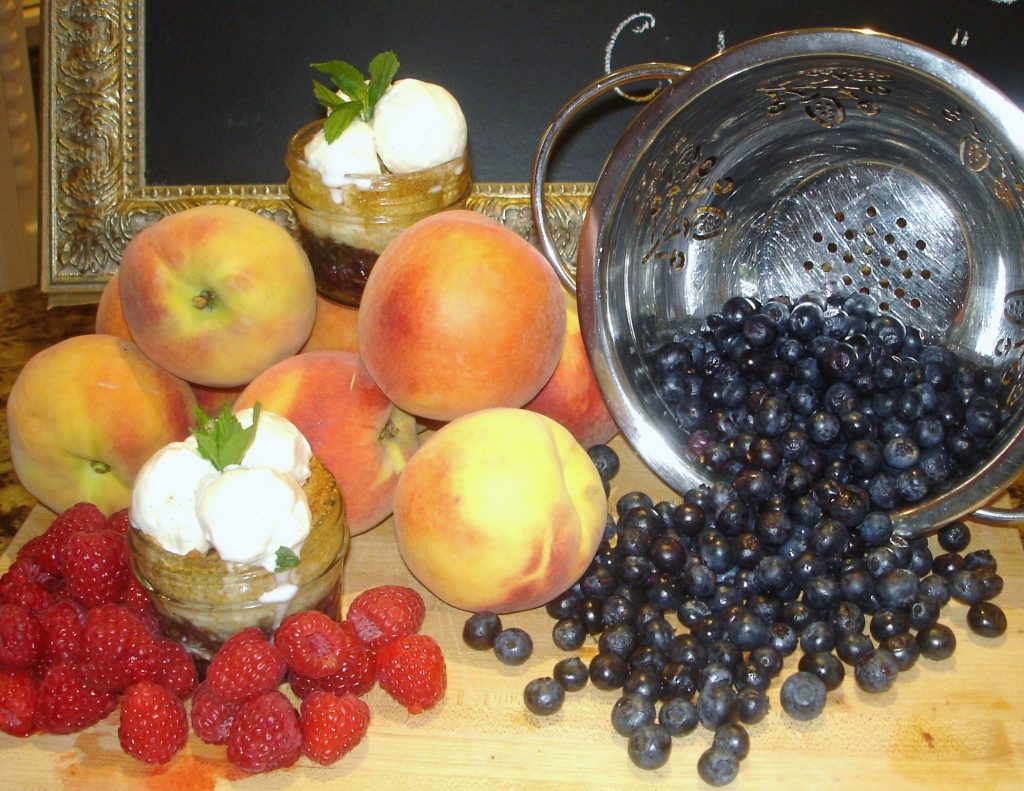 In conclusion, here are a few other fresh recipes you can create this season.