Create the Best DIY Pink and Gold Table Setting for Valentines Day or any celebration. Love is in the air and what makes this table the best is everything found on the table. In as much as you can shop for pink and gold items, in this table setting common items are used. Simple elements include large heart boxes, gold ribbon, and accents of soft pink make this table a heart throb. Your guests will love your attention to detail and festive shimmering setting.
Decorating with Pink and Gold
Creative Ways with the Centerpiece
Gold foil wrapped kisses, gold mesh ribbon and pink heart shaped boxes make a standing statement in the center of the table.
Do you have a large white round platter and a medium sized low vase that you can turn into a functional centerpiece?
The centerpiece was built with a gold vase for elevation and a large white round platter that sat on top of the vase. Three heart shaped pink boxes were nestled in gold foil kisses and a gold and white polka dot covered candle canister.
Gold and white polka dot candle holder was made from a file folder adding different texture and size dots for emphasis. Surrounding the centerpiece are glass tea lights and gold votive candles. This table top is soft and glamorous all at the same time. Your friends will love it. It is tall enough to make an impact yet low enough to see your guests seated across from you. Maybe you have red heart boxes, simply use red napkins to tie everything together. Make a statement, Make it Sassy and Make it Yours! ®

How to Set a Pretty Valentine Table
Whether entertaining for 2 or more, reusing and decorating with last year's pink heart boxes for the centerpiece made the rest of the table easy to put together. The boxes were decorated with gold Christmas ribbon and gold and white polka dot wrapping paper. White dinner plates and gold chargers are a few things that are standard dining essentials that you probably have on hand.
To help carry out the color scheme, the heart boxes inspired the pink linen napkins. Being creative with the napkin fold and the cute little crafted arrow makes this table-top sassy, bright and fun and the Best Pink and Gold Table setting!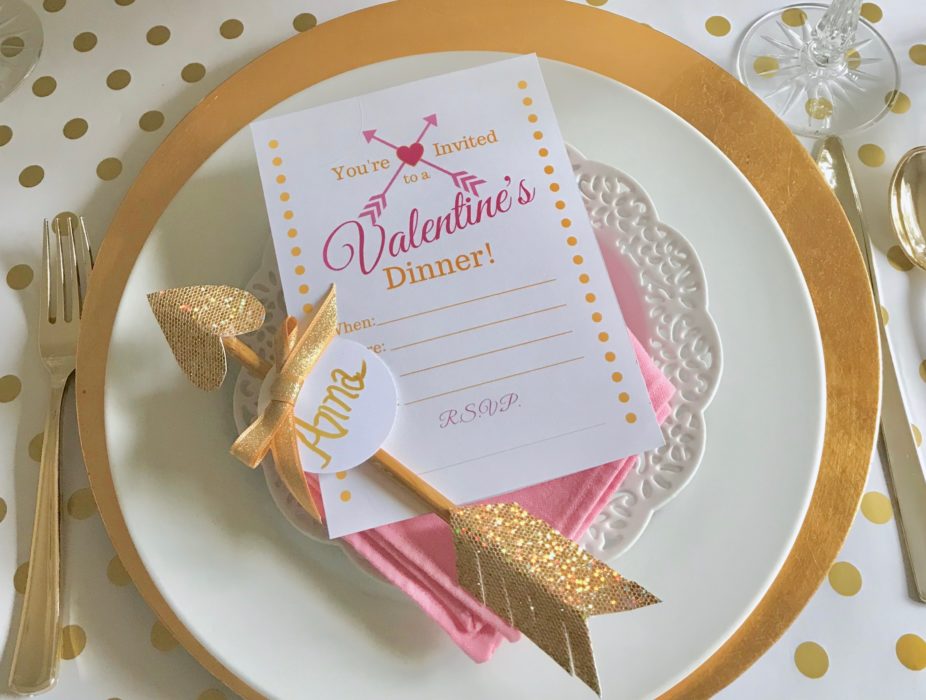 Decorate the Table with Pink and Gold in the Place Setting
Gold chargers with the classic white dinner plates provide a great foundation for the pretty embroidered edge white dessert plates. Soft pink napkins shaped like the tip of an arrow line each setting. Gold flatware adds glamour to the setting while the personalized crafted arrows serves as individual place cards.

Last but Not Least, the Invitation and Place Card Arrows
Every dinner party begins with an invitation and this Valentine dinner is no exception. Whether hosting a luncheon or evening dinner here is an cute invitation that you can download for your personal use. Click here for your free invitation download.
The arrow place card is made with a 6″- 3/8″ wooden dowel rod painted metallic gold with gold glittered card stock cut into an arrow dart and feathers. A round name tag is tied to the arrow with a gold 1/4″ ribbon. Click here for free place card download.
To see how to fold the dart napkin click here
Hope you have a wonderful Valentine's Day! Xo
P.S. Watch Daytime Tri- Cities Monday, Feb. 12 to see how to set the table and build the centerpiece with me and Anna Zook, WJHL Daytime Co-Host. If you miss it you can watch the segment on my You tube channel.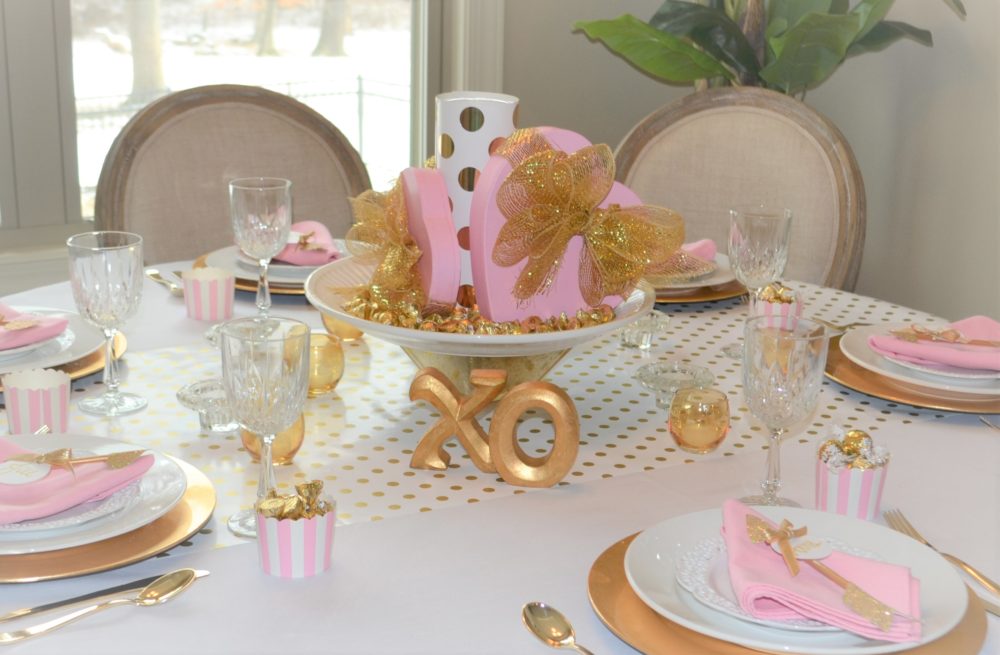 Other Ideas you might like to try: